Many businesses (particularly those that sell items on the Internet) use PayPal to process payments. If you are using PayPal but aren't using an integrated web store application, PayPal offers a Payment Request Wizard that integrates with QuickBooks to let you send invoices to your customers with a PayPal payment button. Today I'll take a look at this program.
The PayPal Payment Request Wizard is a free program that allows you to send an email invoice to your QuickBooks clients that includes a PayPal payment button. Your customer receives the email and simply clicks on the button to go to PayPal to enter a payment. This isn't as sophisticated as the QuickBooks Billing Solutions system, but it doesn't require you to use a merchant service account that requires a monthly fee or minimum. It does require you to have a PayPal business account (but your customers don't need a PayPal account, they can just pay with a credit card).
At the download site you will see a screen similar to the following: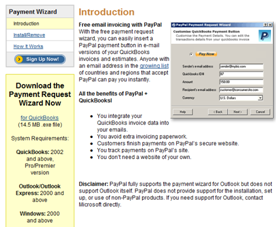 The web site says that this is compatible with Pro and Premier 2000 and later. The installation program notes also that this is only compatible with the US versions of QuickBooks. I did try it with Enterprise, and it seemed to work, although I did run into a few issues (which might not have had anything to do with Enterprise). It does not work with Simple Start.
You will download a "zip" file which you have to expand into an "exe" file that you can run on your computer. Installation is fairly simple, using standard installation techniques. However, they don't provide you with all the details you need to have an easy and successful installation. Here is an outline of what you should do (note that I am doing this with Premier 2008 on Windows Vista):
You must install this on a computer that already has QuickBooks installed.
Run QuickBooks and open your company file as the Admin user.

Run the installation EXE file.

When you complete the installation process you will see an icon in the toolbar in QuickBooks. Note that this doesn't follow Intuit's guidelines for good programming procedures for QuickBooks compatible programs.

At this point you can send invoices to your customers. However, you will run into some additional setup steps the first time that you use the program with a particular company file. This is important to note, because you must still be logged in as the admin user to be able to complete these steps.

Click the PayPal button. You will get a

license agreement

window from PayPal that you must agree to (I didn't see anything unusual here). You will then get this introductory window. Note that it says that your customer must have a PayPal account – that is no longer true, they can pay with credit card

without

creating a PayPal account.

You can select either an Invoice or an Estimate. There isn't an option for a sales order. Enter the order ID# – you will have to look it up in QuickBooks and enter it yourself. They don't provide you with a list of open invoices, or pick it up from the screen in QuickBooks. QuickBooks allows you to enter duplicate invoice numbers, but I didn't test this program to see what it would do in that case.

At this point the wizard accesses QuickBooks for the first time. QuickBooks will open its standard dialog that deals with outside programs trying to get in to your data. This will only work if you are logged in as the Admin user. It only happens (normally) the first time the program works with a particular company file – after this you can be logged in as any user who has permission to view invoices. NOTE that the program is not "signed" with a certificate – this shows a lack of sophistication on PayPal's side of things, but it is not a disaster (just make sure you got the program directly from PayPal, and not some other site). Since the program is not signed properly you will have to answer several confirming questions.

 

It is important at this point that you select the third option, Yes, whenever the QuickBooks company file is open. You could possibly choose the fourth option so that you don't need to have QuickBooks open when sending the invoice, but I don't recommend that as only one user can be using this approach at a time.

If the Wizard finds your invoice you will see the following screen. Note that you have to enter your PayPal account address (I didn't find a way to have the program save this, so you enter it each time) and that you can't change the "subject" line at this point.

You get a confirmation screen:

There are three "templates" that you can use, detailed, blank and Summary. You cannot change the details of them, they don't relate to the QuickBooks template at all. So you can't add custom columns, etc.

This is a "detailed" preview:

This is a "blank" preview:

This is a "summary" preview:

The wizard opens Outlook on my system and creates an email like the following. I doubt that the program will work with another email system other than Outlook, although I didn't try. You can change the subject here, if you wish. Note, however, that it does

not

have the customer email address filled in. You have to go back to QB to look that up and fill it in yourself.
The customer will receive this email, and if they click on the PayPal button they will get something similar to the following. Note that they can log in to PayPal to use their account, or use their own credit card without creating an account. This is important as I've found many people would rather not create a PayPal account. An important point to make to your customers is you're your company will never see their actual credit card information, so they don't have to worry about how secure things are in YOUR company file.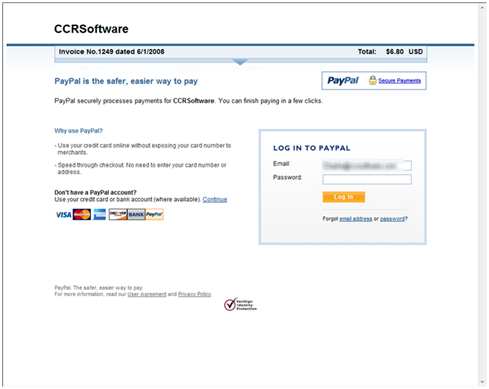 Note that this is not like a "payment request" that you can generate in PayPal. No record of this is added to your PayPal business account until the user has decided to make a payment. Your only record of transmission is in your Outlook "sent" folder.
Conclusion
I have to say that I'm not terribly impressed. This doesn't have a high degree of integration with QuickBooks. It doesn't save me a lot of effort, particularly since I have to enter so much of the information each time. If I wanted to do billing of this kind I would consider using the QuickBooks Billing Solutions system, as long as you are happy with their merchant services account (I used it for awhile, liked billing solutions, didn't find their merchant services to be a good fit for me). The problems that I saw were:
The Installation procedure was not clear.
The Program not signed with certificate.
You have to look up your invoice number instead of just having it taken from the screen, or from a list of open invoices.
You have to enter your PayPal email each time.
It doesn't pick up the customer's email from the customer record.
The email message it creates has misspellings that Outlook complained about (annoying).
You can't format the invoice to add your own custom columns, etc.
In addition, on my Vista system, I ran into some operational problems. I didn't spend enough time to decide if this was Vista, QuickBooks, PayPal or the phase of the moon. This was on my testing system, which has a large number of very odd programs installed. However, QuickBooks runs perfectly well on it. The problem was that after the first time I sent a test invoice, subsequent tests would open five copies of the "select payment type" window (the first step of the invoicing process). I'd complete one of them, and it worked, then I had to close all of the others. Again, this might be a Vista problem, as their installation program and setup seem to be oriented towards XP systems.
Category: Import/Export, Invoicing, Product Reviews
Charlie Russell is the founder of CCRSoftware. He's been involved with the small business software industry since the mid 70's, focusing on inventory and accounting software for small businesses. Charlie is a Certified Advanced QuickBooks ProAdvisor. Look for Charlie's articles in the Accountex Report blog, as well as his California Wildflower Hikes blog.