One of the intriguing "new features" that Intuit lists for QuickBooks 2009 is the ability to work with "Adobe Acrobat Forms". This is a way to use Adobe Acrobat Pro 9
to create PDF forms that can be used to import invoices, estimates and purchase orders into your QuickBooks company file. Today I'll give you a quick overview as to how this works.
Update: Current versions of Adobe Acrobat apparently no longer support this feature. It didn't work well, Adobe found that working with Intuit on this was more trouble than it was worth.
Some businesses want to allow salespeople (or, perhaps, customers) to easily create invoices without having direct access to QuickBooks. If a salesperson is on the road, with a laptop computer but not a reliable Internet connection, it would be helpful if they could create invoices that could then be uploaded into your QuickBooks company file when they get back into the office. With Adobe acrobat Pro 9
you now have the ability to create "forms" that let people enter variable data that can in turn be posted to your QuickBooks company file.
We've had the ability to create "forms" in Adobe Acrobat for several years now, but there are two big changes with this release: The dropdown boxes in the forms can be populated with information from your QB file (item list, customer list, terms list, etc.), and you can import the information into QuickBooks as an invoice, estimate or PO.
Here is a quick look at this feature, using Adobe Acrobat Pro 9 and QuickBooks Premier 2009. I haven't explored all of the variations of what you need, but based on the information available from Adobe and some testing on my part:
This should work with the US editions of QB Pro and Premier 2007, 2008 and 2009. I would expect that it would work with QuickBooks Enterprise, but I haven't tried that and Adobe doesn't specify that (I don't see a technical reason why it shouldn't).
The person filling form can use the free Adobe Reader product, version 7.05 or later.
To create the forms you must have the English version of Adobe Acrobat Pro 9.
Let's see how this works
Preparing a Form
For my example we'll use an existing invoice form provided by Adobe to capture information. First we have to prepare the form.
Run Adobe Acrobat Pro on a computer that has QuickBooks installed, with your company file open. Select Prepare QuickBooks Template for Distribution: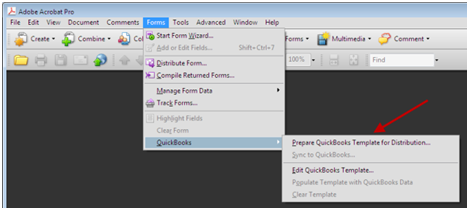 A Wizard will open that will lead you through all of the steps necessary to prepare the form. I'll show just some highlights.
Select the form from the list available. This is the list of forms that comes already prepared. You have the ability to create and/or edit your own forms if you wish.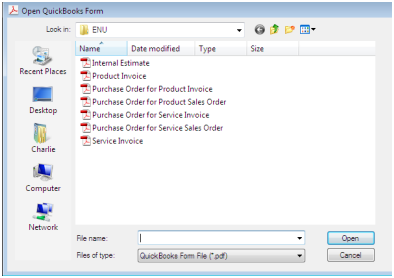 Acrobat will add your customer and item list (as well as other lists, such as terms, etc.) to the form.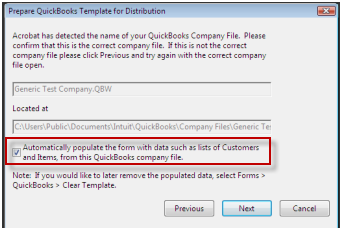 You have three ways that you can distribute the form to people and collect the information:
Sending it as an attachment via email,
Placing it in a shared network folder,
Using the Acrobat.com web site (which is free, at this time) to organize things.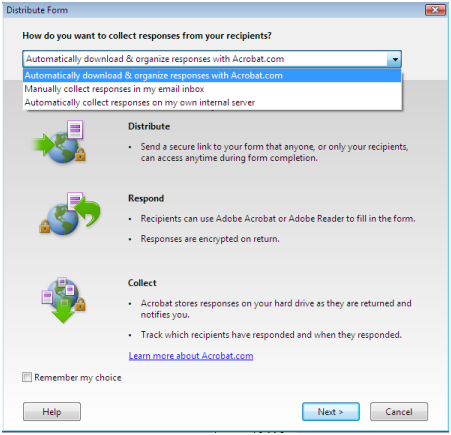 In my test I used the Acrobat.com web site. This is fairly technical to set up – you need to know a lot about your email server settings so that you can get Acrobat.com to send email notices for you. After I send ("distribute") the form, you can use the Adobe Tracker to view the form and the results you get back.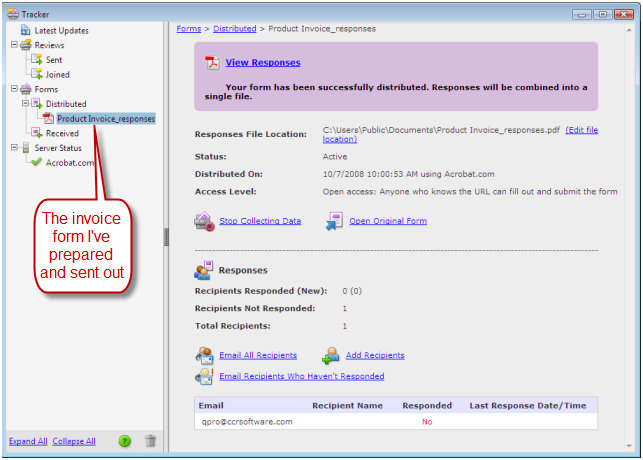 The Adobe web site sends an email message to each person you identify when you "distribute" the form.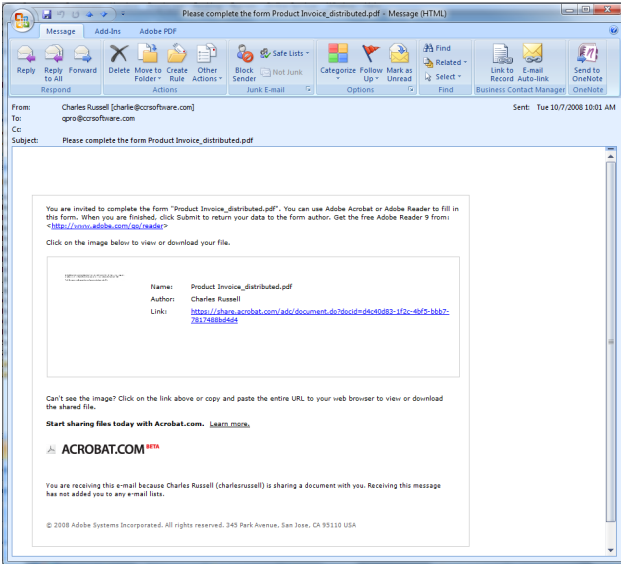 Filling in the Form
The recipient can click on the link in the message to go to the Adobe web site, where they can open the form. Note that the user needs to have Flash 9 installed, and an appropriate version of Adobe Reader or Acrobat.
This is a shrunk-down view of the form that they will see. Again, this is the unmodified template that they supply. You can edit this to fit your needs.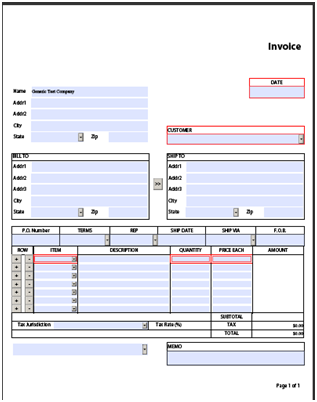 Now we start to see the QuickBooks integration. The form has dropdown boxes that contain information from your QuickBooks company file. I've zoomed in on the customer box – I have two customers in my QB customer list: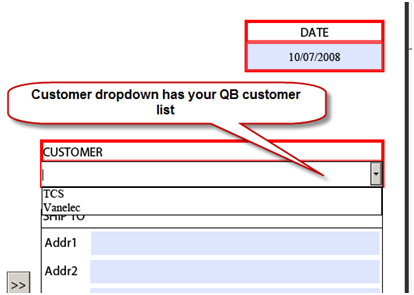 As you continue to fill out the form, you see that many of the dropdown lists have info from QB, including the item list.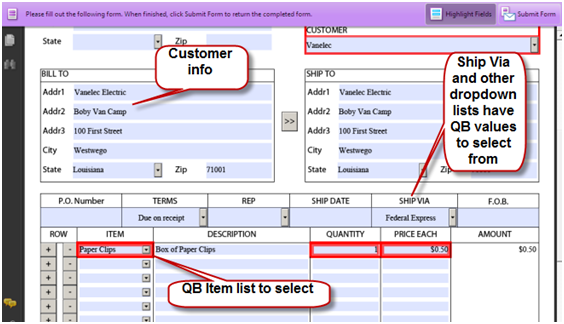 The user clicks the Submit Form button in the upper right, and they get a submission form. When complete, the form is saved to the Adobe web site.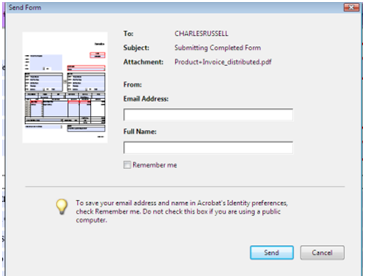 Uploading to QuickBooks
Back in the Adobe Tracker, you can see that forms have been submitted:

Click the Sync to QuickBooks button and the form is submitted to QuickBooks. Here is the same order, in my copy of Premier 2009: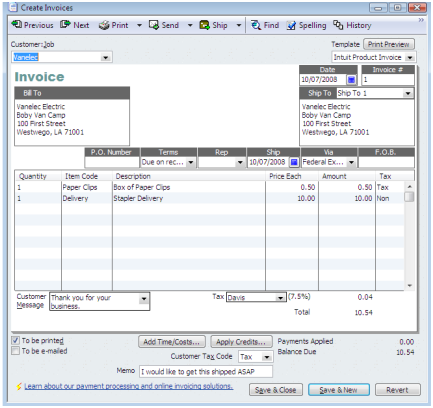 Is it for Everybody?
Does everyone need to get this? No, it only provides a limited capability. It is not a complete order entry system. I have a number of questions about its flexibility. Can you add new customers? Can you work with multiple units of measure and price lists? These are more complicated procedures and I don't know if the program will handle them or not.
Also, it is somewhat technical to set up the first time. You have to go through the documentation carefully, and understand how Adobe works with forms. The Acrobat.com interface took some work to set up the first time, it required some technical knowledge of how my email system was set up (your POP3 and SMTP server names, for example). I didn't try other interface methods.
HOWEVER, if you need to be able to easily and quickly capture this kind of information on a large scale, this could be a very useful product. Importing invoice information into QuickBooks isn't something that is easy to do without a third party product, and working with PDF files is something that most people are used to these days.
I would love to hear feedback from anyone who has used this in their business. Also, if you would like a more advanced tutorial let me know, and I can come back to it at a future date.
Bug Update (10/13/2008)
As with any new product there are a few kinks to work out. Here is one issue from Adobe:
If you are filling in a QB form with Adobe Reader 7 there are a number of problems that can occur. Using the plus/minus sign to add/remove rows can create a performance problem. Using a minus sign to delete an item may not update the subtotal and total fields. The best solution is to upgrade to Adobe Reader 8 or higher, which resolves the problems.
Category: Import/Export, Invoicing, Product Reviews
Charlie Russell is the founder of CCRSoftware. He's been involved with the small business software industry since the mid 70's, focusing on inventory and accounting software for small businesses. Charlie is a Certified Advanced QuickBooks ProAdvisor. Look for Charlie's articles in the Accountex Report blog, as well as his California Wildflower Hikes blog.