If you are trying to run QuickBooks on a 64 bit version of Microsoft Vista you will most likely run into problems. In this article I'll show you how to get around the most common problem – QuickBooks crashing when you reconcile or send forms by email. This article was updated on 3/24/2009, with significant changes from earlier revisions.
Note that this article addresses issues specifically in the 64 bit version of Vista – if you are having similar problems with Windows XP or 32 bit Vista this information won't apply. We also are not addressing issues of using QuickBooks 2006 or older versions on Vista – that is another issue entirely. And, finally, note that this article has been revised multiple times – as we learn more, and as Intuit makes changes – so some of the earlier comments that people make might not make sense (as they refer to older revisions of the article.
Update 01/04/2010 – if you have QuickBooks 2009 R10 (or later) or QuickBooks 2010 R4 (or later) another problem is introduced relating to PDF drivers – with a different fix. See this article for details.

Update 12/6/2012: See this article on QuickBooks and PDF drivers for the LATEST NEWS on how to fix PDF problems.

Problems with PDF's
QuickBooks saves a number of things in PDF format. Two common places (there are others) are when you email an invoice or other form (the invoice is saved as a PDF attachment to the message) and when you reconcile your bank accounts (the reconciliation reports are saved as PDF's). QuickBooks uses a PDF "driver" that they install in your system that handles the conversion to a PDF file.
The problem is, the driver that Intuit has included in QuickBooks is designed for 32 bit systems, and on many 64 bit systems this driver fails. There are a variety of symptoms depending on how your computer is set up. The most common symptom is that QuickBooks would just freeze when you reconcile an account or email a form. Some people may see different errors.
I'll outline several ways of fixing this problem. You may find that one method works when the other doesn't. ALSO note that for each of these methods, installing an update to QuickBooks will usually bring back the problem and you'll have to do it over again. Last Minute Note – if you have QB Pro/Premier 2009 (US) or Enterprise 9, the "R7" update being released the week of March 23 is fixed so that it will NOT bring back the problem!
QuickBooks has published a Knowledge Base article about this in their support web site – article 1007856. This KB article changes periodically as they refine their answer, and if you go there you may see some slightly different information (it is hard to keep up with their changes). The information I have below is illustrated with screen shots and perhaps a bit easier to follow. In addition, I've come across some variations that they might not describe.
So let's start with some notes and comments:
If you have installed QuickBooks 2007 on the computer, and then either QuickBooks 2008 or 2009, there is a conflict between the versions. If you have this situation see Intuit Knowledgebase article 1011094.
If you are using the FaxTalk Communicator software you will find a conflict with QuickBooks. The solution is to remove this software.
Intuit's solution has you start off by doing a "repair" of your QuickBooks installation. For most situations I've found that this is

not

necessary. The problem is not a damaged installation, it is an improperly installed driver (the "repair" will reinstate the error). However, if you want to do this, see KB article 1010399.
These steps will

not work

if you are using QuickBooks 2006 or older. Those programs are

not Vista compatible

and you will have multiple problems with them on Vista.
What is Intuit Recommending Today?
This is very confusing to me! Their recommendations seem to be changing daily – and I'm having a hard time keeping up. My article here might not be in synch with their recommendations, as I don't check their KB article every day. Also, I've found that sometimes they publish a fix, then they remove it when they find that there are other problems.
I also have found that some of their explanations don't always work for all users (which is probably more an issue with Vista than Intuit). I list two methods below.
Method 1 is a minor variation of what QuickBooks has recommended for most of the year. However, on March 11 2009 they replaced their recommendation with a different approach, which I outline  (which I refer to as Method 2 here). Then, on March 13 2009 they removed that updated method, and restored the Method 1 approach on their web site. I believe that they will be putting Method 2 back on the web site again very soon.
Over the past few months my description of Method 2 has changed. This involved downloading a new driver. Prior to March 2009 I had people downloading a driver that was posted by Ben Gomez, and Intuit employee, in the Intuit Community forum (thanks, Ben!). In March Intuit posted a new driver and method in their KB article,with a more up to date driver (the first was version 2.51, the second was version 3.03). This approach worked for some people when Method 1 didn't work. Then, in the middle of March, Intuit removed this driver and went back to a variation of the older method (Method 1, essentially). I'm not sure why. LATEST NEWS – I received another updated driver, which I'm posting here – at this time (March 24) it hasn't been posted yet, but I believe it will be there soon. My thanks to Alex Wall for his help with this.
Solving the Problem: Method 2
Why am I starting with "Method 2" – because originally this was NOT my recommended method, but with the latest update I recommend that you start with this. I'm keeping the same "method" numbering so that the comments that people added in the past continue to make sense. Start with Method 2.
Please note that this method may only work with QuickBooks 2008 and 2009, and Enterprise 8.0 and 9.0. If you have the 2007 version (or Enterprise 7.0) you should probably use Method 1 as described later.
Run this procedure when you are logged in to your computer with administrator rights.
Download an updated PDF driver from this link:
http://ftp.quicken.com/pub/quickbooks/QBDPDF_303.exe
Save this to your computer, perhaps on your desktop, or your My Documents folder. Run the program – this is a "zipped" file, you want to click the "unzip" button. It will create a folder in the location you choose (usually attached to the folder you saved the downloaded file to). This is the 3.03 version of the Amyuni driver.
Open that folder, run the Install.exe program that you find there. This will install a new driver.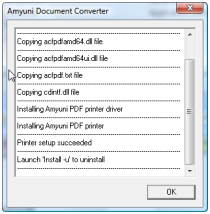 When the install is complete and you click "OK" you may get a Vista warning saying that the installation might not have installed correctly. Just click the button that says the program installed correctly (or the "cancel" button).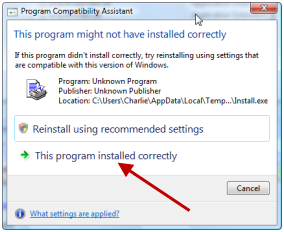 REBOOT YOUR COMPUTER at this point. If you don't, the changes might not be fully implemented, and QuickBooks might still not work correctly.
This is supposed to be all that you need to do (although you should check the Adobe note that I have added to the end of this article). However, I found that there were still some problem sin my system, that can easily be fixed.
Select the Control Panel from your Windows menu.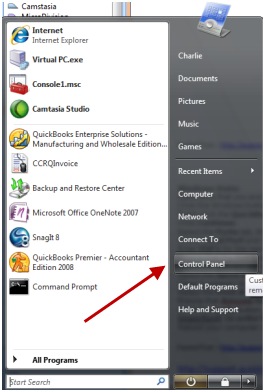 Select Printers from the Control Panel.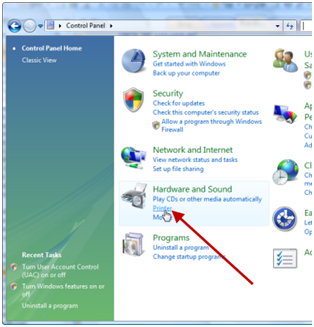 Note that the QuickBooks PDF Converter may be selected as the default printer. This is a problem.
Right click on the correct printer and select it as the default printer. Anything but the PDF Converter!
That should take care of the problems. If not, review the next section, Method 1, which takes a manual approach to resolving things.
Solving the Problem – Method 1
This is the original Intuit recommended method, and is still the method you should use if you have QuickBooks 2007. For later versions I recommend trying Method 2 first.
We will create a new local printer port and attach the PDF driver to that port. Please note that you need adminstrative rights to the computer system. Most people find that this works very well, but Vista is a very tricky operating system and this method doesn't work for everybody.
Log in to your Vista system as a user with administrative rights.
Select the Control Panel from your Windows menu.
Select Printers from the Control Panel.
Locate the QuickBooks PDF Converter in the printer list, right click on it to get a menu, select Run as administrator, and then select Properties.
In the Properties window, select the Ports tab, then click the Add Port button.
Select Local Port and click the New Port button.
Enter PDF1 for the new port name, and click OK, then close the Printer Ports window. PLEASE NOTE – the recommendation that I give above worked for me, and has worked for MANY people. However, the latest notes from Intuit have changed this and they now recommend using NUL: as the port name. This should not make a difference. However, one person (that I know of) was having trouble with the standard recommendations I make here, and changed several steps. The changes worked, but it isn't clear which of the changes made a difference. ONE of those changes was to use NUL: as the port name, and the":" at the end of the name was important. Again, I didn't need to do this, but it may make a difference for you.
Check the box by thePDF1 port then select the Advanced tab.
Select the Amyuni Document Converter 300 from the Driver dropdown box. The Print directly to the printer option is selected, which hides a feature you must change. Select Spool print documents and then un-check the Enable advanced printing features box.
Select Print directly to the printer again. Click Apply and then OK.
In the Printer window of the Control Panel make sure that the proper printer driver is selected as the "default" – not the QuickBooks PDF Converter. This is a step that Intuit left out in their article.
Reboot your computer – the changes won't take effect until you do.
For most systems this will resolve the problem and you will be able to reconcile and email. However, in some cases you may find that you need to clear some additional settings. In my system I did not need to do EITHER of these steps, but some users find that it is necessary. The additional steps are:
Right click on the Windows taskbar and select Task Manager.
Select the Processes tab, find spwWOW64.exe, and click the end process button.
You will need to reboot your computer after this step.
If you run QuickBooks and get odd "printer error" messages, you may need to reset your QuickBooks printer preference file. Note that by doing this you are resetting any special printer settings you have set up for any forms. Most people don't use this feature a lot, so it isn't a big issue. However, by renaming this file (instead of erasing it) you can always reclaim the file if there is information you need. Note that this file will be created when you next run QuickBooks. To do this, locate the file QBPRINT.QBP, which is in your c:/program data/QuickBooks/2009 folder. Note that this is a "hidden" folder, you may need to change some folder options settings to see it. Also note that the year will depend on the year of QuickBooks you are working with. Rename this file to QBPRINT.OLD, so that you have a copy of it for safekeeping.
Adobe Reader
If you are using Adobe Reader there is one last thing that you should check. Run Adobe Reader and select "Edit", then "Preferences". Select the "Internet" preference and un-check the "Display PDF in Browser" option (it might already be unchecked, if so then let it be). Save the preferences.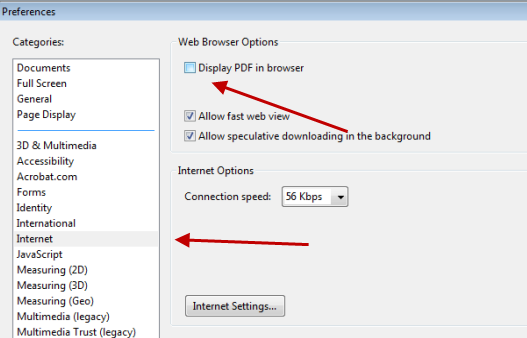 Finishing
Hope that this works for you! It should – both methods worked for me. Some people have found that this does not work – it may be due to not flushing the printer buffer (the step using Task Manager) in their cases. I have not been able to pin down the reason. Also, as I said earlier, you will have to go through these steps again if you install an updated version of your products.
IN ADDITION – in the release notes for QuickBooks 2009 R7, Intuit states that the R7 release fixes this problem. I have not FULLY tested this – but it is looking good. I had an installation that was patched to have the correct driver, I installed the R7 update manually, and the system STAYED PATCHED – so I didn't have to redo the work. What I cannot test at this time is if the R7 update will FIX and system that ISN'T patched.
My thanks to Intuit and both Ben Gomez and Alex Wall for their support.
Category: General Tips
Charlie Russell is the founder of CCRSoftware. He's been involved with the small business software industry since the mid 70's, focusing on inventory and accounting software for small businesses. Charlie is a Certified Advanced QuickBooks ProAdvisor. Look for Charlie's articles in the Accountex Report blog, as well as his California Wildflower Hikes blog.
Comments (424)
Trackback URL | Comments RSS Feed
Sites That Link to this Post