A Documentation Management System (DMS) is a program that is used to store electronic documents and/or images of paper documents. In this article I'll talk about PaperSave Plus, a QuickBooks Compatible documentation management system.
If you are working with QuickBooks you may find that you have various documents that you want to associate with transactions. For example, a customer PO to associate with your invoice. A written contract to associate with an estimate. A statement or bill to associate with a check.
(Update 9/30/2009: see a review of the QuickBooks 2010 DMS product at http://qbblog.ccrsoftware.info/2009/09/quickbooks-2010-document-management/)
With a documentation management system like PaperSave Plus you can easily store these kinds of documents in a secure database and quickly locate the documents with just a few keystrokes. In addition, since these important documents are stored in a file, you can easily make an offsite backup for security. That is a lot easier than copying an entire file cabinet of paper documents!
PaperSave Plus is a relatively low cost product that integrates both with QuickBooks as well as Microsoft Office. It stores its data in a Microsoft SQL Server Express database that you would locate on your computer or office server.
Fees are per user, starting with $199 for a single user, up to $699 for five users. You can add more users by combining licenses.
It is compatible with U.S. versions of QuickBooks Enterprise v6, v7, v8, and v9; QuickBooks Premier 2006-2009 and QuickBooks Pro 2006-2009. In addition, it is compatible with the following international version of QuickBooks: UK Pro and Premier 2008; Canada Pro, Premier and Enterprise 2009; Australia Pro, Premier and Enterprise 2009/10 QBi series.
My opinion of this product varied as I went through the installation process and began using it. To tell the truth, my initial impressions were not very good. However, after I got over some initial hurdles, the product performed very well.
Installation
Installation instructions were confusing and poorly written. The documents provided online had you jumping back and forth between different pages rather than leading you through a sequential process. Some pages had broken links and missing graphics. The grammar on some pages was terrible, looking like it was poorly translated to English from a foreign document. For example:

In addition, some components of the program did not have proper certification, which is a very poor programming practice.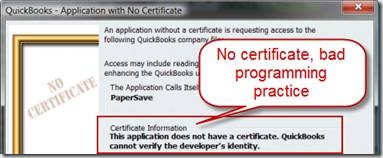 When I see errors like this I become concerned about the quality of the program itself
Proper installation was very complicated, and in fact I was not able to get the product to work successfully on my own. It is a very complex process with many steps and options. The documentation was not clear. The process took a very long time, longer than I had anticipated.
I ended up having to call their technical support line to get the program to work. Good point – the support staff was available quickly and they worked with me until the program was working correctly. Support is free for the first 90 days.
Another good point – over the next week after purchasing the program I received a series of tutorial emails that highlighted different aspects of the program. This information was all in the documentation, but I found it very helpful to receive these notes about how to use various features.
Integration with QuickBooks
When you install the program you can select the type of QuickBooks transactions that you would like to work with.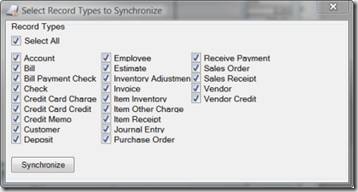 When you save a document, such as an invoice, a window pops up to ask you what you want to do.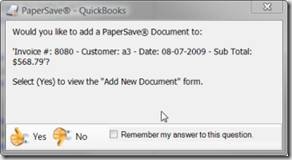 Simply select Yes and a window opens that lets you select a number of options for the document.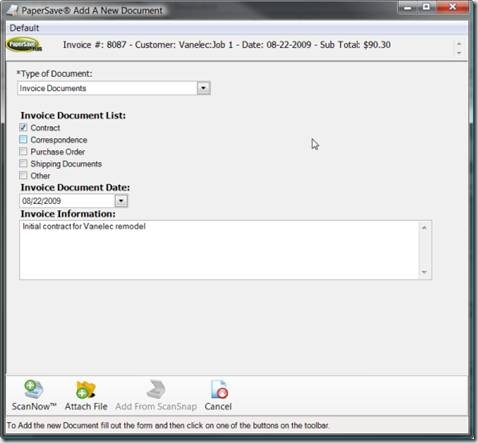 Attach File will open a file dialog so you can attach an existing document on your computer.
Scan Now will connect to your scanner and scan the document (make sure that the document is already in the scanner!).
You will also find several menu choices for PaperSave Plus in your QuickBooks File menu. This is the only place that Intuit officially allows a third party program to modify the user interface in QuickBooks.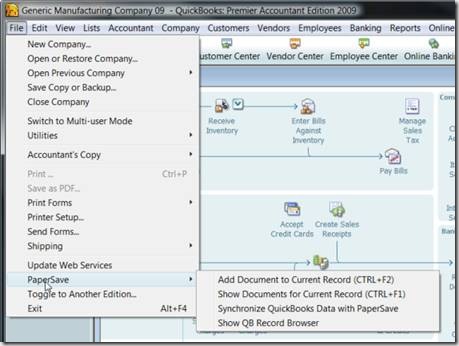 Ctrl F2 will let you add a document to a transaction.
If you want to see the attachment, simply press ctrl-F1, and the attached document will be opened. Very simple! However, I'm not sure if there is a way to know that there IS an attached document. You just have to try.
Integration with Microsoft Office
PaperSave Plus adds an icon in many Microsoft Office products. For example, Microsoft Word:

If you have multiple QuickBooks company files, you will be asked which to post information to:

Then the type of document to attach to: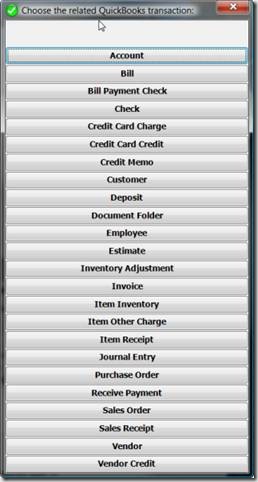 And finally, the specific document to work with: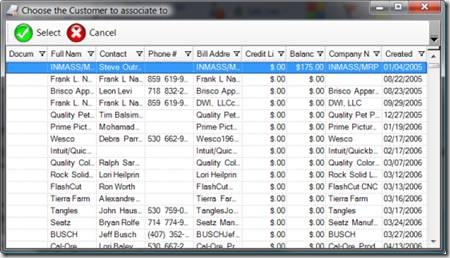 I would like some better searching capability in this window. You can "filter" the display by the various columns, but that isn't as good as a true "search" feature.
You can also save Outlook email messages – but you have to actually open the message to be able to see the PaperSave Plus icon.
Viewing the Documents
A separate record browser program is provided that will let you select records from the database and view the attachments.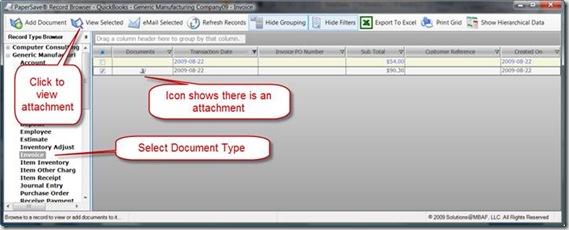 Problems
The program does have a number of issues:
As I mentioned earlier, setup is complicated and confusing.
If you delete a record in QuickBooks when you are logged in with multi-user mode, you must "synchronize" the QuickBooks company file with PaperSave Plus with an option from the File menu. This is annoying, and can take a fair amount of time. I found that I didn't do this often, just once in awhile. If you don't, you have QB documents in the PaperSave file – that isn't necessarily a bad thing, at least it isn't

losing

information, it is just keeping it around longer than it should.
The program does have bugs and problems. On occasion I would receive an error message in a popup window. The problem is, these messages never told me what the result of the error was. Is my document saved or not? Is the database corrupted? Should I ignore this message? What should I do? Sometimes it gave you some additional information, more often it did not.
In my computer system I have many different QuickBooks company files set up. I would only like this program to work with certain ones. However, it wants to post information to each file. If I don't "register" a company file with PaperSave Plus, every time I open that company file I get a warning:
I haven't come up with a way to tell it "no, and don't ask me again" for a particular company file. This is annoying.
Good Points
The management console has a button that will make a backup copy of your database. This is

very good

, and it is

very important

that you do this on a regular basis. Microsoft SQL Server databases can become corrupted and can sometimes be difficult to recover if you aren't a computer expert. I was very happy to see that they made this a very simple procedure.
You can store documents that are

not

connected to a QuickBooks transaction. You can use this for any other document that your company manages. Note that setting up database records for non-QuickBooks items can be a bit tricky and technical, but once you get it set up things are simple.
The user interface is consistent throughout the program.
Integration with QuickBooks works very well.
Integration with Microsoft Office works very well.
Technical support was knowledgeable and readily accessible.
Final Word
Did it work? Yes! The product provides good value for the price. The ability to extend out beyond just QuickBooks, to both work with Microsoft Office as well as to be able to add non-QuickBooks related records, is a real plus.
This kind of product can be very important to your business. Note, though, that I expect there to be a lot of changes in this area in the next few months.
Category: Import/Export, Product Reviews
Charlie Russell is the founder of CCRSoftware. He's been involved with the small business software industry since the mid 70's, focusing on inventory and accounting software for small businesses. Charlie is a Certified Advanced QuickBooks ProAdvisor. Look for Charlie's articles in the Accountex Report blog, as well as his California Wildflower Hikes blog.