Back in July I wrote an article about QuickBooks on Windows 7 RC and Internet Explorer 8, where I talked about QuickBooks 2009 on the pre-release version of Windows 7. Since that time we have had the public release of Windows 7, and the release of QuickBooks 2010, so it is time that I revisited this subject.
(modified 11/9/2009) Please note that all of my examples in this article are based on the 32 bit version of Windows 7 – I'll mention the 64 bit version later at the end of the article. Also, I'm working with the US versions of QuickBooks here – the non-US versions tend to be about a year behind the US versions from a technical standpoint.
For my tests this time I started with a "clean" install – formatting the hard drive and installing a new copy of Windows 7 and all of my software, rather than upgrading the existing system. This can make the task take longer, but you do avoid bringing along a lot of baggage from your older system. Please note that your results may vary from what I see – there are many factors involved. The amount of memory, the type of processor, system drivers that you have installed, upgrading versus clean installs – all these (and more) can affect how your installation experience works out.
How To Run QuickBooks on Windows 7
There are three ways to run QuickBooks on Windows 7, the choice depends a lot on your hardware, version of Windows 7, and version of QuickBooks.
Running it as a regular program.
Running with Vista or XP Compatibility.
Running with XP Mode Virtual feature
Windows 7 is very compatible with Vista from a programming standpoint, so supposedly any program that runs on Vista should run on Windows 7. We also had an XP Compatibility mode with Vista, which many people used to get older versions of QuickBooks running there – but sometimes that took a lot of work. The new feature in Windows 7 is Windows XP Mode – and if you have the right kind of computer hardware this can work wonders!
QuickBooks 2010 on Windows 7
This version of QuickBooks is the only one supported on Windows 7 by Intuit technical support, and I had no trouble running it on my 32 bit system. There are a few problems that people have run into, but they tend to be problems that involve trying to get around certain features in Windows, or that are created by upgrading your system (and software) from an older install.
QuickBooks 2009 on Windows 7
Although this isn't supported officially, I had no trouble with QuickBooks 2009 on this system. Please note that the first thing I did after installing the program, before trying to open any data files, was to use the automatic update feature to make sure that I had the most current update. This is very important.
QuickBooks 2008 on Windows 7
This version is supposed to be Vista Compatible, and I do run it on my Vista system. In theory it should run fine, just like the 2009 version. However, I did run into some odd problems. Unfortunately the problems vary with time and aren't always reproducible.
At this time I'm finding success in running this in Vista Compatibility Mode. I'm still exploring what the problem is here.
Right click on the desktop icon for QuickBooks 2008 to get the context menu: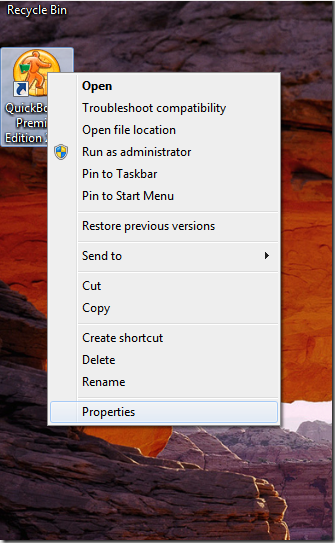 Select Properties, and click on the Compatibility tab
In my current system I put a check in the compatibility mode box and selected "Windows Vista" for the mode. At this time it seems to make this copy of QuickBooks happy…
QuickBooks 2007 on Windows 7
Again, a version of QuickBooks that should be Vista Compatible. I run it on my standard Vista system, but I usually recommend that people not try it in a production environment. With Windows 7, I had a lot of trouble. Even trying the Vista Compatibility mode as I described above didn't make this installation trouble free.
In this case I was able to get it to work, but I had to use the Windows XP Mode feature that I'll describe in more detail in the next section.
QuickBooks 2005 on Windows 7
I jumped ahead to the 2005 version, passing over the 2006 version. 2006 and older versions are no longer supported by Intuit in any way. I wanted to try an older version, one that uses the "old" database system (the 2005 version was the last US version to use it). Note that the method I describe here, for 2005, worked for the 2007 version and should work quite well for the 2006 version.
Windows XP Mode is fairly technical to set up, and you need a fairly new computer to be able to use it. This is an updated version of the Windows Virtual PC system that I described in my article last year on QuickBooks in a Virtual PC, but Microsoft has made vast improvements on this feature. Please note that you must have Windows 7 Professional, Enterprise or Ultimate to be able to use this feature.
I can't go into all of the details here, as the steps will vary with each different computer. Open Windows Help and do a search on XP compatibility and you will get step by step instructions.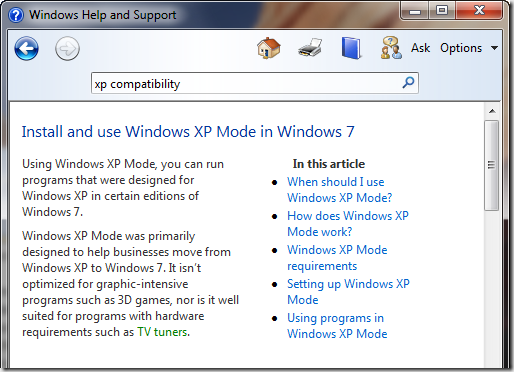 One of the first steps that you will take is to confirm that your PC can support Windows XP mode. You may find that your computer won't support it – if not, buy yourself a new computer (or a newer copy of QuickBooks). Microsoft provides a very simple to use detection tool that will examine your computer and tell you if it can support this mode.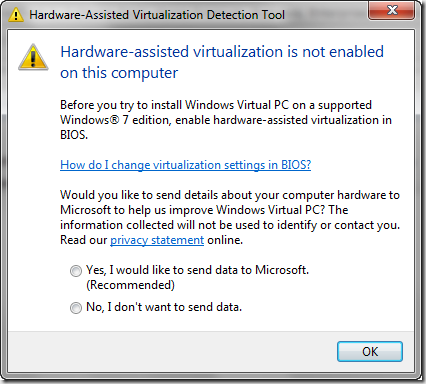 In my case I had to implement some changes in my system BIOS, which wasn't that difficult for me – and Microsoft's instructions were very detailed.
After configuring the hardware you have to download two products from a Microsoft web site, and install them – Windows XP Mode and Windows Virtual PC. There is no charge for these products, and the instructions were very detailed and easy to follow.
In a nutshell, you are setting up an "XP Computer within your computer" – a copy of Windows XP that will run within your copy of Windows 7 – and then you install your software there. The programs think that they are running on a copy of XP, so the compatibility issues usually go away. With Windows 7 Microsoft has made this chore very simple and fairly automated, once you get it set up properly. I have to say, I'm impressed.
Once installed, your copy of QuickBooks will show up in your Windows program menu in the Windows Virtual PC folder. Run the program from this menu, it looks just like you are running it on your desktop like any other program.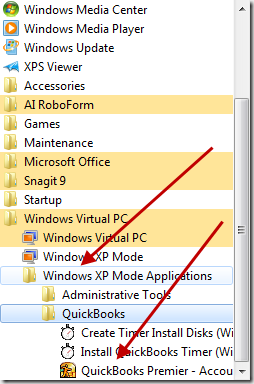 A special note – when you try to install QuickBooks 2005 you will run into errors with the Flash driver, most likely. To get around this, don't run the "setup" program on the CD in the root folder. First, open the ThirdParty folder, find the DonNET11 folder, and run dotnetfx. That installs the .NET 1.1 runtime that you need for QuickBooks 2005. Next, go to the QBooks folder and run Microsoft Installer file (instmsia). This will install QuickBooks while skipping the Flash install.
Here it is, QB 2005 running on Windows 7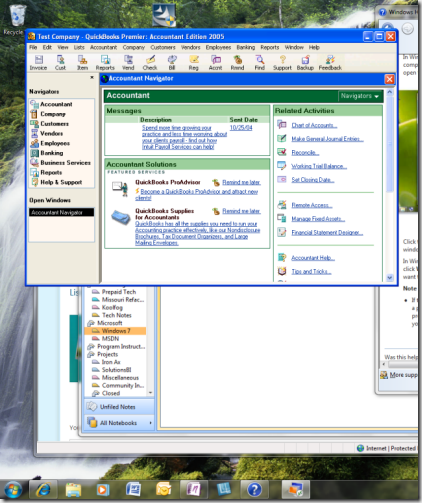 NOTE that I did NOT try this for multi user mode or shared use. I do NOT recommend doing this even if it is possible, you won't like performance. Better to upgrade.
A Word of Caution on Virtual PC's
Remember that your Virtual PC is just like a separate computer – if you run it in stand alone mode and use your web browser, it is most likely not protected by your virus protection and firewall software that is installed on your computer. So be careful how you use it, and other programs that you may install there.
You May Still Have Problems
If you still have problems with QuickBooks running in Windows 7, your first stop should be the Intuit Windows 7 Support Site. This is where they will be posting information about Windows 7 and the various problems that people run up against.
To summarize a few of the things they have found:
You must have Internet Explorer enabled. Windows 7 lets you turn it off so that you can use a different browser, but QuickBooks will not open your company file if IE isn't enabled.
Google Desktop may make QuickBooks crash if you use QuickBooks in XP Mode.
PDF printing problems and crashes may occur if you installed QuickBooks on Vista, and then upgraded your system to Windows 7. This is particularly a problem on 64 bit systems as has been discussed in other articles.
Windows Explorer Script Errors are an intermittent problem that can occur when looking at certain features within QuickBooks – just click "yes" to continue and the problem is bypassed. They haven't (at the time this is being written) figured out what is going on there.
QuickBooks Search not working with latest version of Google Desktop: There are a bunch of issues here. Support for the special QuickBooks compatible version of Google Desktop has been dropped as a feature starting with the 2010 version, and there are different versions of Google Desktop floating around
64 Bit Windows 7
(Updated 11/9/2009) Vista 64bit systems have always had a troubled relationship with QuickBooks, as I have discussed before.  If you are trying to use an older version of QuickBooks you will continue to have problems with Windows 7 on a 64 bit system. I strongly recommend that you only use a 2010 release of QuickBooks on Windows 7 64 bit systems. My initial install on that kind of system worked perfectly – Intuit is using an updated PDF driver. The 2009 version may work IF you update it to the most current release. Older versions will have problems with generating PDF files and reconciling accounts.
Did this article help? Let me know!
Category: QuickBooks 2010
Charlie Russell is the founder of CCRSoftware. He's been involved with the small business software industry since the mid 70's, focusing on inventory and accounting software for small businesses. Charlie is a Certified Advanced QuickBooks ProAdvisor. Look for Charlie's articles in the Accountex Report blog, as well as his California Wildflower Hikes blog.