When you purchase a copy of QuickBooks Premier or Enterprise you are often faced with a confusing question – which edition should I choose? Depending on where you purchase it, you may see the Contractor, Nonprofit, Retail, Manufacturing & Wholesale, Professional Services or Accountant edition.  For some users it is simple – if you are a Non Profit organization for example, pick the Nonprofit edition. But what if I am a manufacturer who also sells in a retail environment? What to choose? Sometimes the answer may be surprising – you might want to try the Accountant Edition.
What Is Different In The Editions?
I've always been annoyed about the way Intuit handles the editionsof QuickBooks. On one hand, it makes sense to present some information in a different way to some kinds of businesses. Instead of customers in a non profit organization, call them donors, for example. Presenting specialized reports such as a Donors/Grants report in just the non profit edition.  However, Intuit goes beyond this with their editions, by limiting certain features.
For example, let's look at the Unit of Measure feature. If you select the Manufacturing and Wholesale edition, you can define multiple units of measure for an item. This allows you to buy, sell or use a product in single quantities, dozens, cases and so forth. Very useful. However, if you select the Retail edition, this feature is disabled! (See this Unit of Measure note for a listing of this feature by edition). That just doesn't make sense to me, and it is a silly limitation when we know that the feature is built in – it is just hidden from you with this edition.
Multi-Install "Industry" Edition
While you still see QuickBooks sold by specific edition in retail outlets (Amazon, OfficeMax and so forth), on the Intuit web site you may see the QuickBooks Premier Industry Edition. Another edition? What is "Industry" as opposed to something like "Manufacturing and Wholesale"? More confusion (perhaps I'm easily confused).
In this case, what you would be getting is the "multi-install" version of the program. When you install it, you will be asked to pick the edition. This sounds better – you don't have to make your decision as to the edition when you buy the program, just when you install the program. Also, if you change your mind and decide that you want to use a different edition after you install, you can still change to a different edition by  selecting manage my license in the help menu (with current versions).
QuickBooks Accountant Edition
You have another option, though. If you purchase (or install) the Accountant Edition, you have access to just about all of the features of all of the editions. For many users I find that this is the best choice.
For the most part, none of the features are disabled in the Accountant Edition. You have access to the multiple unit of measure feature, the full price level list feature, and more.  All of the specialty reports are available in the Reports menu, as you see here: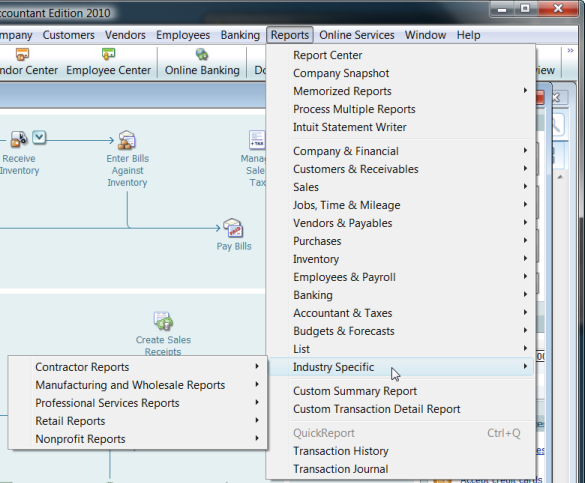 Sometimes there are features that are hidden, though, even in the Accountant Edition. A situation that I often run into is that a manufacturer may want access to the job costing center, which is found in the contractor edition. It doesn't show in the accountant edition either. There are ways to get around this, though.
First, you can toggle to a different edition. In the File menu select Toggle to another edition and you are allowed to temporarily change to another edition, and then have access to all of the features there.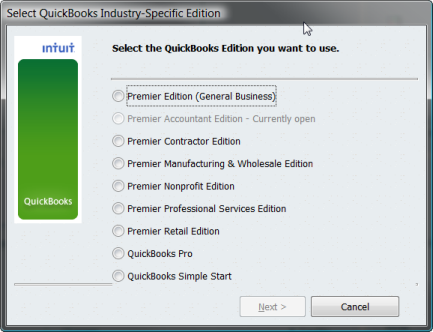 This is faster than permanently changing your edition via the manage my licensefeature, but it does take a bit of time to complete. Also note that once in awhile QuickBooks will not allow you to "toggle" – for reasons that I've not been able to pin down.
There are some tricks to make this smoother, though. Using the job costing center as an example:
Toggle to the Contractor Edition.
Open the Job Costing Center.
Select View in the main menu, then Add "Job Costing Center" to the Icon Bar…"
Toggle to the Accountant Edition.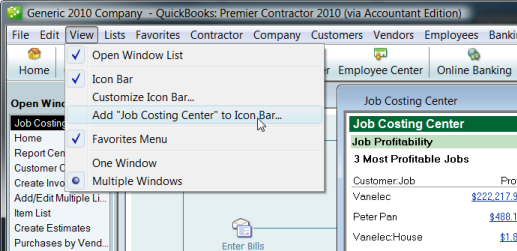 You will now have access to the Job Costing Center through the icon bar in your Accountant Edition.
Should You Pick The Accountant Edition?
I use the Accountant Edition all of the time, but then it is a very important edition if you are a ProAdvisor or a developer of QuickBooks Compatible software like I am. For most businesses I don't know of a reason to not use it – unless perhaps you are a non profit organization.
Note that there are features in the Accountant Edition that you might find helpful. For example, the Client Data Review. This is intended to be used by an accountant to review your accounts and correct problems. There are a number of useful features here, such as troubleshoot inventory, that any inventory based business may find useful.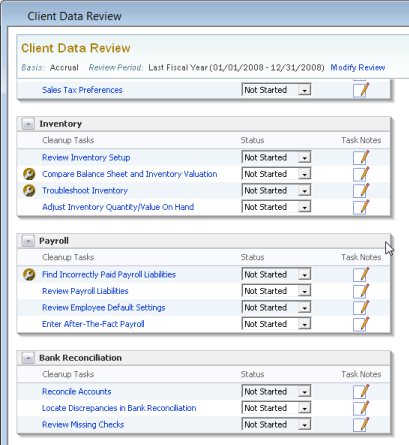 Do you use the Accountant Edition in your business? Leave a comment telling me why you like it, or don't like it, for your particular business!
Category: General Tips
Charlie Russell is the founder of CCRSoftware. He's been involved with the small business software industry since the mid 70's, focusing on inventory and accounting software for small businesses. Charlie is a Certified Advanced QuickBooks ProAdvisor. Look for Charlie's articles in the Accountex Report blog, as well as his California Wildflower Hikes blog.