The QuickBooks 2009 R10 release is available via Manual Update. It will be released via Automatic Update in a few days, most likely.
Update 12/17/2009 – see my followup article on the R10 release and an additional problem.
I've installed the update in my test system, and it seems to perform correctly as nearly as I can tell. Please note that I have not yet had a chance to use it extensively. I did run into a problem – multiple 1321 errors.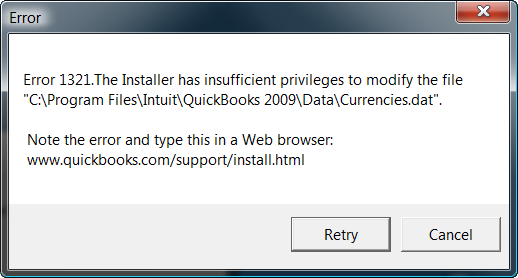 According to KB Article 1000286 this either can be a folder permission error (which wasn't the case in my installation) or just a timing error (very likely on my very busy system). I just kept clicking the retry button and got through the installation successfully.
Who Needs This Update?
Before updating, you should first check to see what version you are using. Open your QuickBooks company file and press the F2 key – the edition and version information will be shown at the top of the window.
If you have upgraded to the R9 version of QuickBooks 2009 then I would recommend  you get this update. The R9 version has a potentially significant problem with reporting sales tax. According to KB Article 898649: If you are currently using R9 and have used the Sales Tax Liability and Sales Tax Revenue Reports to submit tax information with tax authorities this month, your submission may be incorrect. As a result, you may need to resubmit your sales tax information after downloading R10 if you meet certain criteria. Specifically, this issue applies to you only if you meet the following conditions: within QuickBooks, the sum total of items in your Items List multiplied by the number of vendors in your Vendor List equals more than 10,000.
If you are running the R8 version of QuickBooks 2009 or older, please be careful with this update. The R10 upate will take you from R8 directly to R10, but you do need to perform the update properly. BEFORE YOU UPDATE please review KB Article 898649 for detailed update instructions. The conversion from R8 or older to R10 must be done properly. There are a number of bugs in R8 and earlier which are fixed by R10 (and R9), but please note that a lot of users ran into problems with this conversion. MOST seem to be due to not being careful with updates of the database server, but there are a number of people who have reported other problems.
Another option is to upgrade to QuickBooks 2010. This also has to be done carefully, but I've actually seen fewer complaints about this upgrade. Note that there may be a fee involved if you don't already have a copy of the 2010 product.
Does R10 Fix the R9 Problem?
It seems to – and I specifically queried Greg Wright (a QuickBooks product manager) about this – the R9 sales tax problem was just an error in the report, it wasn't due to damage of the data file. So R10 fixes the report, and there is no damage to repair. The biggest hassle would be for people who have reported their sales tax based on R9 reports – you may need to make some corrections to what you reported.
Didn't Automatic Update Cause The Problem In The First Place?
Well, yes, sort of. Then why is THIS release being put out on automatic update in the near future?
Moving from R8 to R9 via Automatic Update created problems for many installations because they didn't follow the proper procedure. People updated their workstations but not their database servers. You can't blame most users – they followed their typical procedures for an automatic update. But this update is VERY different, and the process was more complicated. Intuit removed R9 from automatic update when they realized that it was causing problems.
So why is R10 going out on automatic update?
According to Greg Wright (QuickBooks product manager) their reasoning is that
The great majority of people who were on automatic update are ALREADY moved up to R9, it is unlikely that there are many people using automatic update who are NOT on R9.
There is a real need to get the R9 people moved up to R10 very quickly, to resolve this sales tax problem.
The QuickBooks automatic update facility doesn't have a mechanism for determining exactly what version you are updating

from

.
Category: Program Updates, QuickBooks 2009
Charlie Russell is the founder of CCRSoftware. He's been involved with the small business software industry since the mid 70's, focusing on inventory and accounting software for small businesses. Charlie is a Certified Advanced QuickBooks ProAdvisor. Look for Charlie's articles in the Accountex Report blog, as well as his California Wildflower Hikes blog.