QuickBooks holds your company data, and you want to pull info out in a format that YOU want. Unfortunately, you don't have a lot of control over many reports that QuickBooks can generate. Today I'll talk about a useful tool that can help you get reports out of QuickBooks with the information you want, using XpandedReports for QuickBooks.
Reports, Reports We Want Our QuickBooks Reports
XpandedReports for QuickBooks provides two general types of reports – duplicates of those you find in QuickBooks and special reports that they have created themselves. Here is a sample of some of the reports that you find in QuickBooks, from the XpandedReports menu:
Many, but not all, of the standard reports are found in this menu.
If these are just the same reports that we have in QuickBooks, why bother with the monthly fee? The answer is, XpandedReports gives you many more customization options than what you have in QuickBooks.
You can add columns for many fields that you cannot add in QuickBooks.
You can calculate values by applying formulas to the columns.
Excel-like pivot tables can easily be created
Reports that aren't found in QuickBooks are provided, with more on the way.
If you find that you are exporting data to Excel to generate the reports that you want, if you are struggling to understand the ODBC driver and get it to work, this is a tool worth looking into.
Add Columns
Different reports in QuickBooks can be customized to varying degrees. Summary reports tend to have fewer options that Detail (or Transaction) reports. XpandedReports provides access to a larger number of fields in most cases.
I'm going to use one particular report, the Physical Inventory Worksheet, as an example of some of the features. This may be an extreme case – it is more limited than most reports you will see in QuickBooks – but it serves as an example of what often frustrates me when trying to pull information from QuickBooks reports.
In the report in QuickBooks I can click the modify button to see what options I have. Here is what you see for the Physical Inventory Worksheet: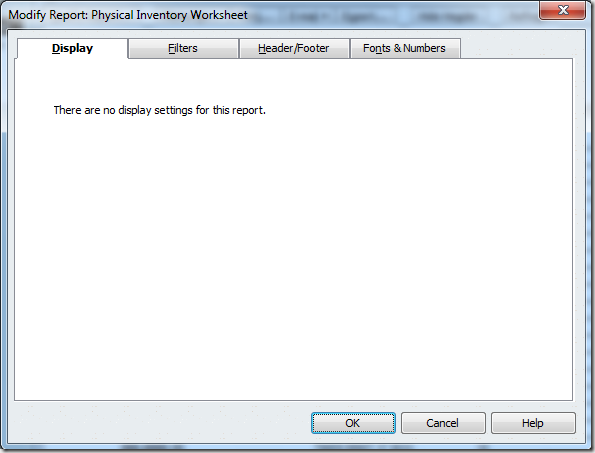 Not much to work with here!  Admittedly an extreme case. For some reports you will see more options, but you are still limited:

Here is the report from QuickBooks(I'm purposely blurring some of the information in the screen shots):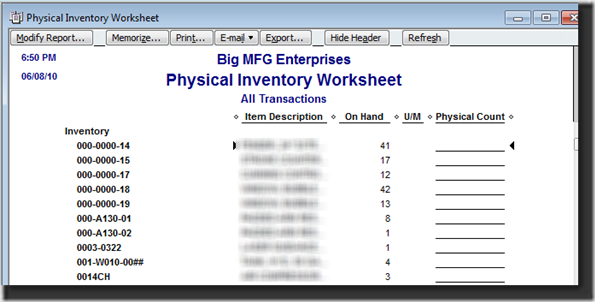 Not being able to customize this very basic (and very important) report can be very frustrating. What if I have a custom field such as the bin location? What if I want to add information about the quantities I have committed to sales orders, or coming on purchase orders? You can't start with this report and get what you need.
Now let's take a look at XpandedReports. I'll start with the Item Inventory Listing and click the modify button: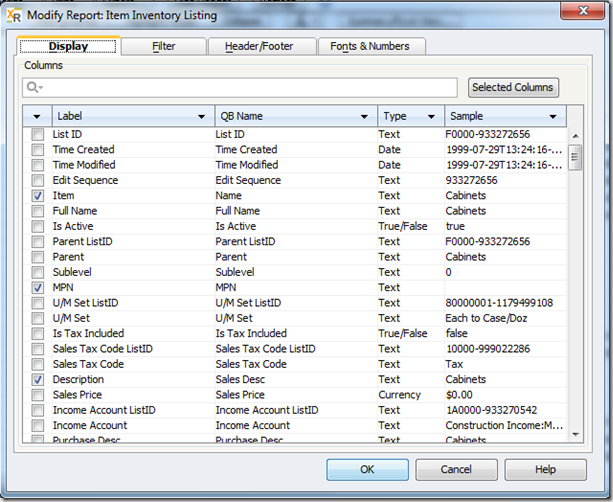 Quite different from what you see in QuickBooks. There is a long list of available fields. In addition, the program provides you with a sample column that previews the kind of data that you might see in the field.
I've modified my report to add a number of fields. Bin Location is a custom field, and I have several others that I would like to see: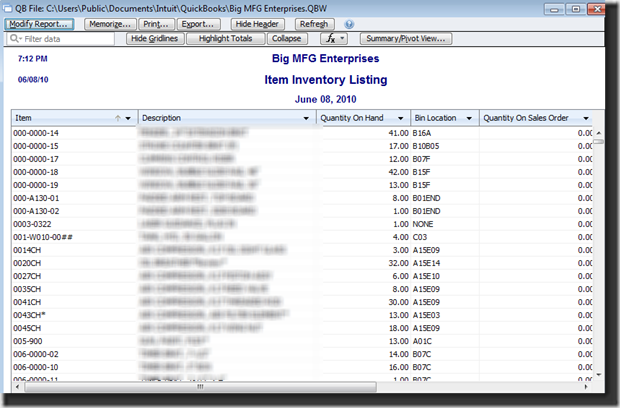 Calculate Values
Let's build on my example from above. I have a quantity on hand value and a quantity on sales order value. I want to take the difference of these to show an available quantity.
Click on the formula button, assign a label (name) to the column, select a format, and enter a formula by selecting fields from the list and adding the appropriate symbols (very similar to what you would do in Excel).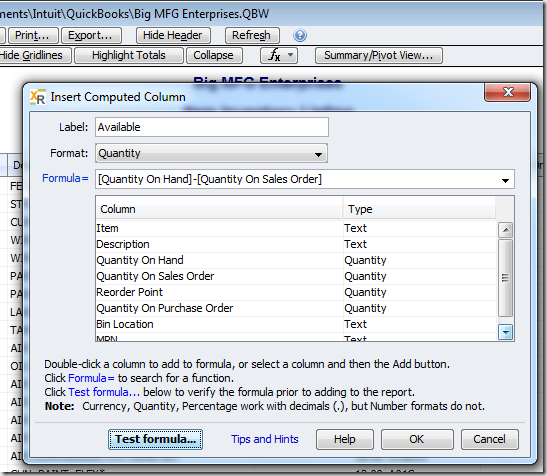 Here is the modified report – you can't do this in QuickBooks by itself: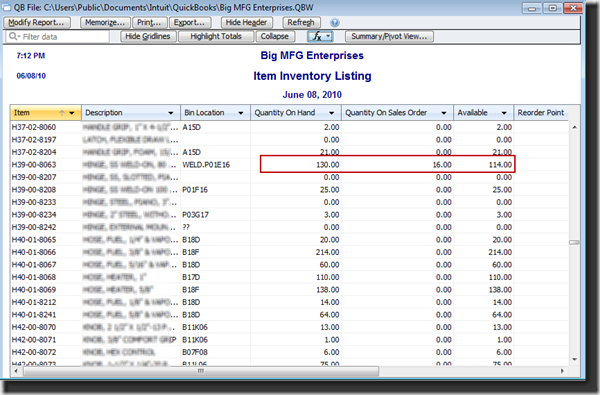 Normally to get this I would have to export data to Excel or write a custom program – this is a simpler approach.
Pivot Tables
I'm not an expert on pivot tables. I'm not going to try to explain what they are or how you use them. If you know what they are, if you use Excel to generate them, you will appreciate XpandedReports. Click on the Summary/Pivot View button and you can select the fields to use to create your pivot tables, without having to export to Excel.
Special Reports
In addition to the basic QuickBooks reports there are a number of special reports that XpandedReports provides. These are, as I understand it, reports that they have thought of or that customers have convinced them that everyone needs.

At this time their web site says that new reports can be added if someone convinces them that this is a generally useful report. They currently don't create "custom reports" on demand, but may (for a fee) in the future.
It Isn't Perfect…
If you have read my other product reviews you know that I can always find something to be critical about with an add-on product. Problems do exist here, but I haven't found anything at this time that I would call critical. 
Setup
I develop QuickBooks integrated products myself, so I understand what steps are required to make a program work with your QuickBooks company file. I was able to get XpandedReports to work relatively quickly, but there were a few confusing things that I ran into. I generally try to run programs without first reading the help videos or documentation, so sometimes I get into corners that I shouldn't. Do you always read the documentation first? If you do, you are not the normal computer user!
I ran XpandedReports and quickly ran into an error:
OK, reasonable, but why didn't they tell me that I needed to open QuickBooks first? After I clicked OK, I got thie following: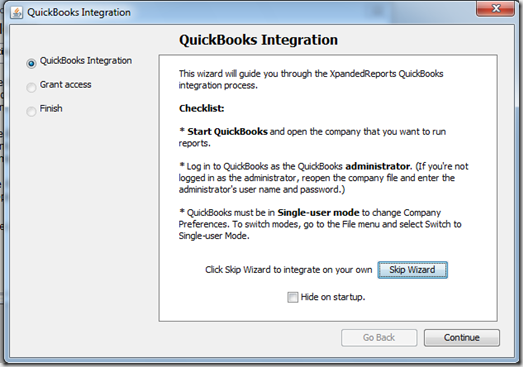 OK, sure, NOW you tell me to start QuickBooks first, AFTER I got the error message. A bit confusing, but if I just muddled forward I was able to get the program running. There were a few frustrations – I had to actually exit the program and restart it before things worked the way I expected, but it didn't take long to figure out.
Many of the setup processes have a "wizard" to lead you through the steps, and they do a reasonable job in explaining what is needed and what the next step should be.
Program Responsiveness
Let me start this one off by saying that any program that works with QuickBooks data has to contend with the painfully slow speed at which QuickBooks presents data. In my own programs I spend a large amount of time just trying to optimize the QuickBooks/Program interface. Having said that, I think that XpandedReports has a lot of room for improvement. Many times, when working with a large data file, I thought that the program had frozen and died. They don't give you any indication that the program is working or not – no "wait cursor" or progress bar. I walked out of the office several times thinking that the program had died, only to come back later and find that it had finished the task and was ready to proceed. Be forewarned, with a lot of data, some tasks are slow.
There are other data query tools that have found ways to "buffer" the data and get around this issue, it is an area that they should focus on improving.
Complicated Data and Poor Explanations
They list a lot of data fields, and a lot of them aren't going to be clear to you if you aren't familiar with the way that Intuit stores data. I've not found anything that explains what these fields are – you have to figure that out yourself. There are lots of references in other tools (the ODBC driver from www.qodbc.com, for example) that can be helpful. This isn't a tool for timid people.
Is It Worth Buying?
If you are frustrated with the reports you get from QuickBooks, this is a tool that is worth looking into. There are a lot of good features in here. It is more complicated to use than just QuickBooks by itself, but it is far less complicated than learning the ODBC driver or the Intuit programming interface. You do have to be patient and persistent, though.
I'm not sure how long this product has been on the market – it feels as though it is relatively new and is still being developed.
XpandedReports for QuickBooks works with QuickBooks Pro and Premier 2008 and higher and Enterprise 8.0 and higher. US, Canadian and UK editions are supported.
Pricing is per "seat" (user) per month, starting at one seat for $19.95 a month, up to 10 seats at $15.95 per month. You do need Internet access. While I'm not a fan of this kind of pricing scheme, in this case it is helpful. You can play with the program and see how it works for you without making a major commitment to an expensive program.
Pricing includes free technical support via email only. Product help is a link to their web page – the help info is fairly limited, but they do have a number of tutorial videos (I wish they were in a higher resolution, a bit fuzzy to see).
Category: Product Reviews
Charlie Russell is the founder of CCRSoftware. He's been involved with the small business software industry since the mid 70's, focusing on inventory and accounting software for small businesses. Charlie is a Certified Advanced QuickBooks ProAdvisor. Look for Charlie's articles in the Accountex Report blog, as well as his California Wildflower Hikes blog.