Starting Tuesday evening (June 15th) many Intuit web sites and services became unavailable due to a power outage at their data center. Even though you may be using the Desktop version of QuickBooks, this could have a major impact on your ability to conduct business.
Update 7/21/2010 – Please refer to my followup article on the latest news about outages.
I first heard of this through the Intuit Community Forum, where the following was posted:

In this case, the Intuit Community web site seems to be working fine. Similar messages have been posted on other Intuit web sites
In some cases I was referred to several different Intuit status pages or blogs. In the QuickBase status site we see;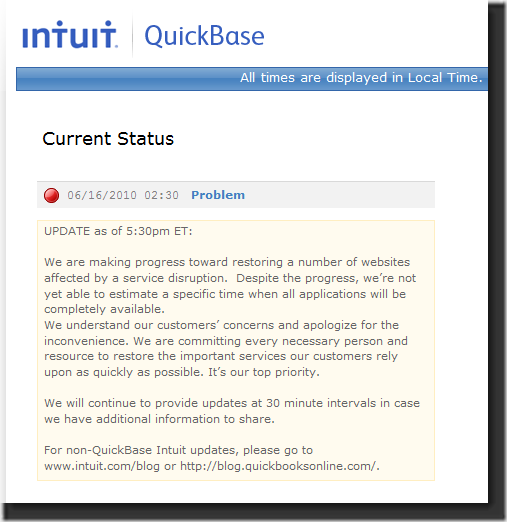 In another I see:

Information on this is popping up in different places, such as cnet news, and in emails I've received from some Intuit departments. The QuickBooks Online blog is apparently running at this time (I think it is hosted at a non-Intuit site), and they posted a message. This one is interesting because people are leaving comments here (not a happy group!) and Intuit employees are answering as best they can in this difficult situation.
What can you do?
Actually, if this affects you, there isn't a lot you can do if you are using a service that is affected. My friend Michelle Long posted a very helpful article that addresses a few issues such as email, payroll and credit cards. For the most part, if you are affected, all you can do at this time is wait.
Not all Intuit web services are affected by this – it is interesting to see what is and isn't affected.
I Use the Desktop Version of QuickBooks, Why Should This Bother Me?
Intuit has been pushing in the direction of providing online services for a few years now, and with the release of the 2010 version they stepped into this in a big way. Even though you may be using a desktop version primarily, here are a few things that might be causing you problems with this outage:
Credit card processing – if you are using the Intuit product, you may have difficulty in processing credit card payments. I don't use this myself so I can't say if it is affected or not.
Payroll – this is a really big one, as most Intuit payroll services use some form of online features.
Document Management – if you are using the online document management program that came out with the 2010 version, you can't add or retrieve your documents until this service is up and running again. One of the reasons that I tend to favor a local document management solution.
Intuit App Center – I recently talked about the push by Intuit to build online applications that work with your desktop data – well, here we are, none of those are working at this moment.
If you are using the desktop version (sorry, QuickBooks Online users…) then most of your business process is still functional, unless you are tied into an online application for inventory control or some other crucial feature. The biggest hurt that I've seen is with payroll and credit card processing, but there may be issues that I'm not thinking of here.
Is this indicative of a major flaw in Intuit's game plan? Well, not necessarily. This kind of thing can happen, will happen, as we depend more and more on the Internet. While I'm not a fan of online applications myself (being old and curmudgeonly) but there are definite advantages to this kind of development. Outages like this are going to happen, you have to make plans on how to deal with them. AND, as my friend just pointed out to me, this can happen even if all of your data is on your office computer. Telephone lines fail, local power lines fail, desktop computers and local office servers can fail. You have to make plans on how to deal with these kinds of service outages regardless of where your data resides.
Is this indicative of a major design flaw in how Intuit manages online data? That is hard to say at this time. I don't believe that there is a major problem here, but I can't say for sure. Let's see how long the outage occurs. More importantly (to me), let's see if any of our data is lost when the service is brought back. That is a very key feature. Outages will happen, even with the best planned data centers. We have to live with that. A loss of data when service is restored is something that should not happen – we'll see how Intuit does.
Funny thing – just a few days ago one reader of my blog asked about data security with Intuit data centers. That started me thinking, and I asked several of my Intuit contacts if I could get a statement. They all said that they would look into this and get back to me – at this point the best response I have was a link to this security statement relating to IPP (Intuit App Center)applications. I'm sure I'll be hearing more in a few days, perhaps after the dust settles from the current problem.
NOTE: After I published this initally, some of the Intuit web sites and services started coming back online. If I hear of something I'll add it in a "comment", but I won't promise to notify you of every re-established service, as I don't use several of them.
For more information see Running QuickBooks During Intuit Server Outages.
Category: General Tips
Charlie Russell is the founder of CCRSoftware. He's been involved with the small business software industry since the mid 70's, focusing on inventory and accounting software for small businesses. Charlie is a Certified Advanced QuickBooks ProAdvisor. Look for Charlie's articles in the Accountex Report blog, as well as his California Wildflower Hikes blog.