Every day that goes by, I learn something new about QuickBooks. Today I'll pass on some information I learned about the QuickBooks Automatic Update process. It all started with a number of complaints from people who said that their QuickBooks Home Page appeared blank…
Over the past few days a number of people started leaving messages in the Intuit Community Forum about problems with their "Home Page" disappearing. I hadn't run into this problem myself, and none of my direct support clients had reported this problem to me (and there was a reason for that, I determined later). I wasn't paying attention to this issue until my friend Kathy Ivens at CPA911 pointed it out to me, along with a link to a KB article that Intuit had posted about it.
It appears that an update sent out by Intuit has affected users of QuickBooks 2008, 2009 and 2010. The Home Page window disappeared, and nothing that you could do would open it up again!
This article provides three solutions:
Manipulating the QuickBooks update feature.
Downloading a "batch" file that will try to fix the problem.
Manually renaming some files in your "program files" folders
From what I hear, the last solution is the one that usually works. According to Kathy Ivens the second option only works if you have installed your programs to the default location, which many people do not do, so it can fail. It might not work in Vista or Windows 7 because of differences in folder names. The last solution might be technically difficult for some people, if you aren't familiar with the kinds of things you have to do to be able to get to these folders in Vista and Windows 7.
An Interesting Statement About Updates
What caught my eye in this KB article was the following statement:

Wait – background updates? Minor updates downloaded automatically?
If you have worked with QuickBooks for very long you know about updates, and should know about automatic updates. I post articles in this blog whenever I hear about a new update. Sometimes they are important, sometimes you might want to wait awhile to install them.
Normally you know about an update. You can also press the F2 key to find out what revision you are using. But, in this case, the "revision" information doesn't say that there was a new update. This "minor" update does not update the revision information.
So, we have an update that apparently was pushed out to QuickBooks users, but we weren't notified about it and we apparently can't use the normal means of detecting what revision we are on. This raised a LOT of questions in my mind!
There Are Updates, and then There Are Updates…
I asked some of my contacts at Intuit about this issue, and I received a very quick reply. Here is what I understand to be happening, in my own words.
Intuit delivers several types of updates to QuickBooks customers. Some are the primary maintenance releases that we know about, which have revision numbers. Typically (but not always) these will be available through a "manual" update for a period of time before they are sent out through the "automatic" update feature.
In addition, there are additional updates that are usually targeted at specific features and services. This can include payroll, the help system, sync manager, and "flavor" updates (related to the "type" of QuickBooks you are using). Some updates are enabled when you sign up for a service, some are available to everyone. These are secondary or off cycle updates. As I understand it these should not be updating the core program code in QuickBooks itself, they only update some of the ancillary files.
One of these secondary updates was the root of the "Home Page" problem – most likely having to do with a payroll update (which would explain why I didn't see it on my system), although I'm not certain about that. It could also have been a maintenance update.
You DO Have Control
A few years ago I wrote an article about automatic updates, where I explained that they are important, but that you might want to control how you get them.
As I said earlier, none of my direct support customers reported this problem – that is because I have them turn off automatic updates and only do updates when I tell them it is OK. So none of my customers got this minor update. However, I don't recommend that you turn this feature off unless you closely monitor the update cycles, as the updates are important. You need to be aware of what they include and if they are useful. I always try to keep on top of this in my blog, posting info on the new updates when they come out.
We also have some features that give us a greater degree of control over these secondary updates. Select Help and then Update QuickBooks to open the update window. Click on the options tab: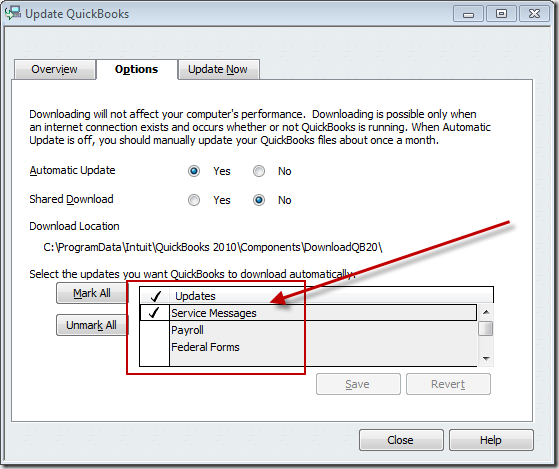 There is a list of features in the scrollable window that controls these secondary updates. If a feature is checked, you are eligible for getting one of these updates. These aren't restricted to the primary updates, they can occur at any time. You have the option to un-check these options. However, think about this carefully before doing it – you must have a good "update plan" in place so that you periodically get these updates, they can be critical.
How do you know if an update has been installed? Well, you don't, as far as I can tell. You have SOME information by going to the Update Now tab: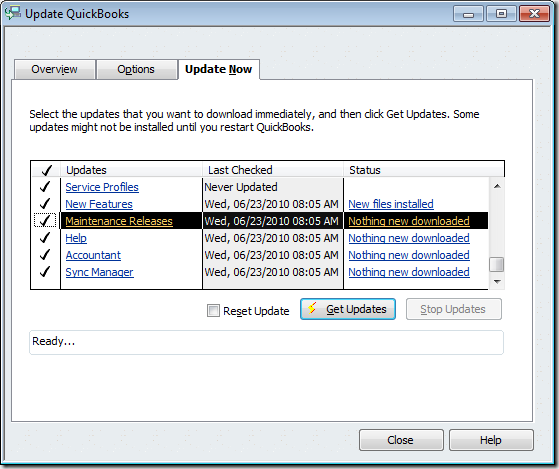 Look at the last checked column, you can see that some updates were installed on 6/23/2010. If I press the F2 key, the versions used on file section tells me that I opened this file with the R7P release (the most current 2010 release revision at this time) on 5/26/2010.
So, I installed the last primary release, the one I knew about, back in May, but QuickBooks installed some other update in June that I was not aware of until now.
Using the Updates window doesn't give me a history of the secondary updates, it only shows me the most recent time that the program checked for updates and if one was installed. I can't, for example, tell if there was an update installed in maintenance releases prior to June 23.
The Good News
One piece of good news for people who have been affected – you don't have to try the complicated update steps that are listed in the KB article. Intuit already has a fix for the "fix" – the same automatic update feature will correct the problem. I'm not clear if that has been released already, or if it will be available tomorrow (Thursday) – and these updates are only installed when you close and restart QuickBooks. Intuit determined what the problem was and was able to correct it quickly.
Another piece of good news is that these kinds of updates, as I understand it, generally should only affect ancillary features, not your core program. You won't get program updates that will change how a basic accounting function operates, you won't get an update that will cause compatibility problems when you send your file to your accountant. The "Home Page" program was annoying, but everything on the home page was still accessible via a menu item somewhere, so it wouldn't be a show stopper.
The final piece of good news is that you DO have control over this. You can turn off the updates, either the individual secondary updates or even the primary updates. However, BE CAREFUL if you consider doing this. If you turn off these updates, and you forget to install the manual updates periodically, you may run into problems! If you are using an Intuit payroll product, I strongly recommend that you do not turn this feature off.
As long as the kinds of updates involved here are in fact minor, as the Intuit representative specified, I don't see this as a major red flag. I do wish, though, that there was some better way for me to know what is actually going on and what I (or a client I'm working with) am running.
Category: Program Updates, QuickBooks 2008, QuickBooks 2009, QuickBooks 2010
Charlie Russell is the founder of CCRSoftware. He's been involved with the small business software industry since the mid 70's, focusing on inventory and accounting software for small businesses. Charlie is a Certified Advanced QuickBooks ProAdvisor. Look for Charlie's articles in the Accountex Report blog, as well as his California Wildflower Hikes blog.