It has been a long time coming, but Intuit has finally fixed the problems with saving PDF files from QuickBooks! This fixes every problem I've seen so far, in both 64 bit and 32 bit systems. QuickBooks 2011 takes an entirely different approach to managing PDF files, and it works!
Updated 12/6/2012: See this article on QuickBooks and PDF drivers for the LATEST NEWS on how to fix PDF problems.

Why This Is a Big Deal
QuickBooks uses PDF files in a number of places – some that aren't all that obvious. If you are emailing an invoice to a customer, QuickBooks creates a PDF file and attaches it to the invoice. You can use the "save as PDF" option in the File menu to save an order as a PDF file for local use. Less obvious – when you reconcile a bank or credit card account, the reconciliation reports are saved as PDF files.
For the past few years Intuit has used a "printer driver" from a company called Amyuni. It is installed as a printer driver just like any printer, although you wouldn't normally "print" to it. This printer driver, in QuickBooks implementations, has had a long history of problems. Most of the issues have arisen in in 64 bit systems, where compatibility is always a problem. But the problems have not been limited to 64 bit systems.
I've written on this on many occasions:
This has been a continuous headache for many QuickBooks users, and people who support them. Even with all the bug fix releases, many people continue to have PDF related problems.
How They Fixed It in QuickBooks 2011
The solution is one that I've been wishing for ever since this started – drop the "printer driver" approach and use an internal PDF function. I use one in my own software, and I've never had problems with PDF printing on any version of Windows.
THEY DID IT!
The QuickBooks PDF printer driver is gone. You won't see it show up in your Windows control panel (if it is there, it is left over from older versions of QuickBooks). I've tested this on a variety of Windows systems, both 32 bit and 64 bit, and I have never run into problems.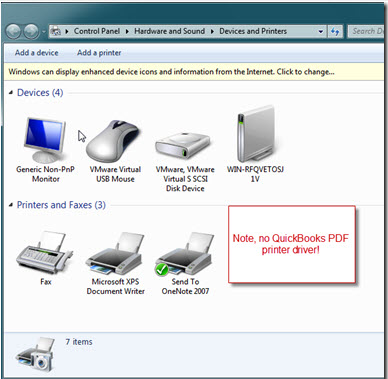 Please note that we may still see problems – my tests don't prove that all is well, but things are looking up!
If you have older versions of QuickBooks installed on your computer (most ProAdvisors will) then you must leave the QuickBooks PDF drivers installed for those versions. If you only have QuickBooks 2011, delete those old drivers, they just take up space.
I know that the technical changes that they had to implement were significant, so I doubt that they will be able to roll out this kind of change for older versions of QuickBooks. But that is just a guess on my part.
I am very happy with this update so far. We'll see if we run into problems with this feature in some installations, but I expect that this will resolve all of those issues that people have seen with the prior approach.
Some Things Have Not Changed
Even though they have changed how PDF's are generated, you still need to have Adobe Reader or Adobe Acrobat installed if you want to see a previous reconciliation report.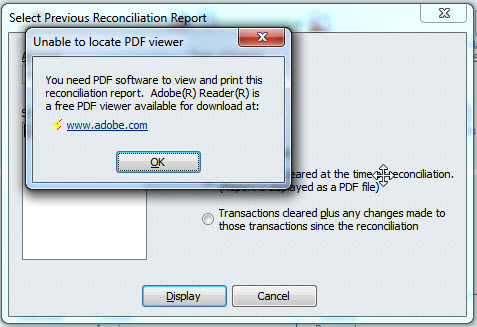 Category: Program Updates, QuickBooks 2011
Charlie Russell is the founder of CCRSoftware. He's been involved with the small business software industry since the mid 70's, focusing on inventory and accounting software for small businesses. Charlie is a Certified Advanced QuickBooks ProAdvisor. Look for Charlie's articles in the Accountex Report blog, as well as his California Wildflower Hikes blog.