You can order QuickBooks 2011 starting this week, so here is my annual "QuickBooks Pricing" article. Where is the best place to buy QuickBooks? I'll let you decide – but do NOT pay full retail for your copy of QuickBooks!
Please note that these prices are subject to change, so you should check them out before making a purchase.
Standard Pricing
If you go to the QuickBooks web site at http://quickbooks.intuit.com/ you will see the following for the US edition (Windows desktop versions only):
Pro 2011 one user, $229.95
Pro 2011 three users, $649.95
Premier 2011 one user, $399.95
Premier 2011 three users, $999.95
Enterprise V11.0 5 users, $3000.00
It is interesting to note which prices went up from last year, which went down. Pro one user is up, Premier three user is down, for example.
Upgrade Pricing
If you are ordering through the Intuit web site you will see that there is an upgrade offer – click on the Upgrade button. If you have an older copy of QuickBooks and have a license number, you may be able to get a discount.
Pro 2011 one user, $199.95
Pro 2011 three users, $599.95
Premier 2011 one user, $359.95
Premier 2011 three user, $899.95
You will be asked for your registration number, a 15 digit code you can find in your current product under Help and then About QuickBooks.
Internet Pricing
For Pro and Premier you can go to Amazon and other bulk vendors. Looking at prices today (this can change at any time) I found the following;
In addition to this you may be able to find copies on eBay, but I don't recommend shopping there. You don't always know what you are getting – if it is an opened copy that has been registered you may not be able to transfer the license to your company. It can be very risky.
If you are patient, and you want a single user Pro version, wait a few months. Intuit often provides heavy discounts on single user Pro licenses through various retailers like Office Max. I can't say if they will do that this year or not, but I'd be surprised if they don't. However, note that I usually don't recommend Pro for most businesses – I greatly prefer Premier.
An Even BETTER Price
Even though QuickBooks is giving "upgrade" pricing, you can still do better. Here are a couple of options.
You can go to a discount vendor such as Sam's Club. At the time that I'm writing this they are not listing the product in their online store – but in the past there have been slightly lower prices for the products there. Note that you might only find single user licenses.
This is usually not a download copy, it will be shipped to you, and shipping charges may apply.
Another alternative is the CCRSoftware QuickBooks Products web site. For the sake of openness and honesty, this is my web site and I do get a commission from sales if you click here. However, you get one of the best prices around, and it is a downloadable copy (so you get it faster). If you choose a product from my web site, you are taken to the Intuit web site and you order directly from Intuit. However, as you can see below, the price is discounted (the discount varies by product):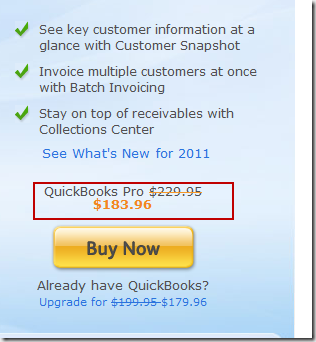 Discounts are also available for Premier.
  If you are looking for a multi user license, this often gives you the best price.

It pays to shop around!
Category: Program Updates, QuickBooks 2011
Charlie Russell is the founder of CCRSoftware. He's been involved with the small business software industry since the mid 70's, focusing on inventory and accounting software for small businesses. Charlie is a Certified Advanced QuickBooks ProAdvisor. Look for Charlie's articles in the Accountex Report blog, as well as his California Wildflower Hikes blog.