Intuit introduced the Intuit PaymentNetwork in 2009, a low cost method of sending and receiving payments. A year has passed, and there have been a number of improvements Let's look at this in relation to QuickBooks 2011, although most of the new features also apply to older versions.
If you aren't familiar with the Intuit PaymentNetwork I recommend that you review my introductory article written in September 2009. In summary, this is a way for you to receive payments from your customers by a direct bank transfer (also referred to as an ACH transfer). Both you and your customer set up a free account with Intuit PaymentNetwork. Once this is established you can receive payments to your bank account with a short turnaround. You do not have to establish a merchant account, which is a considerable advantage to you. Why? Because there is no monthly fee, and your charge for each transaction is only $0.50.
What Has Changed?
Since the first introduction of this service there have been a number of improvements.
Most payments under $5000 are funded within one business day, a great improvement from last year.
You can specify a send date for a payment, allowing it to be scheduled for a future date.
You can provide an incentive discount. Intuit PaymentNetwork saves you money, but why should your customer use it to pay you? Although it doesn't cost them anything, it takes work to set up an account. Why should they bother? You can add an incentive discount to reduce the payment if your customer uses this service. You are giving away some of your fee, but you can make that charge lower than want you would pay using a merchant account.
You can add an eCommerce button and publish it on your web site. The customer clicks this, they are led through the registration procedure to make payments with Intuit PaymentNetwork.
You can export transactions to QuickBooks (some restrictions apply, as discussed below).
Multiple bank accounts can be set up (earlier versions allowed just one bank account).
It is clear that Intuit is interested in supporting and developing this service, as the improvements are significant.
Integrating with QuickBooks
There are several ways to integrate this service with QuickBooks, depending on what version you are using.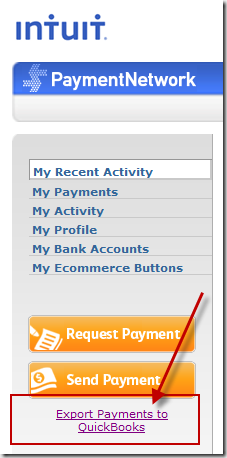 If you have QuickBooks 2008 or earlier you must use Intuit Billing Solution for QuickBooks. Payments that you have invoiced and received through Billing Solutions will be exported to an IIF file, which you will save on your computer. When you import this file your payments are placed in Undeposited Funds. The transaction fee must be manually entered, and you will have to manually apply the payment to your invoice.
If you are using QuickBooks 2009 or 2010 you will work with the Intuit Sync Manager to set up an automatic import into QuickBooks. This method will work with Intuit Billing Solutions, an eCommerce button that you can create with Intuit PaymentNetwork, or with an invoice created in the Intuit PaymentNetwork web interface. These payments will be applied to the correct invoices in QuickBooks automatically. You still have to enter the deposit (the payments are in Undeposited Funds) and manually add the transaction fee ($0.50).
Starting with QuickBooks 2011 you will have all of the options listed for QuickBooks 2009 & 2010, plus you will be able to have a live "payment link" included in your QuickBooks invoices. More on this later.
QuickBooks 2011
I won't go into the details of setting up your Intuit PaymentNetwork account to work with QuickBooks and Sync Manager. It should be a relatively simple process, but for some people it can get quite complicated. The issue isn't with Intuit PaymentNetwork itself – I find that Sync Manager can be tricky and complicated to set up correctly. Since I've been testing products for several years I have come up with a complicated mess when it comes to Sync Manager and the Intuit WorkPlace, and that makes it hard to work with for me. You may find that it is easier to set up and manage than I did.
Within QuickBooks there are two things that you need to do if you wish to integrate Intuit PaymentNetwork to add a payment link on invoices.
First, you must enable the feature in your Payments Preferences.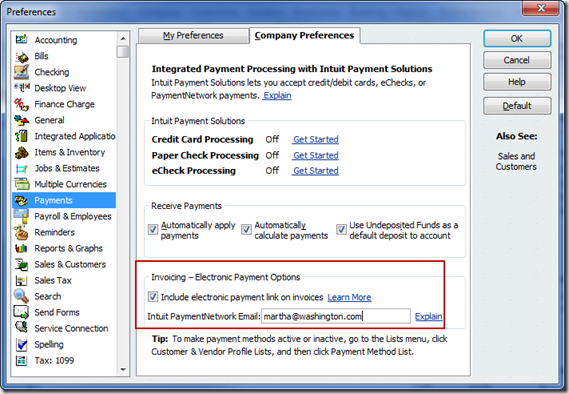 Check the box titled Include electronic payment link on invoices and enter the email address associated with your Intuit PaymentNetwork account.
Next, when creating an invoice, make sure the Allow online payment box is checked.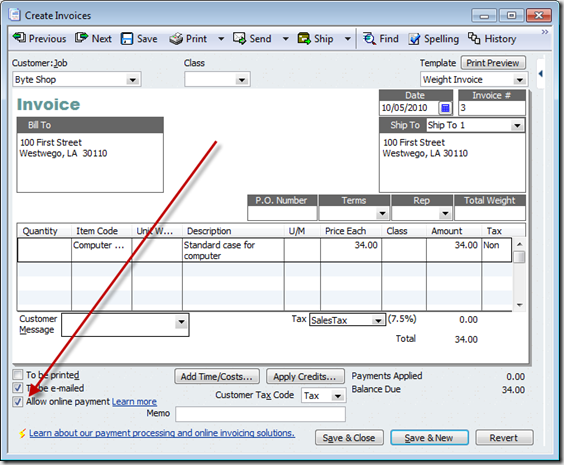 When you print your invoice you will see an added message.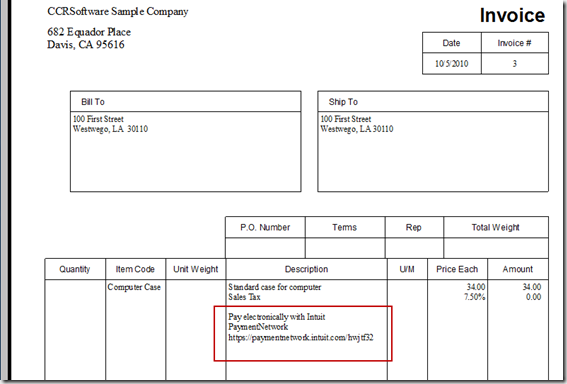 Note that if you send this as a PDF attached to an email message, the payment address is an active link that will take the customer directly to the Intuit PaymentNetwork.
Is It Worthwhile?
That depends on your business model. The service has come a long way from the initial release, with many enhancements that were requested by users. Intuit has been very responsive in this case. I've found this to be a very useful service, but it won't fully take the place of my merchant and PayPal accounts. I love the low fees, but the problem continues to be resistance from my clients. They don't see an advantage to using this kind of account over a credit card.
With the new integration features I'll be trying to use this in more situations. I still can't use it in my web site for software sales, as it won't work with my shopping cart and fulfilment system. However, any time that I'm billing a customer directly, I'll make this the preferred payment method.
Here are a few things I'd like to see improved:
I would love to be able to set up recurring payments. One-time customers won't be likely to use this payment method due to the work it is to set up an account, but for repeat customers (subscriptions, etc.) this would be perfect.
Sync Manager still needs work. There are too many steps involved in setting it up, and too many places where things can go wrong. I have multiple "business profiles" set up and it can get very confusing.
Transaction Fees should be automatically managed when depositing payments in QuickBooks. There are too many little steps involved here.
The URL link in the invoice should be underlined and made to appear more like an active link. It doesn't look "live" in the PDF, and that should be made more obvious.
Category: Product Reviews, Program Updates, QuickBooks 2011
Charlie Russell is the founder of CCRSoftware. He's been involved with the small business software industry since the mid 70's, focusing on inventory and accounting software for small businesses. Charlie is a Certified Advanced QuickBooks ProAdvisor. Look for Charlie's articles in the Accountex Report blog, as well as his California Wildflower Hikes blog.