With all of the hoopla surrounding the release of QuickBooks 2011 many people have overlooked one of the significant marketing changes – QuickBooks Desktop subscriptions through the QuickBooks Plus program. Let's take a look at what this is, and how it will affect both users and ProAdvisors.
Until this year if you wanted to use QuickBooks Pro or Premier on your desktop computer you would purchase the product outright. Premier is available from Intuit for $399.95, Pro is available for $229.95 (discounts available in many places, and fees for more than one user, so there are many variations here).
With the release of QuickBooks 2011 there is a new option, the QuickBooks Plus program. Essentially this is a monthly subscription plan for the desktop versions of Pro and Premier (U.S. Windows versions only), providing you with the standard desktop program along with a number of features that you normally would purchase separately. In addition, you get incremental updates that other desktop users don't get. As I'll describe later, this can significantly affect ProAdvisors.
Features and Pricing for Plus
There are two variations of the Plus program:
This is not the online product or a hosted solution. It is essentially the same product that you would get if you purchased the regular desktop product. However, along with the QuickBooks desktop program, your subscription includes the following apps and services:
QuickBooks Connect to provide you with both online and mobile access to your desktop database (through a "synced" copy of the data)
Intuit Data Protect to back up your entire computer (with a limit of 100 GB)
QuickBooks Attached Documents to allow you to attach documents to your lists and transactions
Intuit Technical Support 24/7 if you need help with your QuickBooks products and services.
Let's take a look at the pricing here. If you were going to purchase these services: The QuickBooks Connect Bundle includes QuickBooks Connect, Intuit Data Protect and QuickBooks Attached Documents for a monthly fee of $24.95 a month. The Intuit QuickBooks Care Protection Plan provides 24/7 support for $24.95 a month. If you purchase QuickBooks Pro Plus you are getting all of that and a copy of QuickBooks Pro for just $29.95 a month – this makes a compelling argument for purchasing the Plus product in some situations, if you wanted to get all of those features for a limited number of users.
If you decide to stop paying the monthly fee you still have the option of purchasing the desktop product to keep access to your data, and you can buy the various bundles and addon services individually.
I'll admit at this point that there are some details of the pricing, and what you get, that I'm still trying to work out. There isn't a lot of talk on the current web site about multi-user access – but from what I understand you have the same abilities (and limitations) that you have in the desktop version. So, you can have three Pro users, five Premier users – but you have to pay the monthly fee for each user. It seems to me that this becomes less beneficial as you add users.
Product Upgrades and Updates
Another factor to take into account here is that Plus subscribers will get product updates and upgrades.
An Upgrade is moving from one "year" of QuickBooks to another. If you are using QuickBooks Pro Plus 2011, and the 2012 product is released, you will be upgraded at no additional charge to the 2012 product as a part of your subscription. This sounds like a major advantage, but you have to be careful. To continue getting all of the advantages of the Plus program you will be required to do the upgrade – you can't stick with your older version forever. My understanding is that you won't be forced to upgrade immediately, so you will be able to wait until the new release has settled down. But it is something to keep in mind.
An Update is when you get a new release within the same product year. If you purchased QuickBooks 2011 you started off with R1, and then could update at no charge to R3, then R4, and so forth. Normally you have the option to get "automatic" updates, but in some cases you might not want to install an update right away. The Plus Program impacts updates in several ways.
If you look at a Plus subscriber's Update QuickBooks option you will see that you no longer have the ability to disable automatic updates– although you can still control when the updates are installed. I'm not sure how this will affect upgrades at this time. My thanks to Karl Magnuson for pointing this out.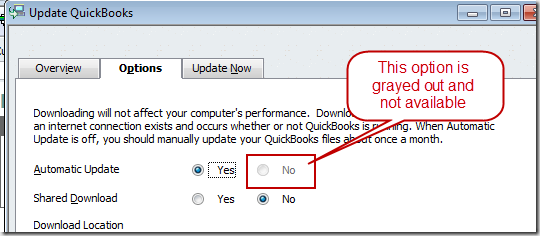 The Plus Program adds another dimension to the Plus program. Approximately four times a year the Plus subscribers will get updated features that won't be available to other desktop users right away. If you have Plus 2011 there are features that you will get that non-subscribers won't get until the 2012 upgrade.
The 2011 R4 update has a simple example of this. There are two features released in R4 that you won't see in a normal Desktop version of Pro and Premier – the Average Days To Pay Summary report and a receive payment button in the invoice screen.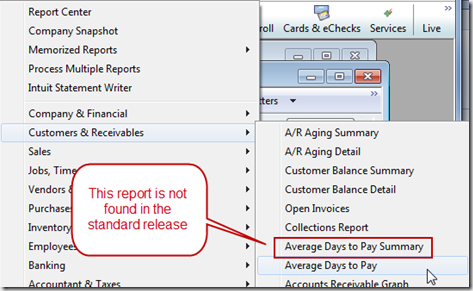 These are the first Plus updates for the 2011 product, and the features are small. This was intentional, so that they could test this update process. Sometime next spring (I'm guessing around March) there should be another set of Plus features rolled out and we should see more significant changes. The intent is to have four updates like this a year.
With this first release there was no notification of the new features when you installed the update, in future releases I expect to see a "What's New" popup window.
How About QuickBooks Enterprise?
I've only been talking about Pro and Premier – isn't there an "Enterprise Plus" program? Well, yes, but it isn't called that. If you purchase a new copy of Enterprise 11 you get a full year of the Full Service Plan. This provides you with support, QuickBooks Connect, Intuit Commissions, Attached Documents, Time and Billing and Data Protect. I'm assuming that it includes the incremental feature updates as well (haven't confirmed that yet, but it should). The major difference here is that at the end of the first year, you can let the service plan expire (thereby losing the online services), but you still have access to your desktop product.
How Does This Affect ProAdvisors?
When I first heard about this concept last summer (when they were running a pilot project) a number of potential problems immediately popped into my mind, relating to ProAdvisors and support. Many of my concerns have been addressed with the full release of this product, but ProAdvisors still need to be aware of the support implications.
If you are a ProAdvisor, by the time you get to this point in the article you may be saying "wait – I don't have a subscription to Premier, but I'm seeing those two new features in my own copies of the program?" Well, actually, if you are a member of the ProAdvisor program, you are enrolled in a variation of the Plus program. ProAdvisors are getting the "Plus" upgraded features in their special versions of QuickBooks Premier (and Enterprise, of course). This means that you have the latest and greatest version, with all of the bells and whistles. Also, the online services are all available to you via the ProAdvisor Support team – I've found that a lot of ProAdvisors don't know that their ProAdvisor plan includes a copy of QuickBooks Connect, Intuit Data Protect and QuickBooks Attached Documents. You just have to call PAP Support to get these features enabled.
Why is access to the Plus product important? If you are providing support to clients, it is very important that you are familiar with all the features of the program. It would be embarrassing to go to a client's site and see a feature that you didn't know anything about. Well – that still can happen, because Intuit isn't very good about telling ProAdvisors about new features and changes – but at least you will have a copy of the of the feature in YOUR program.
It is important, though, to know what features are found only in the Plus versions, because your regular desktop users won't have these features.
There are a few other considerations for ProAdvisors:
As I mentioned before (and Karl Magnuson pointed out) – we cannot turn off the Automatic Update feature. That can create problems – if you are using your copy to access a client's files, you may be using a more up to date version than what the client has. That can cause problems if there is a file conversion necessary. I'm very concerned about this issue, and I see a lot of potential for problems.
This product isn't sold through ProAdvisors. It is only sold direct through the Intuit web site. For me, this isn't a big deal, as I don't see actual sales of Pro and Premier as a major source of income for most ProAdvisors.
I'm sure that we'll come up with more issues as the year goes on.
How Can I Identify a Plus Installation?
If you press the F2 key in QuickBooks to get the Product Information window, a standard end-user Plus installation will be identified:

Unfortunately, a ProAdvisor version won't identify that it is a Plus version. This is something I've asked Intuit to change if possible. I believe that there is a difference between the Premier Accountant's Edition that a ProAdvisor gets and a regular Premier Accountant's Edition that you would sell to one of your customers – but I've not yet seen a way to distinguish between them other than to look at the revision and then look for one of the Plus incremental features.
This is a new program so there is a great possibility that some of the details will change. As I've said, I am not sure that I've identified all of the differences, nor have I thought of all of the potential problems that a ProAdvisor will face in dealing with this product. Let me know what you think!
Category: Product Reviews
Charlie Russell is the founder of CCRSoftware. He's been involved with the small business software industry since the mid 70's, focusing on inventory and accounting software for small businesses. Charlie is a Certified Advanced QuickBooks ProAdvisor. Look for Charlie's articles in the Accountex Report blog, as well as his California Wildflower Hikes blog.