Although I love the Intuit PaymentNetwork for collecting customer payments, it doesn't fit everyone's needs. Unfortunately, QuickBooks has a tendency to try to force this on us, and I see a lot of complaints about that "pay online" tag that QuickBooks inserts into invoices. It seems like a good time to review how to turn this off since I'm still seeing complaints.
Here is a portion of an invoice printed with QuickBooks Premier 2011. Note the "pay online" link.

You may also see it in the PDF copy of an invoice if you use QuickBooks to create the email. In this case, it shows in the footer of the template. Sometimes this can overlay or move other features in my invoice template.

You also get an "advertisement" for this in the email message that is created.

One of the annoying features of this is that I didn't ask them to put this in. It shows up this way when I create a new company, it shows up when I convert a company over from an older version. Very annoying. And, to make it worse, if I haven't set up an account with Intuit PaymentNetwork, when my clients click on that link they get this information, which really makes me look bad…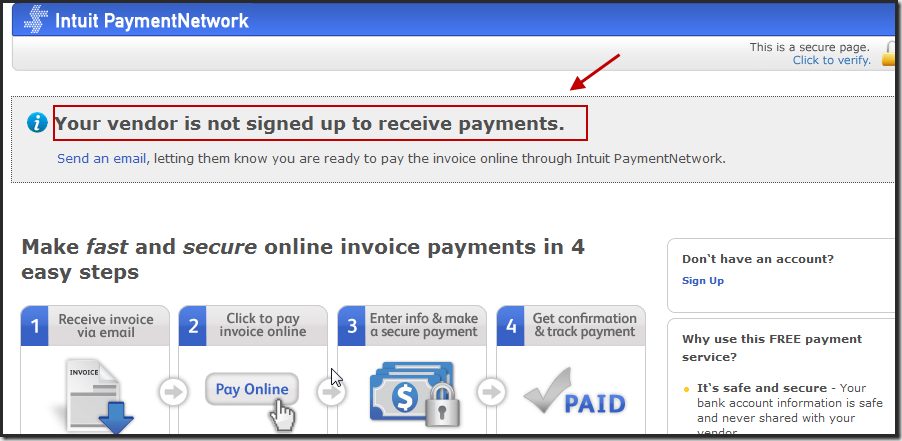 Now, keep in mind, I really like Intuit PaymentNetwork. I use it in my business when I can, it saves me a lot of money in merchant processing fees (only $0.50 per transaction). But, it is my opinion that I should have to decide that I want to use this, rather than have them insert what is essentially an advertisement in my invoices.
How Do I Turn It Off?
The simplest thing to do is to just un-check the show online payment link box in the lower left of your invoice.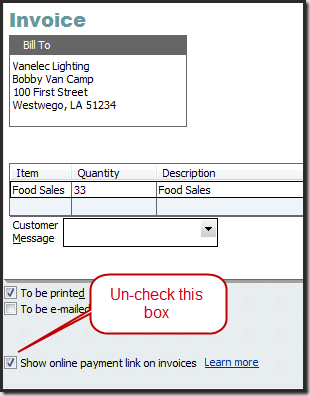 However, that isn't a permanent fix. Every new invoice will have that box checked. What you need to do is to change your preference settings.
Select Edit and then Preferences. Select the Payments preference and click on the Company Preferences tab. There are two boxes to make sure that you un-check in the bottom of the screen.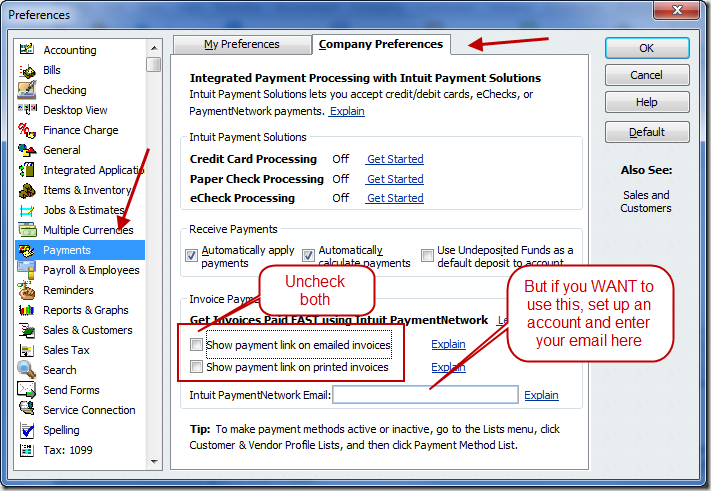 New invoices will not have the links, usually. In some cases, though, I've seen that the first invoice you create after making this change may still have the box checked. Watch that – uncheck it and future invoices should be OK.
Note that all existing invoices that you have will not be changed – if they were checked before, they will still be checked. So you should keep an eye on this.
In some revisions of QuickBooks you may also find that you have to do some repairs to your invoice templates (print form), if they were altered to add the links. There were some cases where the form was altered to make room, and disabling the preference didn't set the templates back to the normal arrangement. That is unusual, though.
Again, I do like Intuit PaymentNetwork – I just object to having this feature enabled by default, particularly since the links may be asking my customer to call me back to set up an account.
Update 8/4/2011: The R7 (and R8) releases have changed one aspect of this – if you create a new company file, the "Show Payment Link" options are now turned OFF by default. This is a vast improvement. It should have been that way in the beginning. Thankfully Intuit has listened to the clamor over this issue.
Category: Billing
Charlie Russell is the founder of CCRSoftware. He's been involved with the small business software industry since the mid 70's, focusing on inventory and accounting software for small businesses. Charlie is a Certified Advanced QuickBooks ProAdvisor. Look for Charlie's articles in the Accountex Report blog, as well as his California Wildflower Hikes blog.