As I get older I find that my eyesight, which didn't start off all that great, is declining. Larger monitors help, but they tend to crowd in more information rather than make the text larger. I prefer to set larger font sizes in the programs I use. Today I'll give you a tip on how to make some adjustments in QuickBooks.
Please note that this isn't a perfect solution, and that you should use caution when making these changes. I'm using the 2008 release for this, and there could be variations in other years of product.
This article was updated on 9/20/2012
What we are going to do is to edit a configuration file named "QBW.INI". This contains a number of settings, and you should be careful to only change those that you are absolutely sure about. BE CAREFUL!
Finding and Editing QBW.INI
There are several ways of doing this, I'll use the simplest. Run QuickBooks and open a company file. Press the F2 key, and you will see a window similar to the following: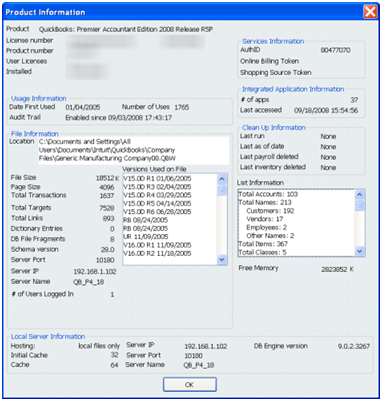 Lots of interesting information here (particularly the list information box on the right), but that's a discussion for another day.
When this window is open, press the F3 key, and you will see the following: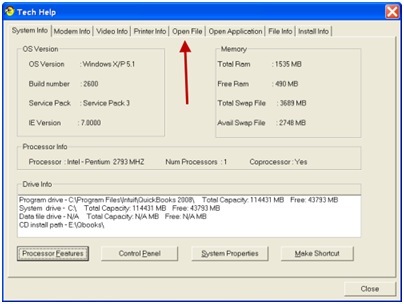 Select the Open File tab, scroll down the file list and click on QBW.INI, and click the Open File button.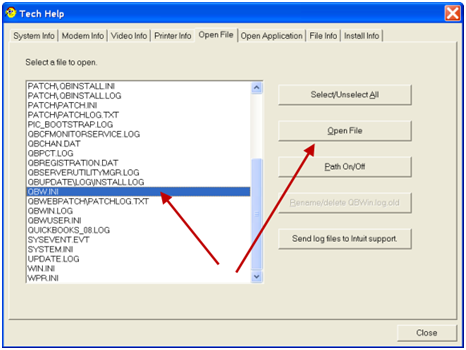 This should open the file with Windows Notepad, as it is a simple text file. Your file will probably vary from what I'm showing here, but it will be close.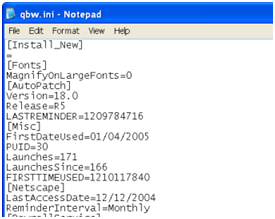 DO NOT change anything that you aren't sure about!
You should see a line that says "[Fonts]", near the top. If you do not, you can add it in the location we show here. In the "Fonts" section, before the next line that starts with a square bracket, add two lines exactly as follows:
FontName=Arial
FontSize=12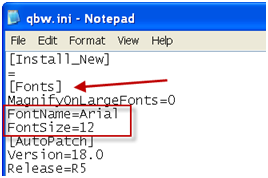 Select File and then Exit and tell the program to save the file.
Exit QuickBooks, then restart it. Many but not All fonts will be changed. If you don't like the results you can follow the same procedure and just delete the lines we added.
Changed Appearance
Here are some "before" and "after" screen shots.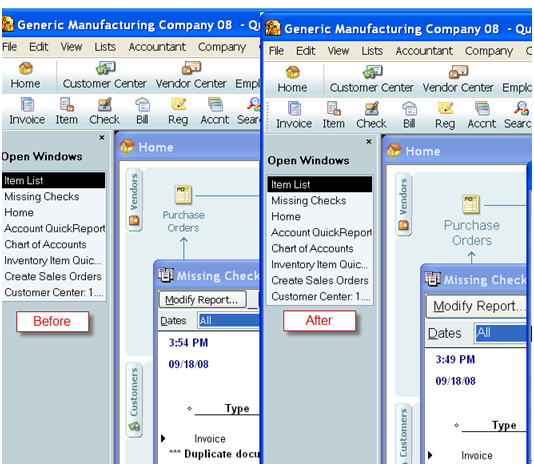 As you can see, some of the fonts have changed, others have not. In some cases you may find that a window becomes hard to work when the fonts are larger.
It isn't a perfect solution (we often seem to be saying that with QuickBooks), but for some people it can help.
Update for QuickBooks 2013
QuickBooks 2013 has been announced (see my article on this in QuickBooks and Beyond) and there is some good news, and bad news, as far as the subject of THIS article.
Good news: The QuickBooks User Interface is changing and they are focusing on improving the user experience. This includes, in some cases, increasing the font sizes that they use.
Bad news: People who have trouble with their vision, like me, will find some of the changes hard to get used to, particularly the use of soft gray fonts and icons.
Good news: The user interface is more consistent than before, so we don't have so many different visual styles.
Bad news: The font trick that this article talks about doesn't work as well, it has less impact than before (although it might make SOME difference for you).
Category: General Tips
Charlie Russell is the founder of CCRSoftware. He's been involved with the small business software industry since the mid 70's, focusing on inventory and accounting software for small businesses. Charlie is a Certified Advanced QuickBooks ProAdvisor.