In an earlier article I talked about the new QuickBooks Messenger feature, which some people love and others hate. I provided a method that you could use to turn it off, which involved renaming or erasing a file. One problem with this approach – when you update to a new release, the Messenger feature would be restored.
Good news! In the R4 and R5 updates of QuickBooks 2009 they have added a function that lets you easily turn this feature off. When you are logged in as the Administrator in multi-user mode you will find Disable QuickBooks Messenger as an option in the File/Utilities menu.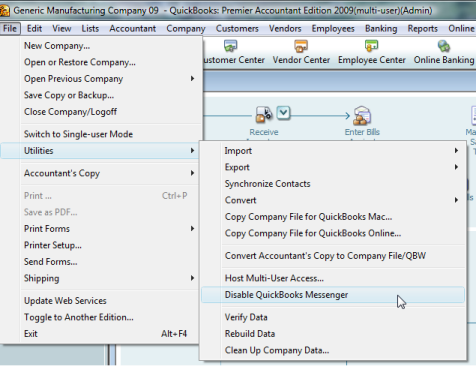 Note that you must log out to close the Messenger feature, but when you log back in it won't be started up.
This helps – but it would be nice if they modified the QuickBooks Messenger feature to be more useful.
Other Changes
There are a few other changes in the R4 and R5 release – I'll list a few here. For a full list go to http://support.quickbooks.intuit.com/support/Pages/KnowledgeBaseArticle/1011144
QuickBooks Errors (-6000, -83) and (-6177, 0), which plagued many people, have been repaired.
QuickBooks Online Banking has been improved significantly – althoug not enough for many users. These changes are very welcome, but I'm hoping that they can do much more.
Mutliple bug fixes in the Accountant's Copy feature have been implemented.
Numerous fixes in the Multiple Currency feature have been implemented.
I've been using this release for some time now and I highly recommend that everyone using QuickBooks 2009 update to this immediately. Press the F2 key when you have your company file open to see what release you are using.
Category: Program Updates, QuickBooks 2009
Charlie Russell is the founder of CCRSoftware. He's been involved with the small business software industry since the mid 70's, focusing on inventory and accounting software for small businesses. Charlie is a Certified Advanced QuickBooks ProAdvisor.