QuickBooks 2010 adds an integrated Document Management System to QuickBooks that is very simple to use. This article gives a brief overview of this new feature.
A Document Management System (DMS) is a program that is used to store documents and/or images of paper documents. This can be a very valuable tool for your business. If you have a customer PO that relates to an invoice, you want to be able to find that PO quickly. If you are creating estimates for clients and you are creating supporting documents, you need to be able to access those documents when working with the estimate. A DMS system will help you organize this information and, if it integrates with QuickBooks, let you associate the documents with transactions or other records in QuickBooks.
Update 9/20/2011: Intuit is making MAJOR CHANGES to this feature starting in September 2011. See this article on the changes: https://www.accountexnetwork.com/blog/2011/09/quickbooks-2012-document-management/
The QuickBooks Document Management feature is a subscription service that is available for a fee (a limited amount of storage is available for free). You must be connected to the Internet, as your documents are stored in the Intuit Workplace. This is an online application center that Intuit uses to provide "cloud" based features.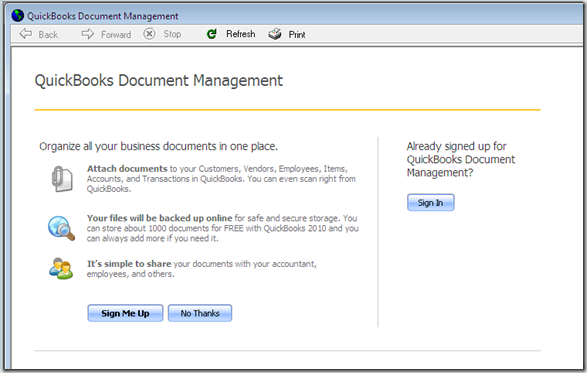 Once you have set up the service with your company file, attaching documents to transactions in QuickBooks is simple – look for the paper clip symbol or an "attach" button.
Attaching Documents to Transactions
In this sample I've created an invoice. Look for the paper clip symbol in the upper right corner of the transaction window (sometimes it is hidden off to the side).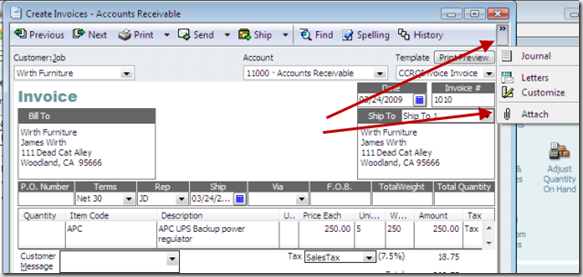 When you click on this symbol QuickBooks will connect to the DMS program via the Internet, and open the attachment window.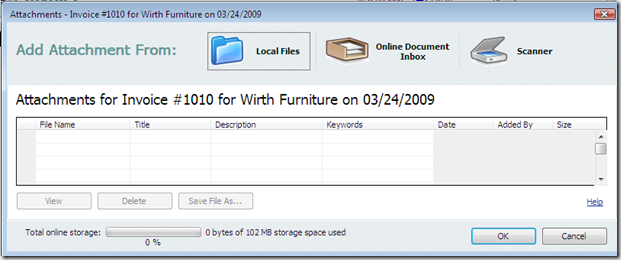 You can use this window to attach a document to the transaction, delete an attached document, or even view the attached document.
There are three options for attaching a document:
Local Files opens a file dialog so you can attach a file on your computer. Note that if you are using an unsupported scanner, you would save your scan as a file and attach it this way.
Scanner will scan the document directly  from your Twain compliant scanner.
Online Document Inbox (which is discussed later) holds documents that you have added before they are associated with a transaction or list.
Note that on the bottom of the screen you are told how much storage space you are using, and how much you have available. The fee you pay is based on the amount of storage you use.
Once you have attached a document to the transaction Note that the paper clip is now green – this tells you that there is an attachment.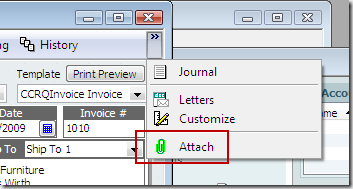 Attaching to Lists
Lists have an "attach" button. Note the addition of an "attach" column that tells you that there is an attachment You can also double click in that column to attach or view attachments

In some lists you can see the green icon that shows that there is an attachment.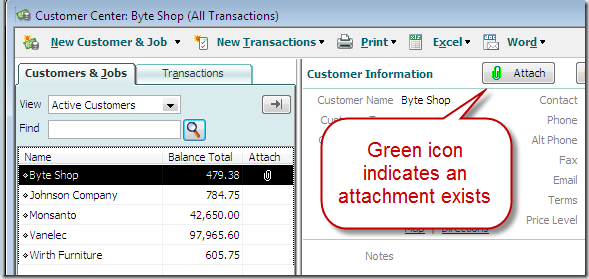 Managing Documents
You can manage your files via the Doc Center icon in the toolbar.

This opens the Document Management Center window, which allows you to locate and manage the documents that you have stored in your document database.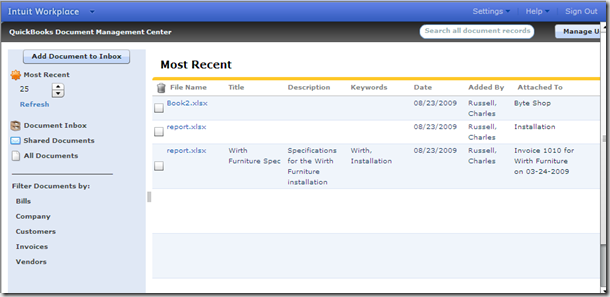 The Document Management Center provides you with a number of filters to refine the view. You can, for example select just invoices, or invoices for a particular customer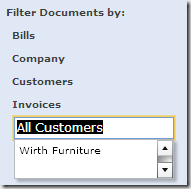 You have the ability to enter descriptive information for each document.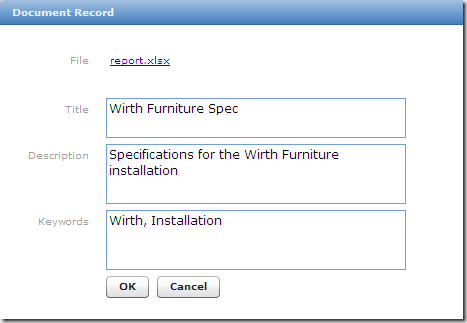 Using the "Inbox"
You can add documents to your document database directly, without going through QuickBooks. In the Document Management Center, click Add Document to Inbox.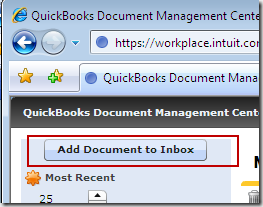 Click on the Browse button to locate the file on your computer, and enter the descriptive information.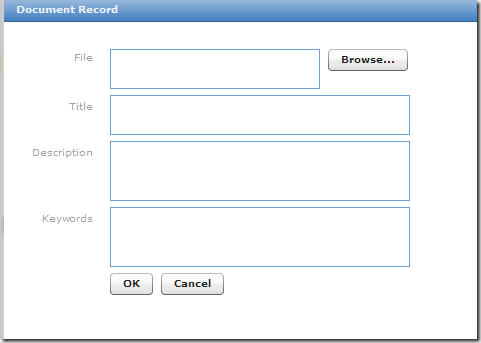 The document now shows in your "Inbox". 

Later, in QuickBooks, when you click the Attach icon, you can use the online document inbox option as the source for the document.
Sharing Documents
An important feature of the program is the ability to share documents with other users without having to give them access to your entire set of documents. Select the document in the Document Management Center and select the "share" action. This opens a window that lets you enter an email address and a message – QuickBooks will send a link to the document.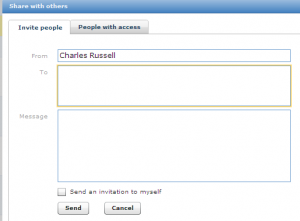 The person gets an email from notify@workplace.intuit.com (so you have to make sure that they can receive messages from this address) that provides a link – click on it and you are given a standard "open or download" dialog from your browser. You can, if you wish, "un-share" the document.
Good Points
Easy to use, works right from within QuickBooks and the integration seems to be very smooth.
Online storage means that you can see your documents from any web connected computer, even if you don't have access to your QuickBooks company file.
The viewer in QuickBooks itself will open the document in "native" mode for viewing.
The online document manager provides a variety of ways to locate a document easily.
It is very easy to see that there is a document attached to the list or transaction.
Bad Points
Not local database, so you are depending on Intuit for security and backups. For some people this may be a problem. For others, it isn't. You have to decide if this fits your business model. Note that Intuit has a very secure online database system.
If you stop paying for the service, you will lose access to your documents.
You cannot create non-QuickBooks records, so you can't attach documents to something not related to QuickBooks.
No ability to add your own columns to define other kinds of information to track with the documents.
The product does not integrate with Microsoft Office, unlike other products. If you have an email in Outlook, for example, you have to print it as a PDF and then attach it separately.
This is a new product, while others have been around longer. I'm always nervous about new releases of products from Intuit. I haven't seen problems, I'm just cautious.
Pricing
I had to dig around a bit to find this, it wasn't listed on the initial web pages or announcements of this service. I believe the costs to be:
Free for up to 100 MB of storage.
$4.95 a month for up to 500 MB of storage.
$14.95 a month for up to 1 GB of storage.
$29.95 for up to 5 GB of storage.
I can't translate these into the number of documents you can store in the volumes provided.
Is It a Good Deal?
Certainly it is worth looking at if you need this kind of service. This is an example of one of the "cloud" based applications that Intuit will be pushing very strongly. It is the direction that they are going to push in the future for addon products.
My biggest concern is that you cannot download a copy of your documents to a local drive..SmartVault has this feature.
Category: Program Updates, QuickBooks 2010
Charlie Russell is the founder of CCRSoftware. He's been involved with the small business software industry since the mid 70's, focusing on inventory and accounting software for small businesses. Charlie is a Certified Advanced QuickBooks ProAdvisor.