Until now, if you wanted to quickly add a large number of records to a list in QuickBooks, you had to resort to using an Excel import or use a third party import tool. This often would be a tedious chore, requiring that you "map" your Excel spreadsheet to the fields in QuickBooks. In the 2010 release of QuickBooks Intuit has added a Rapid Data Entry feature that many people will find useful.
Select Lists and then Add/Edit Multiple List Entries. This opens a window that lets you add records to several different lists in a tabular form (similar to a spreadsheet) rather than in an "edit" window.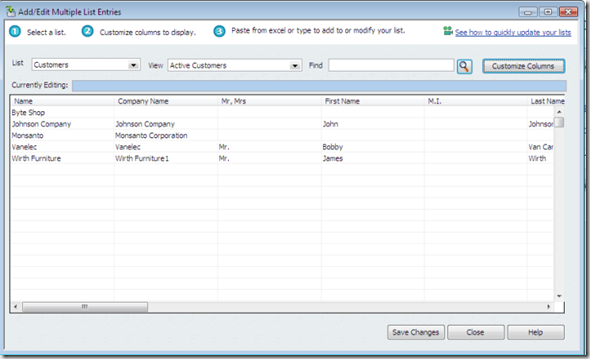 Simply click on the first empty line and start entering information, or click on an existing entry to edit the values. You can use the mouse to go directly to the field you want. You can also click the customize columns button to modify which fields you want to show in the grid, so you can skip over columns that aren't important to you.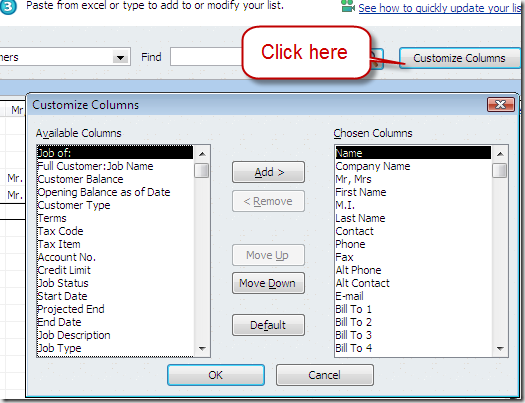 Fields that have dropdown lists in the normal edit screens also have dropdowns here, and you can add new choices to the list.

Note that custom fields are supported with this method, which is very helpful.
In addition to entering information directly you can copy/paste information from an Excel spreadsheet (and, the standard Excel import is still supported if you prefer).
Saving Changes and Correcting Errors
All of the data that you have entered is held in memory, and when you are done you click the save changes button.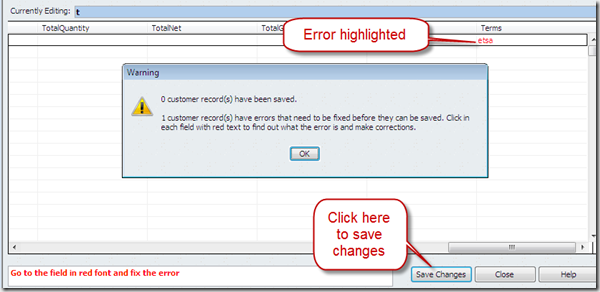 This is a great improvement over Excel imports because it clearly highlights the errors, and lets you correct them right away (rather than saving an "error.csv" file and trying to decipher the problem).
You also can choose to display just the records that have errors.

Supported Lists
At this time a limited number of lists are supported, so this won't replace the Excel import entirely. At the time this article was written (based on a pre-release version), the lists supported are:
Customers
Vendors
Service Items
Inventory Parts
Non-inventory Parts
How Useful Is This?
I like this feature very much. If you find that you are entering a number of items directly to your item list, or making lots of updated via Excel, this may be a very useful addition for you. It is much easier to use than Excel imports. However, note that it does not cover all features that you can with an Excel import. Also, you may find that you need to perform some kind of data transformation if you are drawing in data from other sources, which is where you will want to use a more sophisticated data import utility. Finally, this only works with lists, not transactions. This feature will not replace the import tools from Baystate Consulting in my toolkit.
Let's hope that Intuit continues to build on this feature to add other item types and other lists.
Category: Import/Export, Program Updates, QuickBooks 2010
Charlie Russell is the founder of CCRSoftware. He's been involved with the small business software industry since the mid 70's, focusing on inventory and accounting software for small businesses. Charlie is a Certified Advanced QuickBooks ProAdvisor.