The Company Snapshot was a feature that was added in the 2009 release of QuickBooks. Very useful, but it had many limitations. With the 2010 release there is a significant upgrade to this feature.
Looking at the Company Snapshot in the 2009 program you had five "windows" of information. The ability to customize this was limited to a few parameters in some of the windows, and there was no way to print this other than doing a screen shot (like below).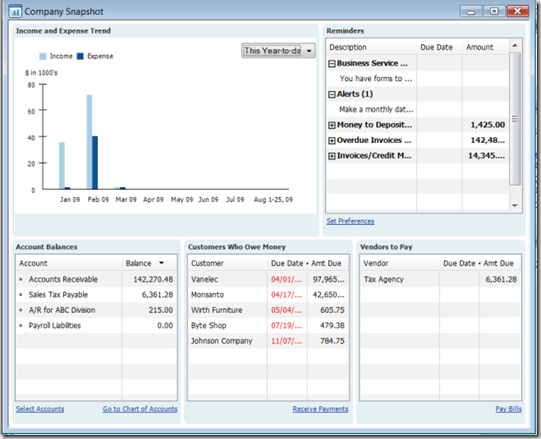 Let's take a look at a sample from QuickBooks 2010 (note – this is based on the beta version, so there might be slight variations):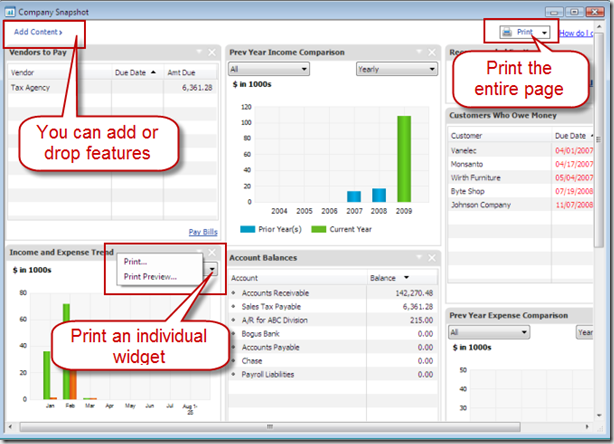 Printing is a feature that has been requested often – now you can print the entire page, or an individual "widget" or graph.
Note the Add Content option at the top? Now you can choose from a list of 12 widgets that can be shown:

In the pre-release version I reviewed, the options are:
Account Balances
Previous Year Income Comparison
Income Breakdown
Previous Year Expense Comparison
Best Selling Items
Top Customers by Sales
Income and Expense Trend
Expense Breakdown
Customers Who Owe Money
Top Vendors by Expense
Vendors to Pay
Reminders
In addition to selecting the "widgets" that are included, you can rearrange them on the page by simply dragging and dropping.
Unfortunately, they have included a Recommended For You widget that you cannot remove – we'll have to see how many advertisements they throw at us this way.
Another good feature is that the widgets are tied into the user permissions that you have, so you cannot see a graph or chart on information that you don't have permission to view.
Let's hope that they continue to expand this feature. Sure would be nice if there was a programming interface that would let third party developers add other "widgets" here!
Category: Program Updates, QuickBooks 2010
Charlie Russell is the founder of CCRSoftware. He's been involved with the small business software industry since the mid 70's, focusing on inventory and accounting software for small businesses. Charlie is a Certified Advanced QuickBooks ProAdvisor.