Up until now, if you wanted a uniform appearance to all of your QuickBooks forms (invoices, sales orders, estimates and so forth) it took a lot of work on your part. You would have to apply your changes in background, fonts and so forth to each individual form. This could be tedious. With QuickBooks 2010 we have a new form design feature that lets you set a basic form design that can be applied to all forms.
Please note that the screen shots were taken from the beta test version, so there may be some slight variations from what you see now.
Click customize in a form window and see: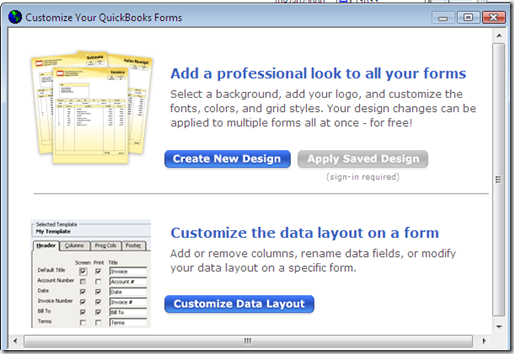 In prior releases you were taken direct to basic customization, where you can customize an individual form. That is still an option – you can click the customize data layout button. But, if you want to have a common look and feel for all of your forms, click the create new design button.
If you select create a new design you are led through the design process. First, select a background and logo. At the time that this was previewed there were a limited number of designs – I anticipate that the options will expand quickly.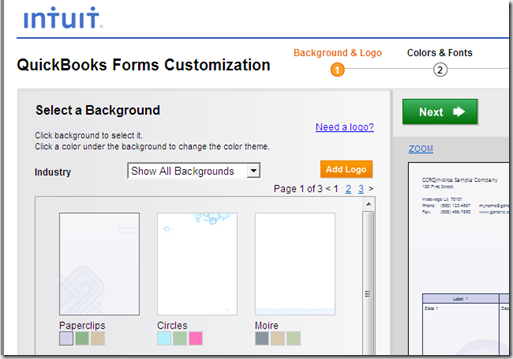 Next, select the colors for your fonts, and the font typeface to use. You can also select some of the information that will print in the form. Note that if you click the box that says you use window envelopes, the phone, fax and website information is moved out of the header (where it might show in the window) down to the footer automatically.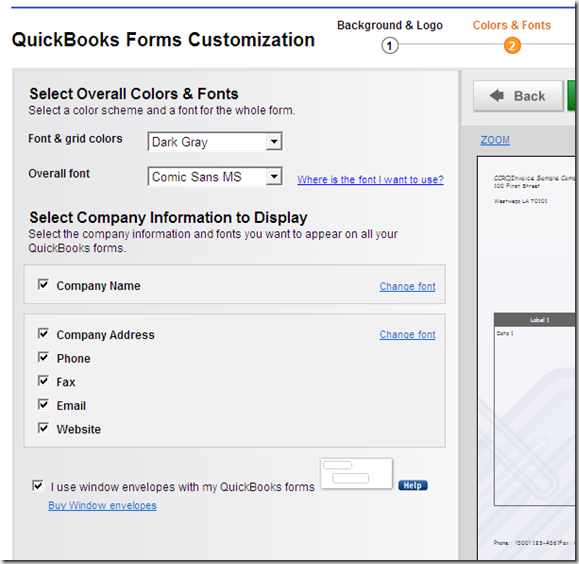 You will select a "grid style", which controls grid lines and shading on the form.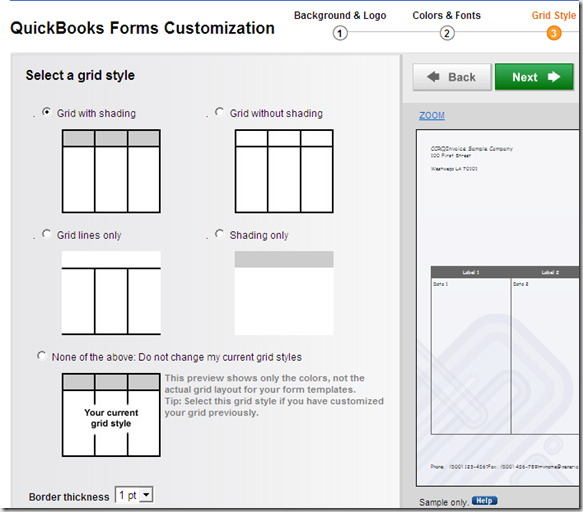 After reviewing your selections you can select which forms that you want to apply this design to. Note that this makes copies of your templates so that you don't lose the original templates.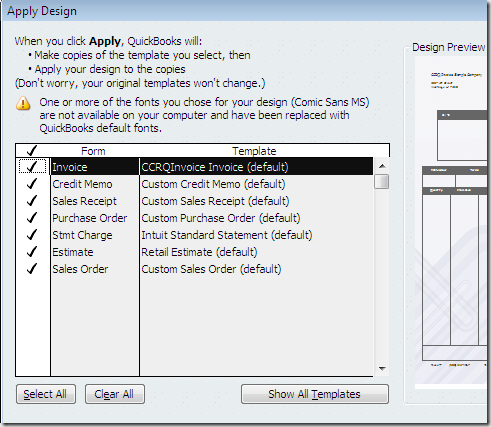 The last step is to ask if you want to save this design template. The template is not stored on your computer – it is stored in your Intuit online account.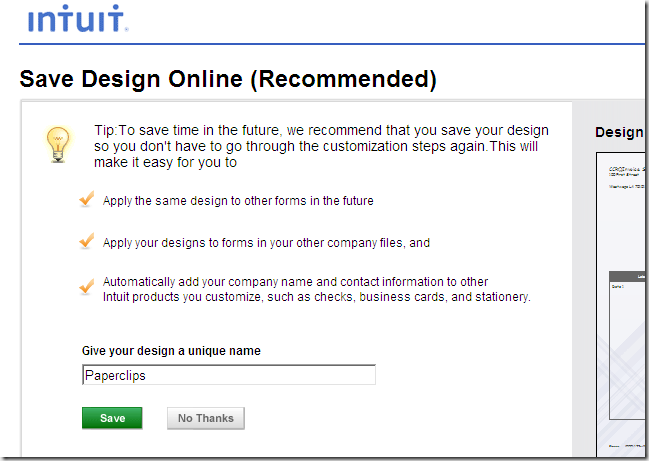 I like this feature, but it needs to be expanded. For example:
The number of form background options are limited.
I would like to see more color options. This was far too limited in the preview copy.
You can select font sizes for company information, but the choices are just 8 to 14 at the time this was tested – far too limited.
This is a step in the right direction, but it doesn't address many of the complaints that I see regarding forms in QuickBooks. You still have the page-oriented designer, so that you cannot have different designs for the first or last page in a multiple line form. You still can't, for example, have the total box show only on the last page, or easily add a contract statement that shows only on one page.
Category: Program Updates, QuickBooks 2010
Charlie Russell is the founder of CCRSoftware. He's been involved with the small business software industry since the mid 70's, focusing on inventory and accounting software for small businesses. Charlie is a Certified Advanced QuickBooks ProAdvisor. Look for Charlie's articles in the Accountex Report blog, as well as his California Wildflower Hikes blog.