Some early notes on the R4 release for QuickBooks 2010, which is now available. I have to say, I'm getting tired of updates, AND I'm getting tired of updates that come in December when work schedules are more complicated and things are getting more frenetic as we approach the end of the year.
Wait – R4? What about R3? Well, there is no R3. Not sure why. We are going from R2 up to R4. If you are not sure what revision you are running, here is a simple FAQ on how to get that information.
At this time the details on the update are sketchy. The update page has a link for "what's new" but it doesn't list any of the R4 information (I suspect that will change shortly…).
UPDATE later in the day – Interesting, if I go to the update page the R4 update isn't listed any more? Perhaps it was released a bit prematurely? I'm running it (see the screen shots), and I can only assume it will be available again shortly…
Update 12/17/2009 – see my follow up article on the latest information on the 2010 R4 release
Update 12/29/2009 – see my article on the R5 update which has a more comprehensive list of the changes in the R4 release.
Update 01/04/2010 – If you use a 64 bit system then this update introduces a new bug – see my article on the 64 bit PDF driver.
Getting Rid of Things
The primary changes that I am aware of relate to the removal of annoying Intuit advertisements that took up too much space in the 2010 release.
How about the Company Snapshot? I really like this feature, which allows you to customize the "widgets" that appear. However, there was that Recommended for You widget that took up valuable space on the top line. With R4 you can simply close the widget now, releasing that space for more important things.

One issue that really bugged people was the Accept Payments advertisement on the side of the Receive Payments and Sales Receipts screens. Not only could you not turn this off, they took a lot of space in these screens. People with small monitors couldn't use the program because these features were so large. With R4 you can close the toolbar by clicking the link.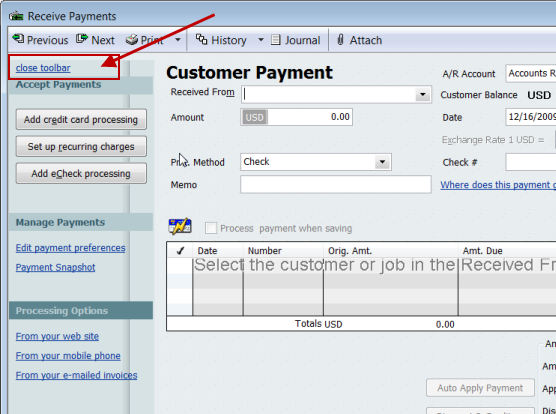 Additional Company Snapshot Widgets
While playing with the Company Snapshot I noticed that they have added a Payment tab that I haven't seen before, and it has additional widgets available.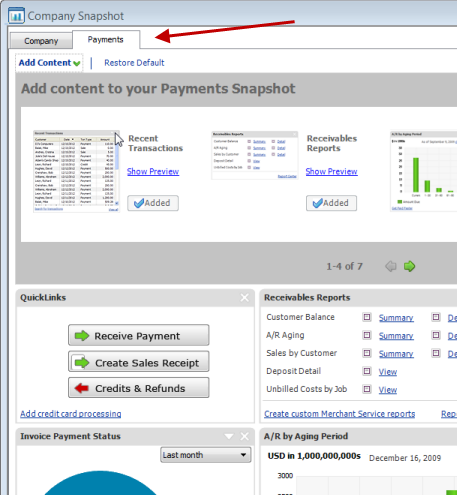 In this tab you can add Widgets titled:
Recent Transactions
Receivables Reports
A/R by Aging Period
Invoice Payment Status
Customers Who Owe Money
QuickLinks
Payment Reminders
Another Recommended For You Widget appears here by default, but you can close this one as well.
I like the Widget idea, I'm very glad that they are adding more. I wish that third party developers could create widgets here, but that would be hard for them to manage.
Should You Update?
There may be more than this, but these are the two that I've been able to confirm at this time. There should be more of these kinds of things available in another update coming next month. At this time this update should go out on automatic update on December 21st.
Please note that I have only run this for a short time so I can't say if there are any new problems introduced with this update. It seems OK, it installed OK, but you might want to wait until a week after this goes out on automatic update to see if there is a big problem that comes up. If all that is fixed is the advertising, you might wait until after the new year begins before jumping in. Again, I am just being a cautious person…
Category: Program Updates, QuickBooks 2010
Charlie Russell is the founder of CCRSoftware. He's been involved with the small business software industry since the mid 70's, focusing on inventory and accounting software for small businesses. Charlie is a Certified Advanced QuickBooks ProAdvisor.