Intuit has been promoting a new class of add-on applications that work with your QuickBooks desktop application, but are accessed via the web. In this article I'll review one of these applications, EZ Analytics for Inventory, an excellent inventory planning and management tool that will work with your QuickBooks data.

I've written about the concept behind the applications in the Intuit Workplace App Center, so I'll assume that you have a basic understanding of how these applications work. This is a web based application that uses the Intuit sync manager to "replicate" your data into a secure online database in the Intuit data servers.
What can EZ Analytics Do For You?
If your business manages an inventory, it is likely that you have a large amount of your capital invested in that inventory. Managing your costs and inventory levels can be critical to the success and profitability of your company. QuickBooks has an inventory feature, but it does not provide many planning tools that help you effectively analyze inventory stocking levels.
EZ Analytics will examine your recent sales and usage history from your QuickBooks data and provide you with a variety of reports and recommendations:
Item Sales Analysis: A look at the items you are selling, showing sales trends and some analysis of recommended stocking levels.
Overstock Analysis: A view of the items that you may be overstocking, which you may want to cut back on to save capital and carrying costs.
Understock Analysis: You don't want to run out of key items that your customers are buying, this report will help.
Negative Inventory Analysis: Having negative balances on hand is bad in QuickBooks, this tool helps find those items.
Reorder Analysis: Help in determining which items you need to reorder, and in what quantity
Running EZ Analytics
After setting up your account and "synching" your database, EZ Analytics does an analysis of the activity over the past three months in your company file. A summary screen will show the initial results.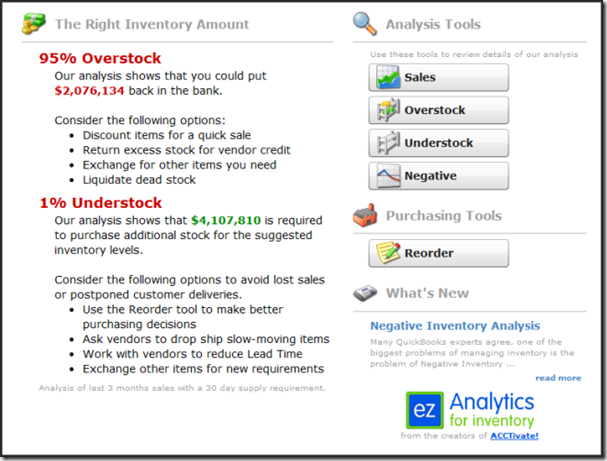 Using the tools on the right side is where you get the most benefit. You have the ability to set a number of filters – I hope that they will be adding more filters in the future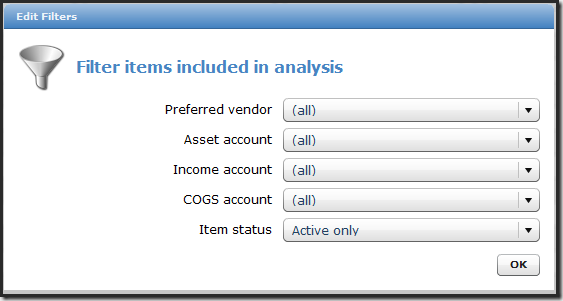 Please note that in the following screen shots some of the information (usually the item descriptions) has been blurred on purpose. Some screens may be a bit hard to read as I had to squeeze them a bit to show here.
Item Sales Analysis
This is a look at your sales over the last three months, showing you with items have been selling.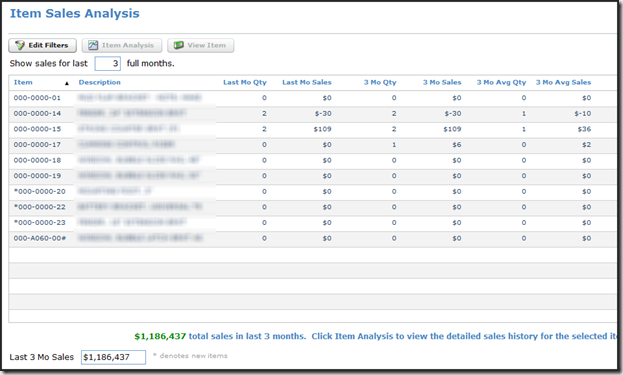 Select an individual item and click on the view item button to see details of the item.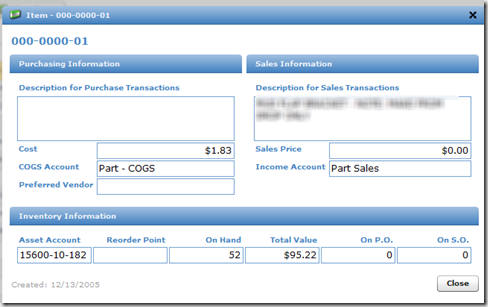 You can also click on the item analysis button to see a variety of graphs representing the item. This is where we start to see the value of the program, Up to this point the information is pretty much what we can get out of QuickBooks itself. Analysis is what we are looking for. For example, see the days of cover and suggested on hand values at the bottom of the screen.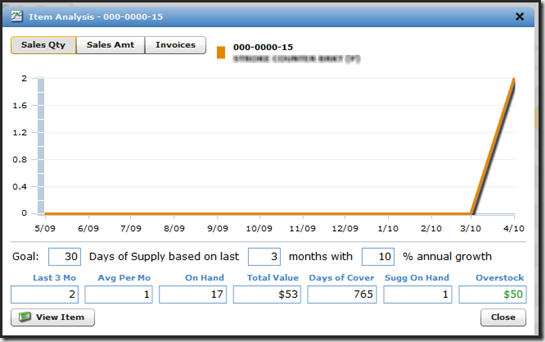 You can also combine multiple items in one analysis window to compare them.
Overstock Analysis
Having too much inventory on hand is a problem that can kill your profit margin. On-hand inventory has a cost that goes far beyond the actual price you pay for the item – storage cost, obsolescence cost, potential for theft or damage, and more. You don't want to have too much of your capital tied up in excess inventory and you don't want to lose too much money just to have it around. The Overstock Analysis tool can help.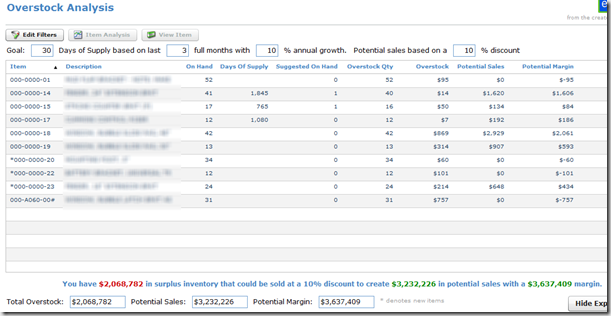 EZ Analytics will look at your stocking levels and sales, then provide suggestions as to what stocking levels you should have. The cost of the overstock is calculated for you. NOTE that you have to take many factors into account IN ADDITION to this analysis – you may know (for example) that you have a seasonal variation, or a big job coming up, that requires a higher stocking level. But this tool can help point out problem areas.
As before, there are several analysis tools for individual items. In addition, you can make some adjustments to some of the assumptions that are made, at the top of the screen.
Understock Analysis
While it is true that you don't want to have too many items around due to capital and carrying costs, it also is very important that you have enough items to fulfill customer demand. You don't want to fall short of critical items that your customers want. Understock analysis will look at the sales of items and make recommendations of how many you SHOULD be keeping to meet demand, but aren't.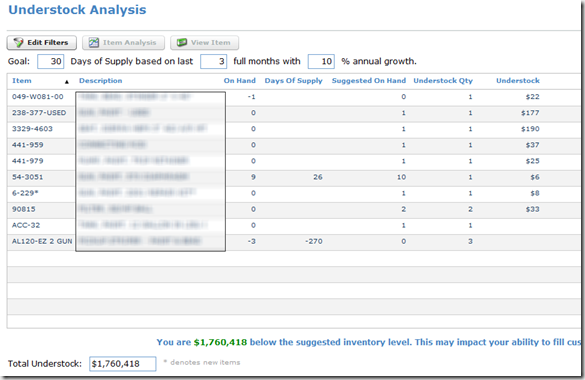 Negative Inventory Analysis
QuickBooks allows you to sell more items than you have. This creates a negative inventory level. This is a bad thing to allow because it can create major problems with how QuickBooks calculates your average cost and COGS values when you sell items. Avoid negative inventory levels at all costs (pun intended)!
EZ Analytics will help you find those items.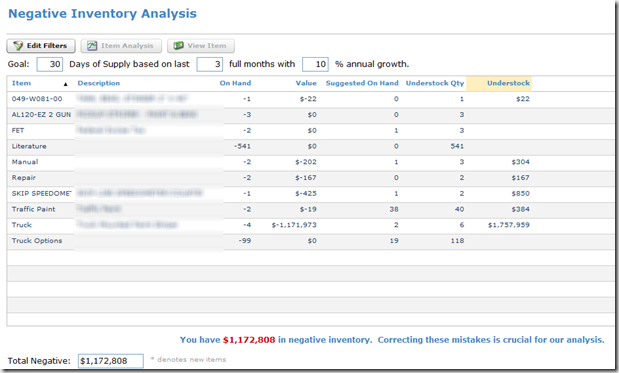 Reorder Analysis
QuickBooks has a reorder point, and in certain inventory reports you can see items marked if the on hand quantity falls below that point. This is an important tool for some businesses (although we can argue about that for a long time), but QuickBooks has minimal support for this.
EZ Analytics provides a more comprehensive reorder analysis: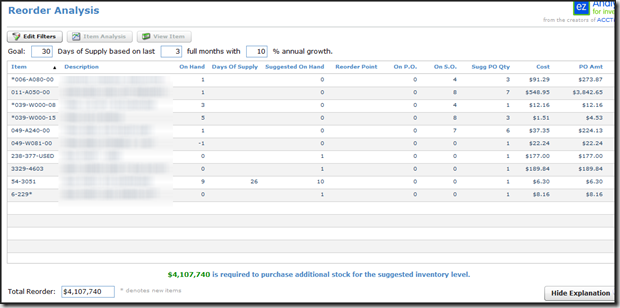 What is the Cost?
Because EZ Analytics is a part of the Intuit Workplace App Center, this is a program that you pay a monthly fee to use. There is a trial plan that you can use for 14 days (for one user), but note that this limits you to seeing reports on just ten items in your item list. This is useful enough for you to get an idea of how the product works and what it might do for you.
For full use:
One user, $9.95 per month, no additional storage fees.
Five users, $14,95 per month, no additional storage fees.
500 users, $19.95 per month, no additional storage fees.
Things to Keep In Mind
This only works with the Windows versions of QuickBooks
This only works with the US editions of QuickBooks
You must have Internet access to use the tool
You must "synch" your data with the Intuit online servers
As far as I can tell this focuses on sales usage. If you are a manufacturer you won't see demand for component items built into the analysis, which might skew the results
Is EZ Analytics Worthwhile?
If you are selling inventory parts, unless you are a very small company this tool can be very useful. Alterity, the company that produces this, also produces ACCTivate!, a desktop program that works with QuickBooks to provide a wide range of inventory management features (and more). EZ Analytics builds on their decades of inventory management experience.
I'm not a great fan of the concept of the online apps that Intuit is pushing, but in this case it is a good fit. This isn't a tool that you would be using every day, so online access isn't a problem. If the Internet is down, your business isn't crippled. You can set it up to sync manually, or just periodically, so synching won't slow your system down. The cost is very low, installation is a breeze. Once you set up the sync manager and your online account you don't have any other worries. To get this kind of analysis from a desktop add-on you would have to spend many hundreds, if not thousands, of dollars for a complicated program.
If you are a manufacturer then I'm not sure if this has the same value. From my brief test it doesn't look like it will properly analyze your component items. If you aren't selling them, will it tell you that you are overstocked?
One key point to make is that although this is a very good analysis tool, it is not a complete distribution or ERP planning system. A more comprehensive system (which would be FAR more expensive and complicated to manage) would take many other factors into account. You have to take the information that this program suggests and use it as one part of your management process – don't rely on it blindly.
I have to say, for the price, I am very impressed with this program and I suggest that you give it a try if your business carries and sells a significant amount of inventory. You may be surprised at what you find!
Category: Inventory, Product Reviews
Charlie Russell is the founder of CCRSoftware. He's been involved with the small business software industry since the mid 70's, focusing on inventory and accounting software for small businesses. Charlie is a Certified Advanced QuickBooks ProAdvisor.