QuickBooks File Manager is a tool that is available in the Accountants Edition of Premier and Enterprise, and can be used to manage multiple client files. It will help open client files in the correct version of QuickBooks, save login and password information, help you upgrade multiple files, and more. If you are an accountant, bookkeeper, ProAdvisor, or someone who works with multiple versions of QuickBooks with multiple files, this will be a helpful tool.
 PLEASE NOTE that much of this is based on information from an early release of QuickBooks 2011 – it is possible that some features may vary from what is described here.
You will see a QuickBooks File Manager icon on your desktop, as well as an option in your Accountant menuin QuickBooks.
Selecting either option shows you this overview screen.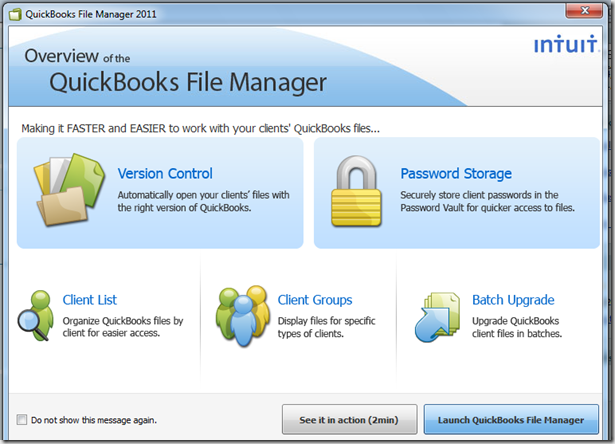 The first time you use it, there is a "wizard" that will help you locate your client files stored on your computer or server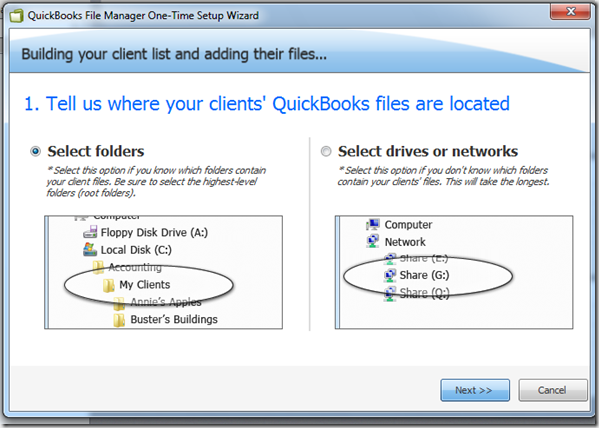 After you have located your files, you can assign them into Clients.  A Client can have one or more company files associated. You can move files to the proper client, "merge" clients, and more.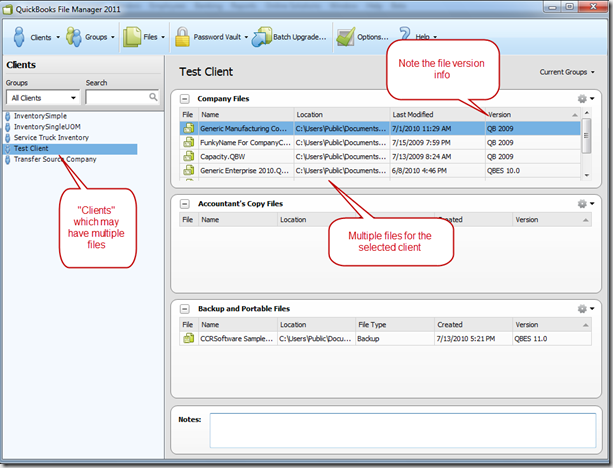 Taking this further, you  can create Groups and assign your clients to these groups. This allows you to place similar clients into groupings for your convenience.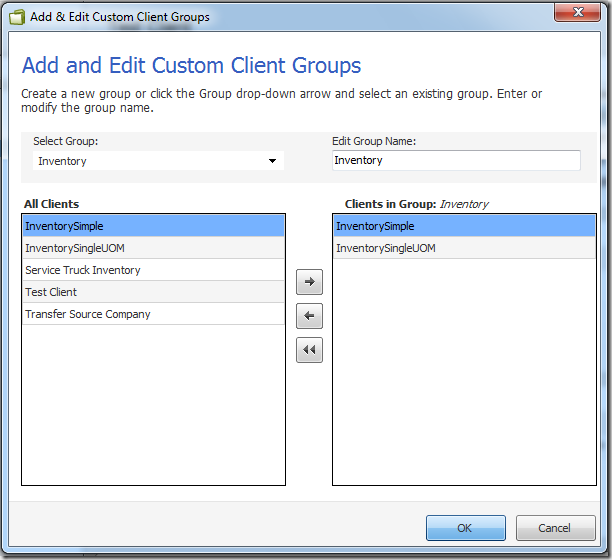 Inventory is a group that I created. I've added two Clients to the Group. 
QuickBooks File Manager also creates some groups for you, based on product year.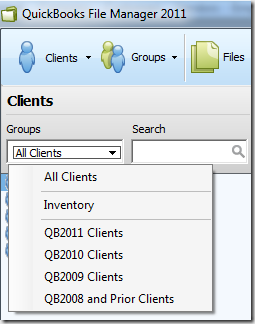 Password Vault
The Password Vaultis an important feature. It allows you to store the login and password information for each client file in a secure list. This allows you to easily access your client files without having to write login information in an unsecured file or notepad on your desk. Note that some features available through the Password Vault may only work with client files that are upgraded to 2011.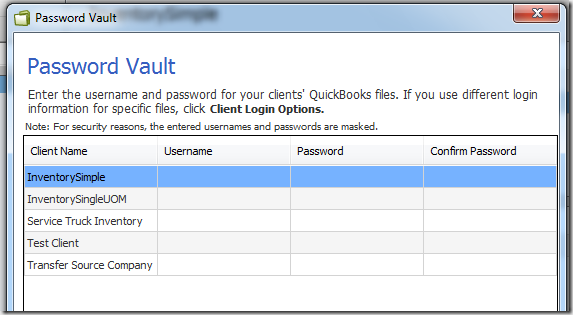 Batch Upgrades
The Batch Upgradeoption allows you to upgrade files to QuickBooks 2011 format simply. Your files are listed, along with the version of the file. You can select one or more of the files to convert.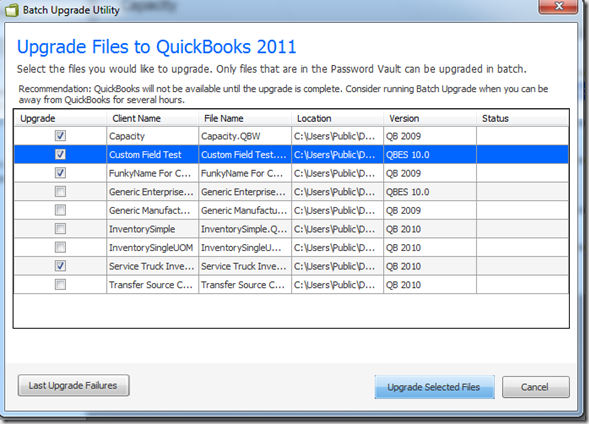 If a file cannot be converted for some reason you are given a text file that lists the files and the reasons for failure. I have not tested this extensively due to limitations of the field test version and my testing situation.
Please note a few things about this feature:
If you want to convert both Enterprise and Pro/Premier files, you need to have both Enterprise Accountant Edition 11 and Premier Accountant Edition 2011 installed on this computer. If you are a ProAdvisor, that should not be a problem. If you only have one edition installed you can only convert files for that edition (which makes sense).
Conversion takes a LONG time – this utility isn't any faster than the normal process as far as I can tell. It is more of a convenience if you are doing a lot of files at one time. I don't usually have that situation, so I'm not sure what the value of this is.
This feature is an attempt to address some of the concerns that ProAdvisors, accountants and bookkeepers have when dealing with multiple files for clients. It has some useful features, but I'm not sure if it goes far enough. We'll see how they improve the feature. I would like to see some more help for dealing with Accountants Copies of files, and perhaps a feature to handle mass backups of files (using the QuickBooks backup feature). Also, some things are still slow, although that is due to the underlying structure of QuickBooks itself.
Category: Program Updates, QuickBooks 2011
Charlie Russell is the founder of CCRSoftware. He's been involved with the small business software industry since the mid 70's, focusing on inventory and accounting software for small businesses. Charlie is a Certified Advanced QuickBooks ProAdvisor. Look for Charlie's articles in the Accountex Report blog, as well as his California Wildflower Hikes blog.