For the past few years we have had two options when emailing an invoice or report from QuickBooks – to use the Intuit email server, or Microsoft Outlook. If you wanted to use your Gmail or Yahoo account, you were out of luck. With QuickBooks 2011 Intuit has finally heard the complaints, now you can use almost any web-mail account that you want!
PLEASE NOTE that much of this is based on information from an early release of QuickBooks 2011 – it is possible that some features may vary from what is described here.
A few years back Intuit only offered QuickBooks E-mail as an option. I didn't like it for a number of reasons. I didn't have a good way to track what was sent, the lag time was longer than I liked, and sometimes the service just wasn't available (see my articles on QuickBooks Service Outages). Then Intuit added Microsoft Outlook as an option, and I was very happy. I use Outlook as my primary email system, and that resolved all of the problems for me. However, many people use other kinds of email systems. People using Yahoo, Gmail, and other "web mail" systems had to work around this limitation, and it wasn't convenient.
QuickBooks Web Mail Support
With QuickBooks 2011 we now have a third option, Web Mail.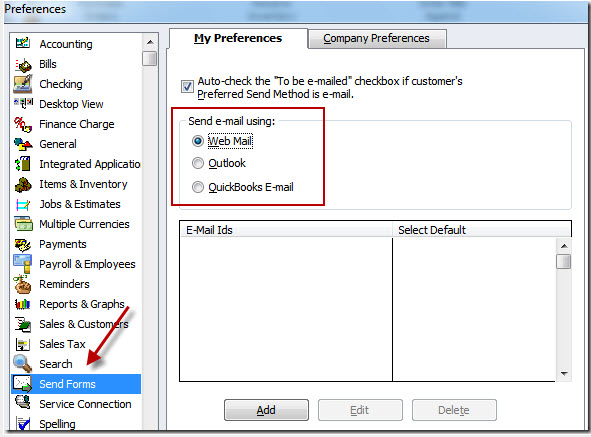 Click the Add button, and you are given this window to enter your information.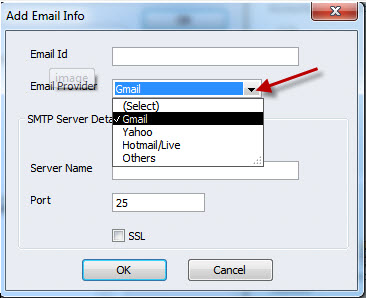 Enter your email address as the ID, select your option, and you are on your way! Note that if you enter a Gmail, Yahoo or Hotmail account the program will fill in the blanks with the most likely values for server and port.
I was also able to use my own server settings, although that takes a bit more knowledge to set up (but no more than it takes to set up those accounts in Outlook, for example).
You can set up multiple accounts, and when you send an invoice or report you can pick the account to use for that email (some info here is blurred for privacy).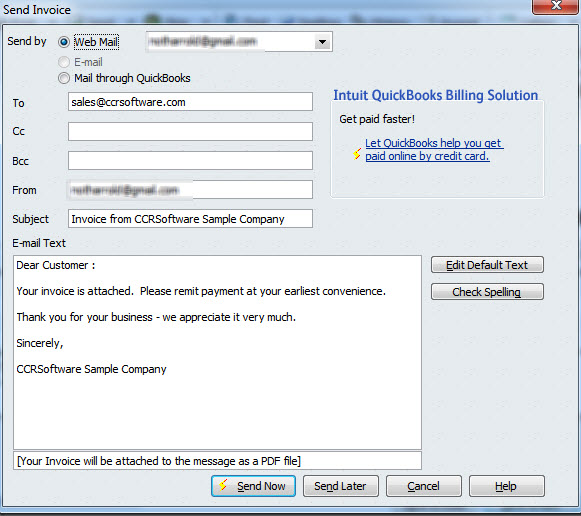 The first time that you send, it will ask for the password for the account. It saves this so you don't have to reenter it when you use this again in the future. I tested this with Gmail, and my own email server and it worked perfectly.
Note that this will send the email directly, just as with the older QuickBooks e-mail option. You can't attach some other document or change anything other than what you see in the screen above. If you want to make other changes or attachments, you still need to use Outlook, or save the invoice as a PDF and attach it yourself. The big advantage with the new web mail feature over QuickBooks e-mail is that the email message will come from YOUR email server, and you can look at your history of sent emails there.
I have not used this extensively yet, as I use Outlook as my primary email system. From what I've seen so far, I really like this improvement.
Changes in QuickBooks E-mail
Up until now the QuickBooks e-mail option has been a free service provided by Intuit. You had the option to use the Intuit QuickBooks Billing Solutions service, which is available for a fee and provides a number of enhanced features.
Starting with QuickBooks 2011 this will change. PLEASE NOTE that Intuit may change these plans when the product is released, so please confirm this with them before making decisions.
If you are a subscriber to Intuit Payroll, QuickBooks Merchange Services (or Billing Solutions), Enterprise Full Service Plan and possibly some other subscription services, then the QuickBooks e-mail service will be available to you at no additional charge.
If you are a member of the ProAdvisor program or use the Accountants Copy Transfer service, then the QuickBooks e-mail service will be available to you at no additional charge.
All other users must use Outlook or the new web mail feature.
Category: Program Updates, QuickBooks 2011
Charlie Russell is the founder of CCRSoftware. He's been involved with the small business software industry since the mid 70's, focusing on inventory and accounting software for small businesses. Charlie is a Certified Advanced QuickBooks ProAdvisor.