Managing your Accounts Receivable is one of your most important business functions. QuickBooks 2011 has added several improvements that will make this task easier for you, including the addition of the Collections Center. Let's take a look at what they have added.
PLEASE NOTE that much of this is based on information from an early release of QuickBooks 2011 – it is possible that some features may vary from what is described here.
Improvements in the Customer Center
In the Customer Center you can customize the display to add an overdue column. This shows a number of icons that relate to the collections/payment status of your customers.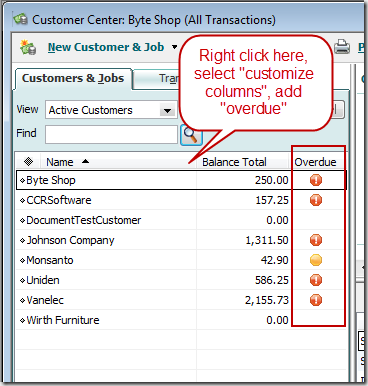 The red icon represents a customer with overdue invoices, yellow represents a customer that has invoices that are nearing the due date.
If you hold the cursor over a customer, a "tool tip" pops up that shows the customer collections status.

The View dropdown at the top of the customer list provides you with a number of filters that you can apply, to pick out customers with a certain status. Intuit added the "overdue" and "almost due" options.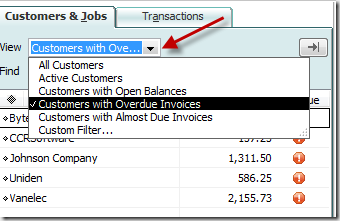 Collections Center
In the Customer Center toolbar there is a new icon, Collections Center. If you click this, it opens another window. The appearance of this window varies a bit from what you see in the rest of QuickBooks, but I don't believe that this is an online app.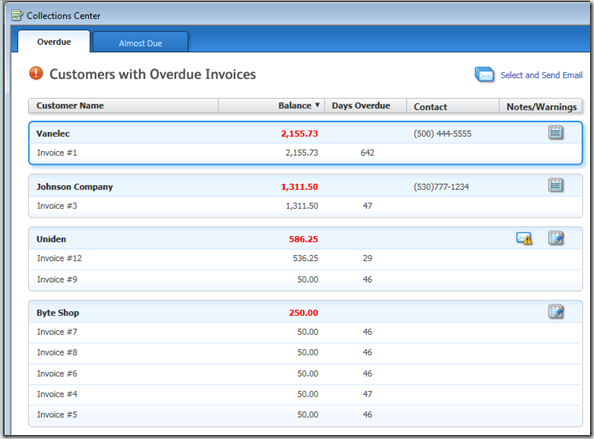 You can double-click on an invoice to open it to see the details.
Click the Select and Send Email button in the upper right corner, and you have the ability to send a "mass" email to your overdue, or almost due, accounts. You can select or de-select individual invoices to include. Note that if you none of the listed customers have a valid email address, this button won't show.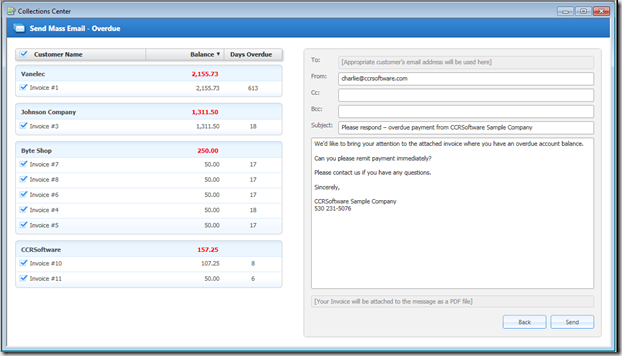 If you send emails this way, regardless of which email system you use, the "notes" feature in this window will show you a history of when the notices were sent.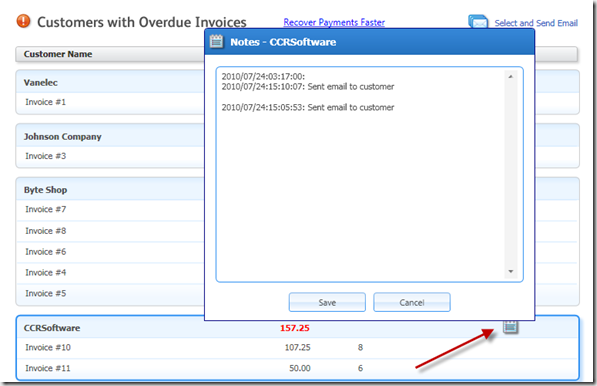 This is a very welcome and useful addition to QuickBooks. Without having used it very much, the main problem I see is that you cannot easily de-select all invoices for a particular customer. You have to de-select the invoices one by one.
Category: Program Updates, QuickBooks 2011
Charlie Russell is the founder of CCRSoftware. He's been involved with the small business software industry since the mid 70's, focusing on inventory and accounting software for small businesses. Charlie is a Certified Advanced QuickBooks ProAdvisor.