Intuit introduced the QuickBooks Document Management service in the 2010 release. When I reviewed this originally, I had a number of concerns about what you could and couldn't do. With QuickBooks 2011, Intuit is renaming this service to be QuickBooks Attached Documents and has made some significant changes. Is it enough?
QuickBooks Attached Documents is still a "connected service", and it will only be available to users of QuickBooks 2011 and later. It won't be online until September 27. It is my understanding at this time that QuickBooks Document Management should continue to be available for users of QuickBooks 2010, under the same pricing plans, until support is discontinued for QuickBooks 2010 in the future. PLEASE NOTE that the screen shots shown here are based on information from an early release of QuickBooks 2011 – it is possible that some features may vary from what is described here in the final release later in September.
Update 9/20/2011: Intuit is making MAJOR CHANGES to this feature starting in September 2011. See this article on the changes: http://www.sleeter.com/blog/2011/09/quickbooks-2012-document-management/
Local Document Storage
This has been a major issue with QuickBooks since the day that the QuickBooks Document Management product was released. The original intent was to store all of your attachments in their online database. There are many good reasons to do this but many people decided that they did NOT want their documents "in the cloud" for a variety of reasons. You could, instead, chose products like SmartVault that store your attachments locally.
Now, with QuickBooks 2011, you have an option to save an attachment as a local file!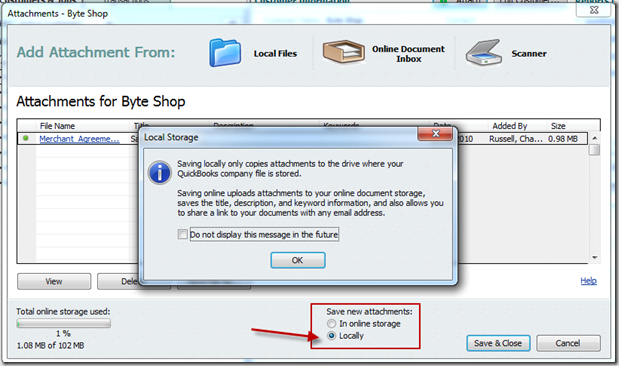 The lack of this in the prior release has been one of the big drawbacks, in some minds, and there will be a lot of excitement over this new option.
I do have a few comments, however:
Interestingly, you cannot make both a local and online copy of the same document (unless you add it twice and save it once in each place). If you feel that this is an important option, send in feedback to Intuit. Based on discussions with Intuit representatives It was an option that they felt would be too confusing.
Retrieving local files is much faster as the file doesn't have to be sent over your Internet connection.
Documents that are saved in your "online document inbox" cannot be directly saved "locally". That is unfortunate, as that means you cannot easily save something locally that you uploaded while on the road, etc. HOWEVER, you can get around that. Save the document from the online document inbox to your online backup. Save the file as a local document on your desktop. Then attach it as a local file. If you think that it is important to be able to do this easily, let them know. They are very receptive to feedback on this feature.
Intuit still has not included an option to download ALL of your online documents, which I still consider to be a key issue. I want to be able to back up my entire store of documents for safety and archival purposes.
Local Document Storage: Good or Bad?
Locally stored attachments are stored in a folder that is derived from the location where your QuickBooks company file is located. Each file is stored separately, not in a local database. This has both good and bad points:
You can easily retrieve all of your locally saved files, even if you stop your subscription to the service. BIG ADVANTAGE here!
You can find these files without having to dig through some proprietary database. Some people prefer this – so you can get those local documents even if you don't have access to a program that works with some odd or protected database structure.
Your Company file (QBW) is not bloated by adding these files (

very

important).
The locally stored files are not protected, so that anyone who has access to the folder can see the documents. Even if someone does not have access to the customer list (for example), they can see (and alter, and delete) the attachment to the customer record. So this is NOT a secure option. For some people, this is a major problem.
That last point is going to negate the value of this option for quite a few people, I believe. Let me know what YOU think of this!
Local vs Online Documents
If you look for documents by clicking the "attach" button in QuickBooks, you see both local and online documents. If you access via the Doc Center icon, or through your web browser, you only see the online documents.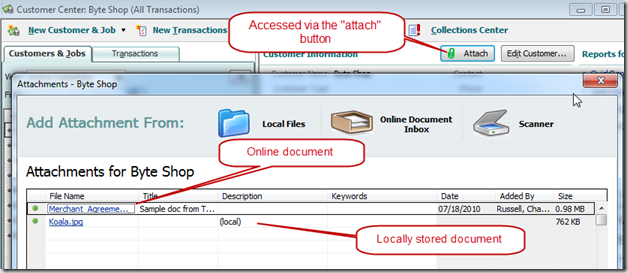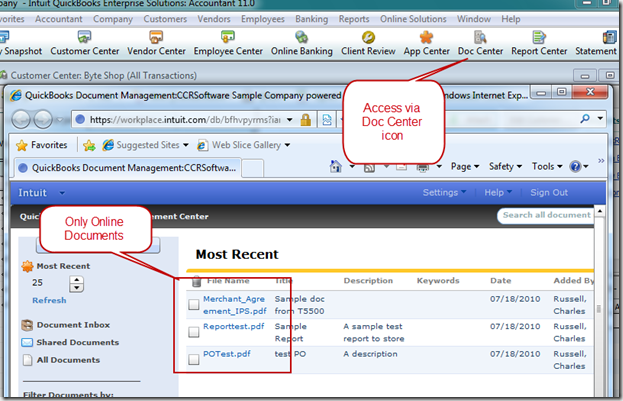 Pricing Plan
Up to now we have had pricing plans based on storage volume. In the 2010 release QuickBooks Document Management had the following: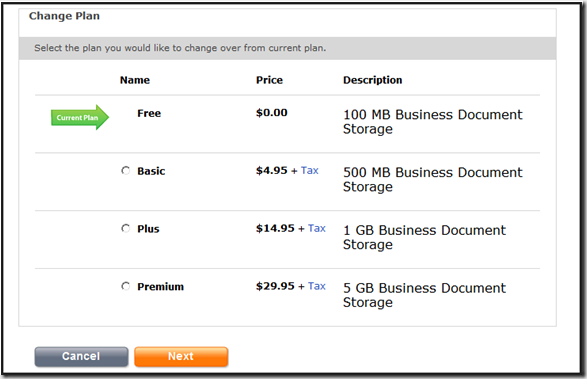 QuickBooks Attached Documents will take a totally different approach.
Rather than basing prices on the volume of storage, QuickBooks Attached Documents is going to be based on the number of attachments. This pricing structure is more in align with the way the industry is going with storage – storage volume pricing is on the way out.
So you will pay:
$9.95 per month for one attachment per transaction.
$14.95 per month for up to five attachments per transaction.
$19.95 per month for unlimited attachments per transaction.
Note that there isn't a free option like we had before, where you could store a small volume of documents for no charge.
Members of the ProAdvisor program will get the five-attachment plan for one company for free as a part of your membership.
There is a limit to the size of any particular document that is attached online – it looks like this limit will be 100 MB.
I believe that for many users this will be an excellent change. In many businesses it is rare to have more than five documents that you want to attach to a transaction or list item. Certain kinds of businesses, such as an engineering or architectural firm, may have a large number of documents related to an estimate or project.
When you have a limit to the volume that you can work for you find yourself paying too much attention to what is being stored, and you might decide to not store some documents that really should be saved. Also, there isn't an easy way to delete older attachments in bulk, so the longer you use the program the more storage you are going to need. It is unlikely that you will spend the time it takes to delete old attachments one by one. This plan makes a lot of sense if you are willing to pay a monthly fee for this kind of service.
I'm expecting that there will be a lot of complaints that there is any fee at all for this service, particularly if you are storing all of your documents locally. There is no distinction between storing locally or storing online – you have the same limits and pay the same fee.
With this approach if you try to save too many documents for a given item or transaction, you get this warning: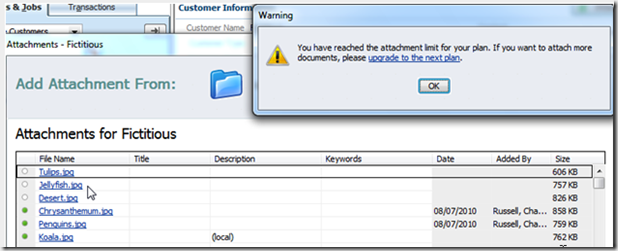 As I understand it, if you were already using the QuickBooks Document Management program with your QuickBooks 2010 product, your old pricing structure will continue to be available (at least for awhile, I'll guess that it will "sunset" in a couple of years).
What Is Still Missing?
Intuit is advancing the service, and they have made some good advances based on feedback they have received. There are a number of advances in this release that are welcome, and make a lot of sense. This won't work for everyone, and you may still want to consider other products (see my review of SmartVault as an example).
I still believe that you need a way to make your own backups of the entire online document database. If you are storing the data online, and decide that you want to discontinue the service, how can you retrieve your documents? Only one-by-one, and that just isn't practical. I also want to have the ability to make my own backups rather than rely on Intuit being entirely responsible for my data security.
The discussions on this new feature should prove to be very interesting…
Category: Program Updates, QuickBooks 2011
Charlie Russell is the founder of CCRSoftware. He's been involved with the small business software industry since the mid 70's, focusing on inventory and accounting software for small businesses. Charlie is a Certified Advanced QuickBooks ProAdvisor.