When you are working with a customer invoice, or a vendor purchase order, it is very helpful to have summary information readily available. You want to see information about the open balance, outstanding orders, a history of recent transactions. In QuickBooks you have been able to look in the Customer Center to do that, but this requires switching windows and trying to keep windows in sync. QuickBooks 2011 has improved this process by adding a history pane to the invoice, enter bill and purchase order windows.
 PLEASE NOTE that much of this is based on information from an early release of QuickBooks 2011 – it is possible that some features may vary from what is described here.
When you create an invoice and select a customer, after a short pause QuickBooks will update the history pane on the right side of the window. This lists summary information about the customer, as well as a list of recent transactions.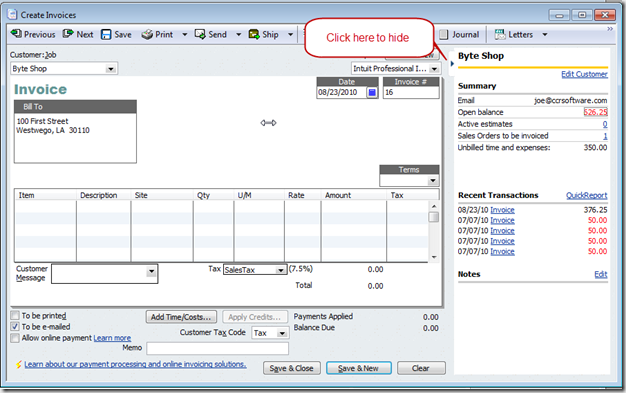 You can click on that small arrow at the top of the pane to close it – for those of you who have smaller screens and can't afford that space.
This history pane is full of useful links:
You can edit the customer record.
Click on the open balance number to see a Customer Open Balance report for this customer.
Click on the active estimates or sales orders to be invoiced link to see a Customer QuickReport filtered for that transaction type, or click the QuickReport link to see a full report.
Click on a listed transaction (invoices, estimates, payments and so forth) show a transaction journal report for that transaction.
Click the Note Edit link to open the notes field for the customer.
A similar history pane is available for estimates, credit memos, sales receipts and purchase orders, but not for sales orders, which I find odd. There may be some other places it is available that I haven't stumbled across (I just found it on Enter Bills for example) – look for that little arrow to the right of the screen.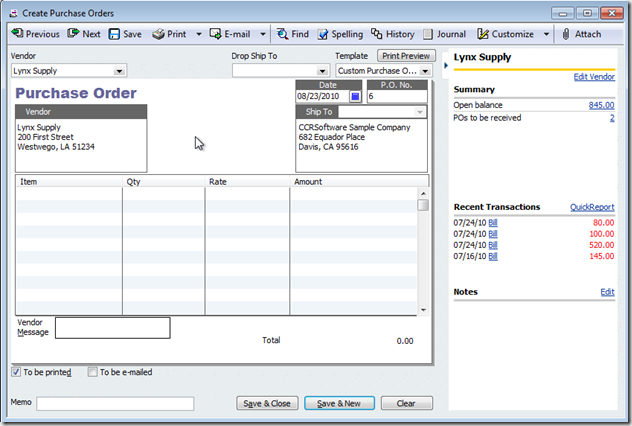 This is a very useful feature, and Intuit has learned that they need to make these panels optional, so that you can hide them if they take too much space.
Category: Program Updates, QuickBooks 2011
Charlie Russell is the founder of CCRSoftware. He's been involved with the small business software industry since the mid 70's, focusing on inventory and accounting software for small businesses. Charlie is a Certified Advanced QuickBooks ProAdvisor.