We've had various "search" features in QuickBooks over the years, but they have either been inadequate, unreliable, difficult to set up or had too much of an impact on system performance. With QuickBooks 2011 we now have a useable and flexible "search" feature that works.
PLEASE NOTE that much of this is based on information from an early release of QuickBooks 2011 – it is possible that some features may vary from what is described here.
Click the Search Icon in the icon bar to open the search window. The first time that you open this window you will have to run an update function that will create indexes of your data – this may take awhile.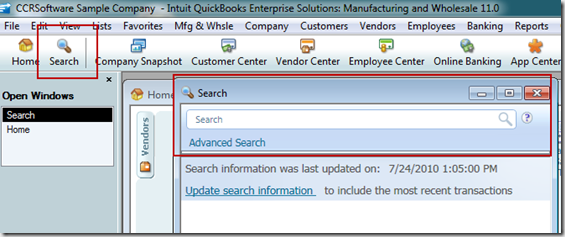 Once the index is ready, enter your search value and you will get a VERY fast response. In my example, I searched for the word "Byte" (a part of a customer name, in this case), and the Search feature found 9 records in a fraction of a second: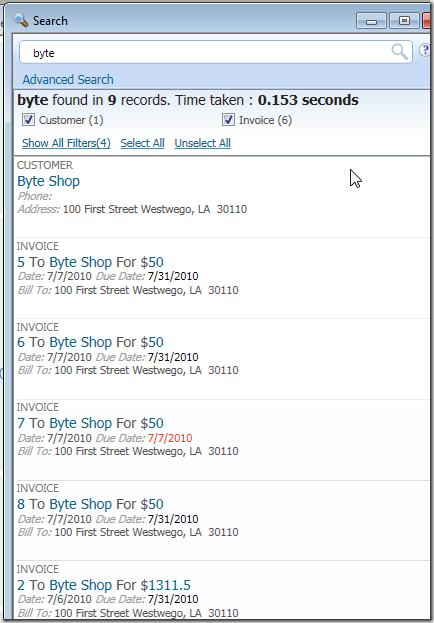 This isn't just a simple listing of matching records. Note, for example, that there is one invoice that has the due date in red. This search was done in mid July, and that invoice is past due.
Hold the cursor over any of the entries and you will get a small menu of functions that you can perform. For example, here is a customer record:

And here is an invoice:

If you click on the advanced search link, you get a window that shows what options you have for modifying or filtering the search so that you get the results you need. Please note that this screen shot only shows a portion of the options available: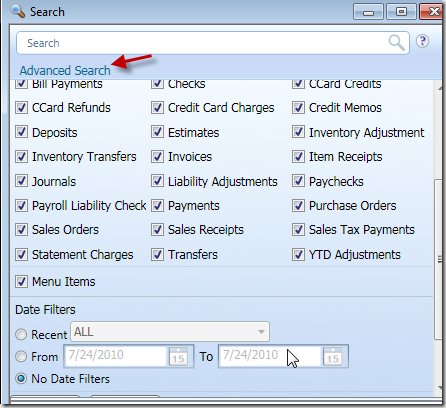 This works VERY fast, but there are some issues that you have to be aware of. The program is keeping an index of your data, and it only updates this index periodically. If it was being updated as you work with QuickBooks it could slow down the program. This index is only as accurate as the last "update", so if you do a search there is a possibility that you won't find everything you expect.
You can control how often the index operates in the search preferences. It can happen automatically at a specified interval, or it can be set to only happen when you ask for an update.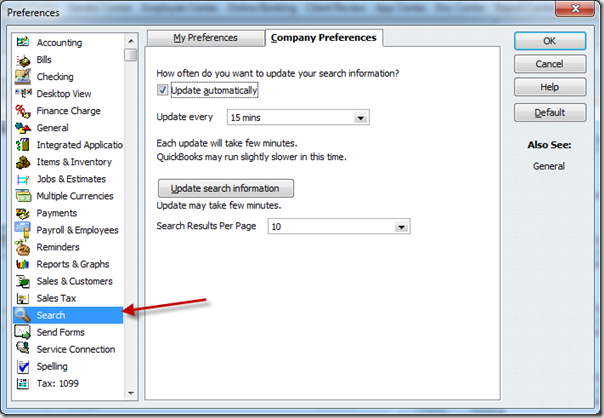 Note that the search feature is sensitive to user permissions, so that it won't find data that a user doesn't have permission to view.
The index information is stored in your company file. That is good – this places your sensitive information in a secure storage. I do have a concern about this, though, as this will increase the size of your company file (QBW). We'll see how much of an impact that has.
Based on feedback during the field test of this, Intuit has included the older "Find" search feature that many people have gotten used to – it is still mapped to the Ctrl-F hot key.
I like this feature, although some people may be confused about the delay in updating the index. I also didn't try this in a multi user environment, so it isn't clear if there are any issues in that situation.
Updates on 9/15/2010: I often think that the majority of my subscribers are Intuit employees, since as soon as I post an article I often get feedback from them. Here are a few additions/corrections to the article:
The "F3" key has been mapped to the new search feature – in the early tests it was ctrl-F, but some people wanted the older search method to be available, so that is now mapped to ctrl-F and the new search is F3

Intuit believes that my concern about the size of the QBW file being increased by the search index is unwarranted – size does increase but they have paid particular attention to this issue and it shouldn't be a problem. We'll have to see.

In a multi user environment the database server itself is managing the index updates, so the clients are not burdened. They believe that you will not notice any performance problems with this.
Category: Program Updates, QuickBooks 2011
Charlie Russell is the founder of CCRSoftware. He's been involved with the small business software industry since the mid 70's, focusing on inventory and accounting software for small businesses. Charlie is a Certified Advanced QuickBooks ProAdvisor. Look for Charlie's articles in the Accountex Report blog, as well as his California Wildflower Hikes blog.