QuickBooks 2011 introduces a number of new reports, as well as some enhancements to existing reports. This is a very quick overview of what has been added and changed, with some examples of some of the new reports.Note that some of these reports may only be available in the Enterprise edition. I'll try to identify those.
New Reports
Balance Sheet by Class will bring the Class feature to the balance sheet – a feature that has been requested for a long time. This is not available in the Pro edition.
Average Days To Pay will provide information on the average number of days it takes your customers to pay from the time that they were invoiced.
Sales By Ship To Address will show you details on the items (quantities and dollar value) based on the Ship To address.
Open Purchase Orders Detail is a

very

useful report – showing the items that you have on outstanding PO's along with their quantity and projected delivery date.
Combined Reports: Enterprise allows you to create "combined" or "consoldiated" reports that pull information from multiple company files. Enterprise V11 adds two reports to this feature, Profit & Loss by Class and Sales by Customer Summary.
Updated Reports
Open Purchase Orders – This report will now reflect the correct Open Balance value.
Open Sales Orders – This report will also reflect the correct Open Balance value and will also provide additional details to provide insight into items remaining fulfillment.
Sales By Item Summary & Sales By Item Detail – These reports will now provide a total for the QTY column.
Open Purchase Order Detail will provide additional details on pending items.
PLEASE NOTE that much of this is based on information from an early release of QuickBooks 2011 – it is possible that some features may vary from what is described here.
Balance Sheet by Class
If you use the Class feature in QuickBooks you know that "class" only applies to transactions that affect the profit and loss statement. We could only see a P&L by class, not a balance sheet. Starting in QuickBooks 2011 we now have the ability to generate a balance sheet by class.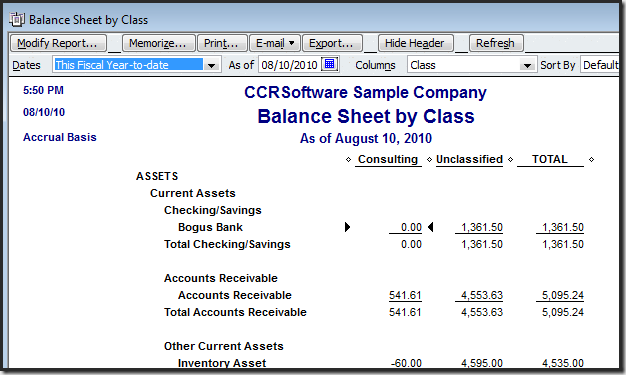 What has changed? Well, not a lot, really. We still are entering transactions the way we did before, Intuit is just trying to pull the information out in a different way.
When you first select this report you will be given an opportunity to review a series of "guidelines" on how to use this new feature. Be sure that you read this carefully or you might not get the results that you expect. For example, you must use only one class in every transaction. Some people may find this limiting – since invoices (for example) allow you to specify a different class on every line.
The report allocates information to classes when you run the report, which is a departure from many QuickBooks reports. Transactions have to be entered in a particular way. If you don't, you may not get a useful report. The help file provides details. One of the interesting statements in the QuickBooks help file is "…you may experience some unexpected results. Understanding and fixing these results requires a strong background in accounting and a good working knowledge of QuickBooks."
At this time I'm going to predict that although this has been requested, they way it has been implemented (along with the restrictions) are going to make it hard to use, and a source of a lot of questions when you don't get the results you hope for.
For a detailed analysis of this report I recommend that you go to the blog by Nancy Smyth where she has an 11 part series of articles. 
Average Days to Pay
A useful analysis figure that will look at invoice dates and the date paid, and calculate the average days to pay by customer.

Nancy Smyth of Sunburst Software Systems has a blog article that goes into this report in a bit more detail – see QuickBooks 2011- New Average Days to Pay Report.
Sales by Ship To Address
I've seen requests for this type of report before – I'm not sure what exactly people are looking for. This will take your invoices and break them down by city/state. It might be helpful in sales tax situations, although I would rather use my sales tax reports for that.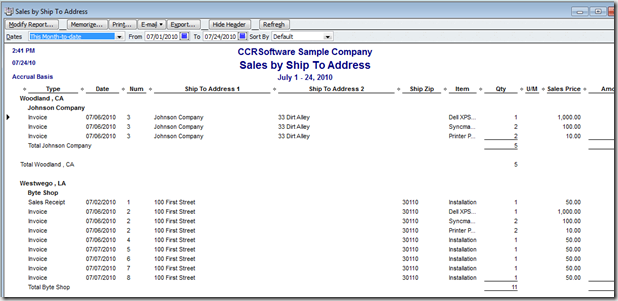 Nancy Smyth of Sunburst Software Systems has a blog article that goes into this report in a bit more detail. See QuickBooks 2011 – New Sales by Ship To Address Report.
Open Purchase Orders Detail
This should be a very popular report for inventory related businesses. You can get a listing of all items that are on open purchase orders, along with the quantity and projected delivery date.

Again, I'll refer to Nancy Smyth's blog for some additional details on the improvements to the purchase order reports in QuickBooks 2011.
Category: Program Updates, QuickBooks 2011
Charlie Russell is the founder of CCRSoftware. He's been involved with the small business software industry since the mid 70's, focusing on inventory and accounting software for small businesses. Charlie is a Certified Advanced QuickBooks ProAdvisor.