Expanding on the Company Snapshot feature, QuickBooks 2011 adds a Customer Snapshot that provides several useful summary views of information on specific customers.
The Company Snapshot feature was introduced in QuickBooks 2009 (and enhanced in QuickBooks 2010). I've found it to be a very useful tool in providing a quick visual analysis of important information in my company file. With QuickBooks 2011 we now have the Customer Snapshot to provide us similar graphical analysis of specific customers.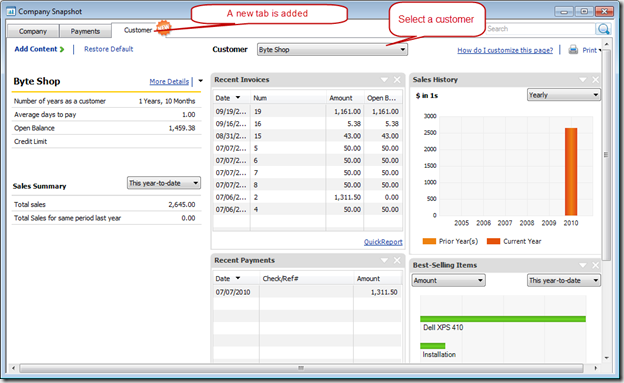 We are provided with:
A customer summary (not a "widget" like the others)
Recent Invoices
Recent Payments
Sales History
Best Selling Items for this customer
Unlike the Company and Payments snapshot tabs, the Customer snapshot is specific to one customer, which you select from a dropdown list. Alternatively, you can select Customer Snapshot from the Customer Center.

I've become more and more dependent on the Snapshot feature to provide me with a quick and graphical view of how my business is performing. I like not having to spend a lot of time looking at various reports scattered throughout the program. Having one place that lets me take a quick look has been very useful. Adding the Customer Snapshot is a move in the right direction, but I am hoping that they can add more analysis/comparative information. Listing of current activity is simple to do in the Customer Center already, with more flexibility than we have in the Snapshot. I would like more graphic analysis that compares the prior year to the current.
Customer Summary
This section provides you with a quick summary of some important metrics for the selected customer. Note the Number of years as a customer item – this can be a useful piece of information.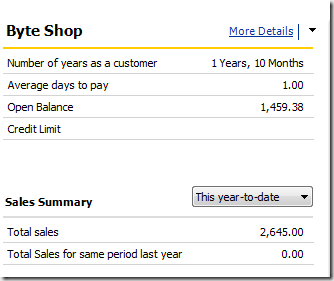 Clicking on More Details takes you to the Customer Center.
Recent Invoices
This will show you a summary of recent invoices. You can't change which columns show or change the date range shown, but you can open the invoice by double clicking on it. Clicking on the QuickReport link will open a customer report showing a summary of the invoices.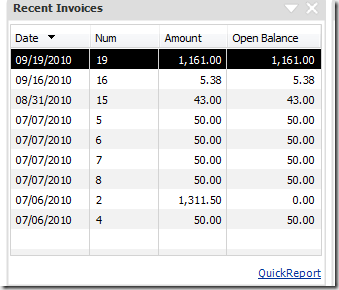 Recent Payments
A summary of recent payments. Same as above – few options to modify, double click to open the transaction, and a link to a QuickReport showing just payments.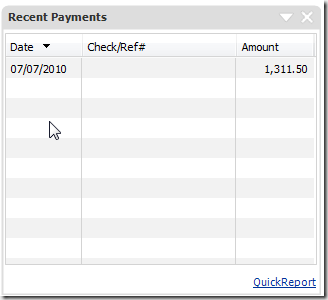 Sales History
You have options to show yearly, quarterly, monthly or weekly statistics, and the graph will include the current and prior year.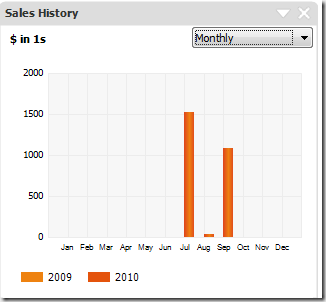 Best Selling Items
I found this more useful than some of the others, but I would like to have the ability to compare with prior years. You can select amount or quantity, and the time range to show.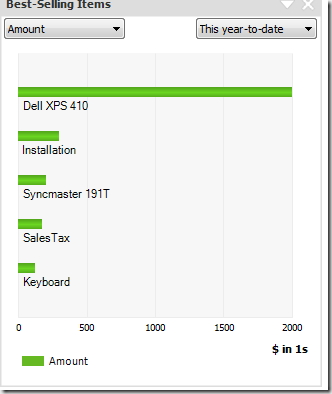 Other Improvements
In addition to the new Customer tab, there are a few other smaller improvements.
The Print link for the overall snapshot page add the option to set the page orientation of the printouts.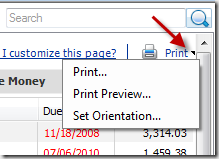 Individual widgets have an additional option to save the graph as an image.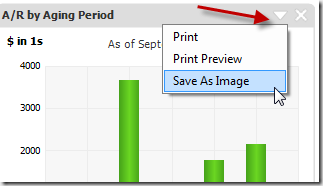 Category: Program Updates, QuickBooks 2011
Charlie Russell is the founder of CCRSoftware. He's been involved with the small business software industry since the mid 70's, focusing on inventory and accounting software for small businesses. Charlie is a Certified Advanced QuickBooks ProAdvisor.