There are many improved and new features in QuickBooks 2011. Intuit has not provided anyone with a comprehensive list of all of the changes. I've been covering the major ones, but there are many smaller changes that are scattered about. Although they may be small, they could have a large impact on how you use QuickBooks. Here is a collection of the smaller changes that I've come across – some that Intuit pointed out to me, some that  other reviewers and documenters have shared with me, and some I've found on my own.
There are probably many more than what I list here (and have listed in my earlier articles on the 2011 release). I really wish that Intuit would give us a comprehensive list of ALL changes. If you find another difference in the new product that I've not discussed yet, please leave a comment!
Purchase Orders
When entering a quantity on a purchase order we now have the availability icon in Enterprise (not in Pro or Premier), which lets you see information on the status of the item you are ordering. We've had this in sales orders and invoices, but now it is added to purchase orders. A nice addition.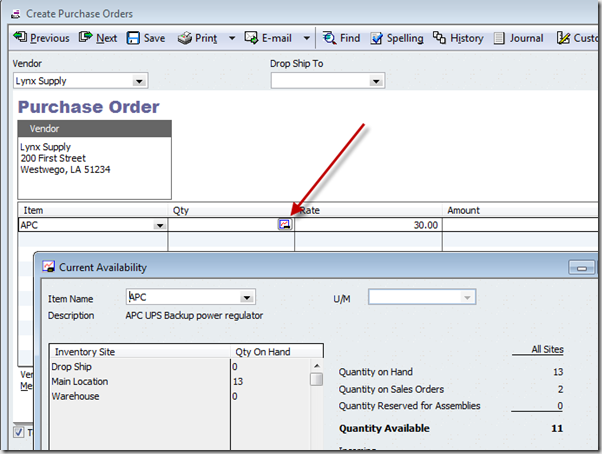 Vendor Address
The vendor record now has a second address block, which has been requested often in the past.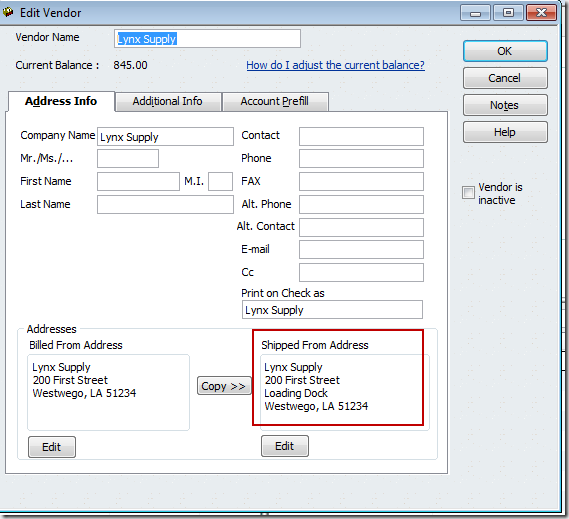 Prior to this release we only had one address, which showed up in PO's and checks, etc.
The Shipped From Address will print on a purchase order. The Billed From Address will be used in the check.
Intuit Virtual Agent
We all know about the Live Community feature in QuickBooks, to help us get help online. This lets you access the Intuit Community Forums to get help from other users like yourself (or someone like me, who likes to hang out there and answer questions). On one hand, I am a great supporter of the Intuit Community Forums. On the other hand, I don't like how Live Community works, because people don't understand how it is working. Questions asked there get stuck in odd places, and people don't realize that it is a User to User help forum.
Now we have another option in the Help menu, the Intuit Virtual Agent, or "Ask IVA". This opens a web browser and takes you to an "Intuit Interactive Agent", which is a computerized help system.
At this time I don't know how well it will work. Some features may be limited to ProAdvisors, or may be found only in the Accountant's Edition.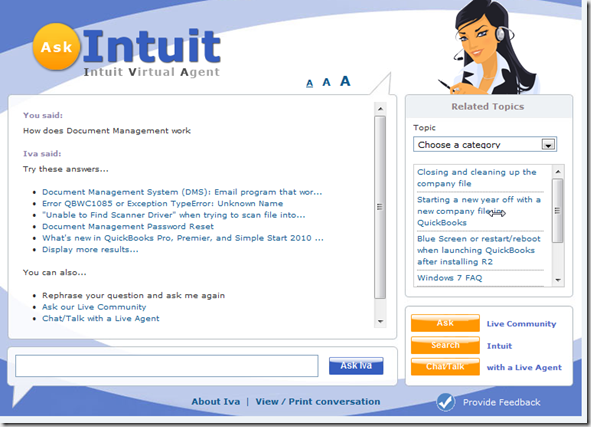 Restoring Backups
Note that you now have a "restore previous local backup option that lists the most recent backups

Also note that "create backup" and "create copy" are there instead of Save Copy or Backup. Create Copy will let you create a backup, portable or accountant's copy. Create backup goes straight to the backup window.
Spelling Preferences
QuickBooks 2011 adds the ability to edit your individual spelling dictionary. You will see a list of the words that you have added, and can mark them to be deleted.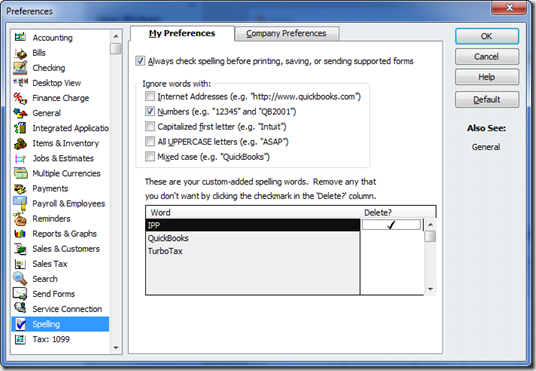 Billable COGS
If you are writing a check, you have the option of using the Expenses tab or the Items tab. If you use the expenses tab you select an account to post to, and you can assign the amount to a customer and mark it as billable. But wait – if you select a expense account you can mark the line as billable, but if you select a COGS account you cannot mark it as billable. I'm not a CPA so I can't say if this made sense or not, but from where I stand that seemed to be a bug.
Intuit must have agreed – this has been changed in QuickBooks 2011. You can mark a COGS account as being billable.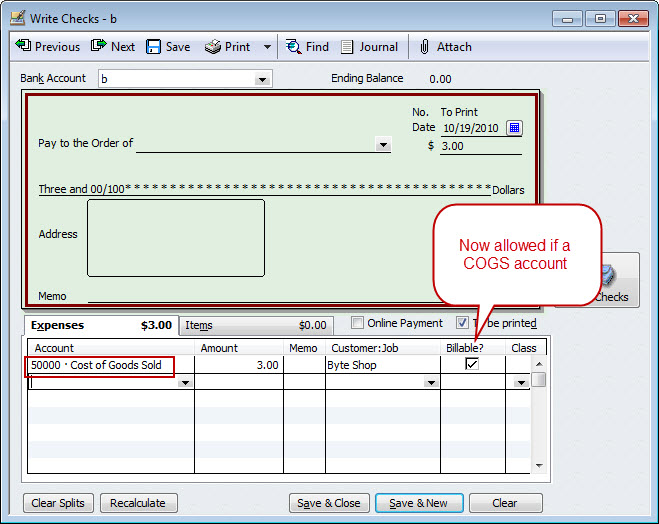 Paid Invoices
The "Paid" stamp now has a date on it.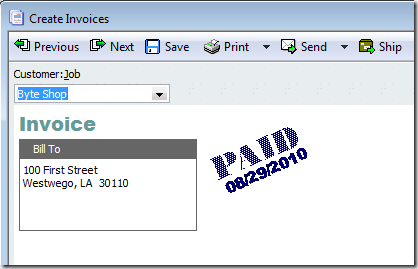 Forms Design
QuickBooks 2010 added the new online form design feature, which provided a small amount of convenience in applying your new design to all of your forms (invoices, sales orders, etc.). This service is changing with QuickBooks 2011.  Users of QuickBooks Pro 2011, Premier 2011, Accountant 2011, and Enterprise 11.0 can try out different forms customizations and see the changes immediately online, just as before. Once the changes are applied to selected QuickBooks forms, you will have 30 days to make further edits online or apply the design to other forms at no charge.
After this 30-day period, any additional changes to the design (including adding it to other forms) will incur a fee. This limit and fee is the change from prior years. I just wish they would remove the dang advertisement we see every time we edit a form…
Change Check Date
QuickBooks has a preference that lets the date on a check change when you print the check. Normally this makes sense – when you print a check you want the current date to be updated. However, in prior releases of QuickBooks this would occur even if the check had been cleared. For most people, this isn't an issue, as you won't reprint cleared checks. In some businesses you may do this for archival purposes (printing on plain paper).
This is changed in QuickBooks 2011 to have the data automatically changed only if the check has not been cleared.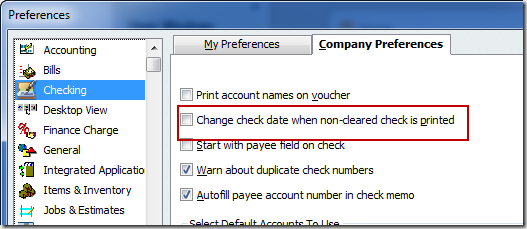 Paying Bills
In prior versions there was one Paying Bills preference that applied to both credits and discounts. In QuickBooks 2011 these have been split into two separate settings. This provides you with greater control over what kinds of transactions will be applied automatically.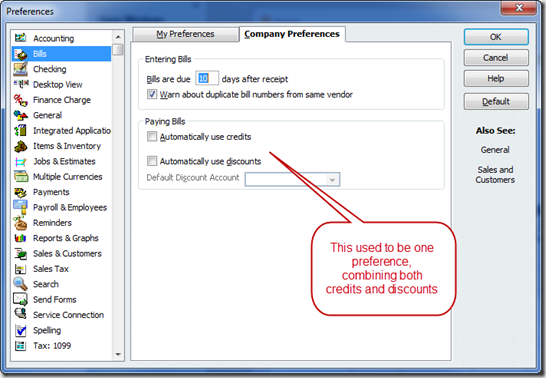 Transactions Affected by Closing Date
This is a small change, in that it is just one check box, but it has a large impact for some businesses. When you set a closing date, you are restricted from making changes to transactions prior to that date. With QuickBooks 2011 they have added an option to exclude certain non-posting transactions from this restriction.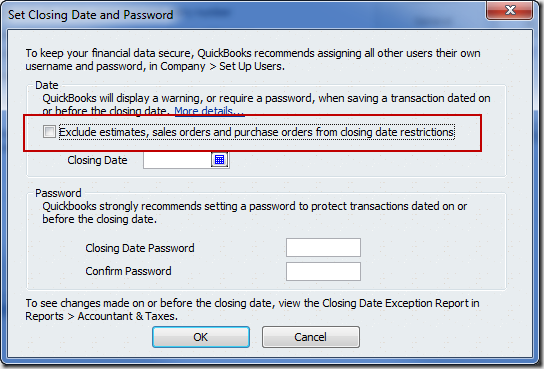 This can be a big help for many businesses. You may want to stop changes to financial transactions prior to the closing date, but you could still have open sales orders, estimates or PO's that you have to work with. This option opens that up for you.
Client Data Review Multiuser Mode
The Client Data Review (CDR) is a feature of the Accountant's Edition that helps the accountant (you can also use it for your own company) to find and resolve issues in the company file. With QuickBooks 2011 you now can use this feature in multiuser mode, while other users are working with the file. Note that only one user can be using CDR at a time.
Have you found any other small, unannounced changes? If so, let me know!
Category: Program Updates, QuickBooks 2011
Charlie Russell is the founder of CCRSoftware. He's been involved with the small business software industry since the mid 70's, focusing on inventory and accounting software for small businesses. Charlie is a Certified Advanced QuickBooks ProAdvisor.