Oops – just as Intuit is starting to release 2011 R4 to automatic update, it looks like there may be a problem. I can see the problem in my installation, but I'm not sure what the full impact is at this time. I'm recommending that you not update to R4 at this time.
12/20/2010 Update: There is a simple fix for this, see my followup article for details
01/06/2011 Update: The R5 release is out, which includes a fix for these problems.
I talked about the QuickBooks 2011 R4 release a few weeks ago. There are a LOT of changes there, and I was recommending that people install this revision. My feeling was – if you are already using QuickBooks 2011, better to be on R4 than on R1 or R3. But – based on a problem we are seeing, I'm thinking that you shouldn't upgrade to R4 quite yet. There is a problem, and I can't tell how important this is.
If you are NOT using QuickBooks 2011, I'm now recommending that you wait awhile longer before upgrading.
My thanks to Karl Irvin for pointing this out to me, as well as several people who have left comments in other articles in this blog.
What Is The Problem?
In many cases, you cannot successfully verify your company file. This isn't happening all of the time, but all of my existing test files show this problem.
Try running a Verify from your File/Utilities menu. If you have damage in your company file the Verify will tell you that there is a problem. You can run the Rebuild function from File/Utilities, then examine the error log file (QBWIN.LOG) to see what errors there are. Many times the Rebuild will fix the problems.
In my test file, I ran the Verify, and and received this warning: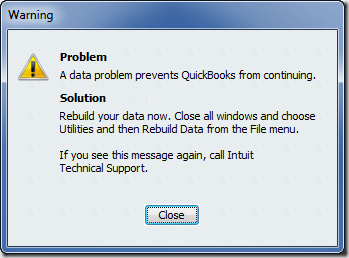 This was a file that should have been clean.
Examining the QBWIN.LOG file, I see the following message. No other error was indicated. Note that this message is NOT flagged as an error:

I'll be honest here – I'm not sure what this means. We often see messages in the log file that don't indicate a real problem, so this might not mean anything.
My next step is to run the Rebuild function from the File/Utilities menu. This completed successfully, but when examining the QBWIN.LOG file, there may be errors listed. Please note that the error results varied widely depending on the version of QuickBooks (Premier or Enterprise), and the company file. THE MOST COMMON error I found was this:

Unfortunately, this is an error that we don't have a remedy for, so there isn't anything that I know of that you can do to fix it.
In looking at a variety of different files, I found:
A brand new file that I created did NOT have the problem.
SOMETIMES I could make the error going away by running the Rebuild three times in a row. This is an old trick that many people have recommended in the past.
Some files just could not be fixed, even after running Rebuild as many as ten times in a row.
I can't say that EVERY company file in every installation will run into this problem, as I have not looked at files for all of my clients. I don't have many direct support clients on this revision yet.
I have NOT seen this problem in any 2011 R1 or R3 installations. But, again, I have not done an exhaustive test of this.
I'm also starting to see a number of messages in the Intuit Community Forums pointing out the same problem.
What Is The Impact?
I suspect that this is introduced with R4 (can't be certain yet). I also have a feeling that this is not indicative of a big problem.  I've not seen any detrimental affects on data accuracy yet. It may actually just be a bug in the verify portion of the program. But I can't be sure of that.
I am a strong believer in using the QuickBooks Backup feature to make backups of your data, with the Verify option enabled. This is supposed to clean up many problems, and it clears out your transaction log. However, if you have the Verify option enabled, you cannot make a verified backup if you run into this error. To me, regardless of the importance of the error to data integrity, this is enough to make me recommend that we wait until we get a fix for the problem.
12/20/2010 Update: There is a simple fix for this, see my followup article for details, so I am again recommending that QB 2011 users update to R4
Category: Program Updates, QuickBooks 2011
Charlie Russell is the founder of CCRSoftware. He's been involved with the small business software industry since the mid 70's, focusing on inventory and accounting software for small businesses. Charlie is a Certified Advanced QuickBooks ProAdvisor.