Whew! it isn't a big problem after all, and the Intuit development team has a fairly simple fix for us. My apologies to everyone for stirring things up, and my thanks to Sam and Siddharth (and others) at Intuit for helping with this.
Yesterday I released a posting about a verification error in QuickBooks 2011 Release R4 that prevented us from verifying (and doing a verified backup) of our QuickBooks company file. This did create a big problem as it prevented you from performing a necessary task. The good news is that it is easily fixed. The bad news (added to the end of the article) is that there may be another problem for some users.
01/06/2011 Update: The R5 release is out, which includes a fix for these problems.
Intuit has us shut off a message that is erroneously making the Verify fail. There is a message that is showing up in the QBWIN.LOG file (refer back to the earlier article, I pointed this out) which is not flagged as an error. But Verify picks up on that and takes it as an error. It is really just an informational message, not an indication of a real problem. By turning off this message, the Verification error goes away without compromising your data or performance.
To fix this, you will need to edit your QBW.INI file. If you aren't comfortable with doing this, get a ProAdvisor to help you. Note that in SOME systems you may have multiple QBW.INI files, and it is important that you get the right one.
Detailed instructions can be found in KB article 899405 – you should review this in detail.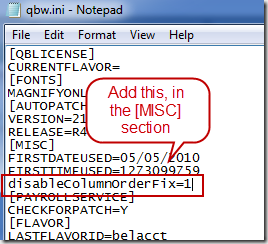 Please note the following:
If you aren't sure about editing your QBW.INI file, make a backup copy of it first.
If your file did NOT verify properly BEFORE installing R4, it still won't verify. You have to fix the "real" verification errors (that held me up in one of my test files while figuring this out).
Make sure that you find the RIGHT QBW.INI file – you may have several in different places. If all else fails, change them all.
Again, I confirmed with Intuit that turning this flag off does not disable any feature you need, and that the problem does not indicate that you have damaged data.
So, I'm going back to recommending that if you are running QuickBooks 2011, you should upgrade to R4 to get all of the benefits that this release brings.
Update 12/24/2010: Whoa – the R4 issue is a bit bigger than we thought – apparently there is a problem with the Client Data Review tool where an error (in Intuit's words) "impacted the functionality of the Reclassified Transactions tool". This will normally only affect ProAdvisors or accountants working with clients, although I am not sure of the full impact. According to Intuit, a "patch is being developed"…
Category: Program Updates, QuickBooks 2011
Charlie Russell is the founder of CCRSoftware. He's been involved with the small business software industry since the mid 70's, focusing on inventory and accounting software for small businesses. Charlie is a Certified Advanced QuickBooks ProAdvisor.