Intuit has released the QuickBooks 2011 R4 update to manual update. I believe that there are over 150 changes in this release, some that are significant and some that are minor. I don't expect the entire list of changes to be announced, and I cannot list all of them here. This is the first really big "bug fix" release for the 2011 product based on user feedback.
I've listed the major changes that I'm aware of. Many of the bug fixes weren't described in the beta test release, so I've not had a chance to go through ALL of the reports. My list is based on information from the Intuit beta test, as well as some other sources. I added some additional notes based on information they released at the last moment. I provide a link to the full "official" list at the bottom of the article.
In some cases I have not been able to confirm that these fixes actually work, as I wasn't able to duplicate some of the bugs that they listed as fixed. This may be due to differences in my test data, preference setup, or edition of QuickBooks I have installed.
File Compatibility
This is always an important issue if you are in a multi-user environment, or work with client files. In some updates the file will be converted to a new format, and older revisions of the program can't open it. Sometimes there is no conversion necessary. This time there is an interesting twist on this that I'm not sure that I understand.

On one hand, they say they need to update the company file. We usually only see this kind of message if there are going to be compatibility issues. On the other hand, the message says that other users who are NOT updated to R4 will still be able to access the data. So, some changes, but not ones that cause compatibility problems. I would like to know more about this (I worry about things like that a lot).
Accountant's Copy
I don't work with this as much as I used to (not being an accountant), so I've not tested all of these changes. The ones that I know of are:
Accountants can now merge service, inventory part and non-inventory part items.
Accountants can now modify existing inventory adjustments.
Accountants can now apply customer credit memos in Accountants Copy files
There were problems with using QB 2011 to work with an Accountant's Copy from QB 2010. These should be resolved.
You will receive the correct account status messages when connecting to the file transfer service.
Sales Tax Report
I've not been able to duplicate this problem, but if you have run into it you need to get this update right away. If you have a "large data file" (not sure what "large" means) then there could be a discrepancy between the report total and detail lines in the Sales Tax Liability and Sales Tax Revenue Summary reports
Multiple Instances
Enterprise Solutions V11 and QuickBooks 2011 Premier Accountants Edition added the ability to open two company files at the same time (with restrictions). If you had one company file open, you had to use the desktop icon or double click on a company file to open a second file. People were confused sometimes – clicking the Open option on the File menu wouldn't open a second file, it would close your current file and then open the new one. Release R4 now adds another menu option, Open Second Company.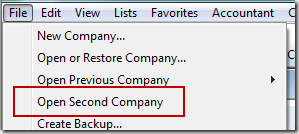 In addition, QuickBooks forms may can now be saved and emailed as PDF while in the secondary company file with Multi Instances. I couldn't duplicate this problem, so I'm not sure when it actually happened. But it is supposed to be fixed.
History Pane
One of the big annoying problems in QuickBooks 2011 has been how the history pane won't stay closed as you scroll through orders. If you close it, then scroll to another order, sometimes it pops back open. I didn't realize it until recently, but it usually popped back open if you scrolled to an order that used a different template. This has been fixed! I know many people who will be VERY happy about this.
I don't know why they didn't offer the history pane on sales orders in the first release, but thankfully they have finally added this feature to this order type. Now that they fixed the bug when scrolling, this should be a welcome change.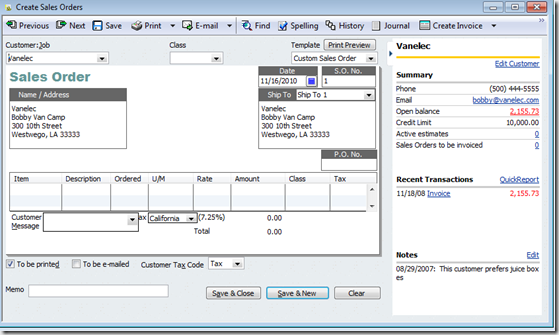 Advanced Inventory
If you use the Add/Edit Multiple List Entries feature to add new items, in some cases the copy down option would not show the correct results. The Total Quantity would only reflect the quantity of the first location. Actually, there were several issues with this function that were fixed.
This may be a big one, it was one that I wasn't able to duplicate but several people in the user forums commented on. Inventory Adjustment transactions will calculate adjusted item values properly. REALLY important…
Miscellaneous
QuickBooks crashed when upgrading a file from 2008 to 2011 as a non-admin user. It should now tell you that you have to be an admin user.
If you delete the Microsoft XPS Driver from your computer, then open QuickBooks and save a form as a PDF, QuickBooks should reinstall the driver (which is used to create PDF's). In some situations this may instead crash your system. It is due to a problem with some installations of the .NET Framework (a Microsoft component), and if this occurs now you will be directed to a web page that tells you how to repair the problem.
Intuit Statement Writer now works with Microsoft Office 2010 in 32 bit environments, but not 64 bit environments. There are a number of other bug fixes here, so this is a good update to get if you use the product.
Client Data Review has a couple of changes. You can reclassify item-based transactions to or from balance sheet accounts. An icon has been added to help you find the Find Incorrectly Paid Payroll Liabilities function more easily.
Billed Data and Due Date now function correctly on memorized reports.
A bug in Company Snapshot has been fixed that caused an unrecoverable error.
Custom Reports has several changes to improve the useability of this feature. The Sales Tax Code list is now available. Payroll data is now available (this is a big improvement). Several changes that relate to permissions and name lists.
Inactive items can be hidden on the Change Item Prices window.
Zero-value inventory adjustments ar now possible.
QuickBooks File Manager is a new feature in the 2011 release, and there are at least 10 improvements and bug fixes here. Lots of good things!
QuickBooks Online Backup has a number of bug fixes and improvements. Most are not huge, but several are important. I particularly like that the advertising for the service no longer will reappear even if you click the "no thanks" button.
There are over 150 change notices that are associated with this release. Unfortunately, details of most of these changes were not available to me. The official list can be found at http://support.quickbooks.intuit.com/support/Pages/KnowledgeBaseArticle/899366 
You can download the update from http://support.quickbooks.intuit.com/Support/ProductUpdates.aspx
At this point I recommend that you get this update, as there are a lot of things that are fixed. I generally recommend waiting until a release comes out as an Automatic Update, so that we can see if any new problems are introduced (let OTHER people be the guinea pigs). On the other hand, if you are running the 2011 product you have already started using a version of the product that hadn't been used by a lot of other people, so why not go ahead and get this update now? I've been running the R4 release for several weeks or so, and I've not run into any new problems.
Please Note – there is a problem with verification and you need to edit your QBW.INI file. See this article for details
Category: Program Updates, QuickBooks 2011
Charlie Russell is the founder of CCRSoftware. He's been involved with the small business software industry since the mid 70's, focusing on inventory and accounting software for small businesses. Charlie is a Certified Advanced QuickBooks ProAdvisor. Look for Charlie's articles in the Accountex Report blog, as well as his California Wildflower Hikes blog.