Quickbooks 2012 adds a Doc Center, which is a reworking of QuickBooks Attached Documents (or QuickBooks Document Management). See this QuickBooks and Beyond article on all of the changes (and there are lots!).  Now the product only stores documents locally, without the option to store documents online. However, there are some problems.
Let's take a look at how the attachments are stored. I have my company file stored in a folder named Premier2012. I have attached a document to an invoice transaction, and I have another document that hasn't been associated with any particular transaction/list yet. Here is the doc center, showing the two documents.

If we look at my file system, we can see that QuickBooks has created a folder named Attach, with a sub folder for the company name (CCRQBOM Manufacturing CompanyPre12), and then two folders there. One for the attachment associated with an invoice (Txn) and one not associated with anything (Inbox).

The Problem
One big problem, at least in the initial release of QuickBooks 2012 (this is based on the R1 release), is that these folders are not included in your backup if you are using the QuickBooks backup feature. What if your hard drive fails, what if you want to move things to a different computer? Usually we tell people to use the QuickBooks backup feature to take care of these issues, but in this case that is an incomplete answer. You have to make your OWN backup of this folder and restore it to the right place.
What happens if you don't? Let's take a look. I make a backup of the file, then restore it to another location. Note that the Attach folder doesn't exist.

If I go back to the Doc Center, the files are still listed. Great! I can still get them? Unfortunately, no. If I try to open the file, I get this: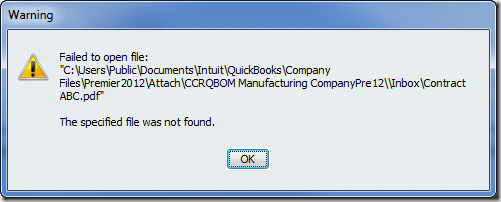 The file is listed, but I can't get it.
So, can I just remove that file from the list? Well, no, if I click the Remove button, I get ANOTHER error.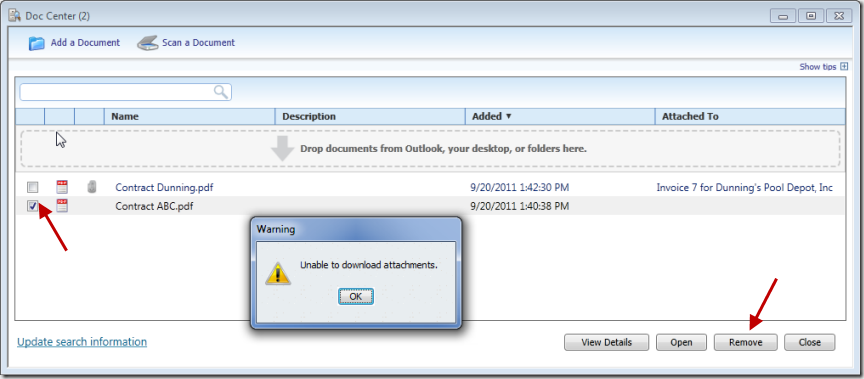 Can't get the attachment, can't remove it, what a pain.
It's a problem that I hope that they fix.
So the moral of the story – MAKE YOUR OWN BACKUPS of that folder EVEN IF you are regularly making backups using the QuickBooks Backup feature.
Oh, and the "workaround" I promised? Not a great one, but it helps. If you cannot remove attachments, what you want to do is to add a NEW attachment to the same place. If you had a document in a transaction, add any document to some transaction. If you had a document in the inbox, add any document to the inbox. That recreates the proper folders, and once the folders exist you can then delete all the attachment links that should no longer be there.
Category: General Tips, QuickBooks 2012
Charlie Russell is the founder of CCRSoftware. He's been involved with the small business software industry since the mid 70's, focusing on inventory and accounting software for small businesses. Charlie is a Certified Advanced QuickBooks ProAdvisor.