When Internet Explorer 9 first came out, QuickBooks users wondered if we would have problems with it. The answer was Almost no, but there are some issues. For the most part, current versions of QuickBooks work fine with Internet Explorer 9, with some small exceptions. The one that I heard about the most was that Loan Manager would not work. Well, Intuit has a fix!
This article was updated on 5/30/2012, see the notes at the bottom
The Problem
When IE9 first came out, if you tried to run the Loan Manager program you would get an odd error message. Here is what you would get with Quickbooks 2011 (from my article Can QuickBooks Keep Up with Microsoft?).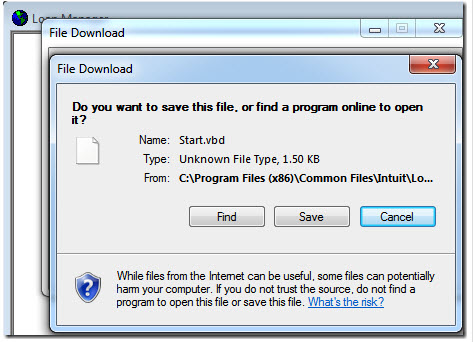 When QuickBooks 2012 first came out we got something different – no odd error message! A window opened that told us to click on a link to fix the problem. I thought this was great!  But, disappointment – the "fix" in the Intuit Support web site was "delete Internet Explorer 9 and go back to Internet Explorer 8". UGH!
Now There Is A Fix
Intuit recently updated their KB article (http://support.quickbooks.intuit.com/support/Articles/SLN41870) to provide us with a "registry patch" program. I generally prefer to avoid these kinds of patches unless I know what the exact change is. What is being changed, and will it affect OTHER programs?
Unfortunately, I don't know what this patch does specifically, but I've tried it on several test systems and it looks like it works, without any bad side effects.
Essentially, you make sure that QB is not running (on your desktop, in the background), you run a small executable that you download from that KB article, then it is fixed!
I have to say that I am surprised that they could fix this – I thought that they would have to totally rewrite Loan Manager, and I didn't think that they were going to do that. So, Thanks Intuit!
Update 11/28/2011: Some people still have a problem – see this QuickBooks and Beyond article for some further steps to take.
Update 5/30/2012: Intuit has updated the KB article to remove the registry patch. For details see my article in QuickBooks and Beyond.
Category: General Tips
Charlie Russell is the founder of CCRSoftware. He's been involved with the small business software industry since the mid 70's, focusing on inventory and accounting software for small businesses. Charlie is a Certified Advanced QuickBooks ProAdvisor.