It should be no surprise to anyone that I'm addicted to blogs. After all, I write articles for several blogs myself (Accountex Report, Practical QuickBooks, Intuit Small Business Blog,  California Wildflower Hikes). I try to follow over 40 different blogs on many subjects – QuickBooks, local news, wildflowers and natural history, blogging tips, and many more. Each of these send me a notice every time that a new article is posted, and if I was subscribing via email that would flood my email in-box if I didn't have a better way to manage it all. However, it isn't a problem for me, because I use RSS Feed Aggregators to put all of this information in a separate place, and to organize it for me. No more information overload!
Let's take a look at how RSS feeds can simplify your life.
What is an RSS Feed?
An RSS feed is a "Rich Site Summary", a standardized web data format that an information publisher can use to send out a information to subscribers. A web page (such as a blog, for example) can offer you (publish) a feed that you would subscribe to and read from a program that will manage that feed.
How do you subscribe? Look for an icon similar to this on a web page (there are many variations in color and format):

This icon indicates that the web page has a published RSS feed available for subscription. You may see this icon embedded in the page somewhere, such as in the social media bar in QuickBooks and Beyond articles: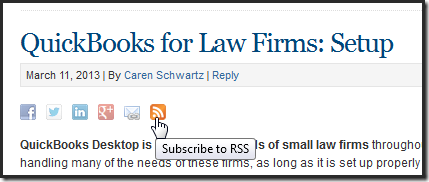 Most web browsers have an option that will show you if a web page has an RSS feed available. If there is a feed, the RSS icon will show in your browser. Sometimes you have to enable this browser feature, though.
Internet Explorer includes this in the Command toolbar:

Firefox doesn't show this icon by default – you need to right click on the Navigation toolbar, select Customize and drag the icon to the toolbar:

Chrome seems to be a bit more complicated. You need to go to the Chrome Webstore, get the RSS Subscription Extension and add that to Chrome (it is free).

If you see this icon on a page and it there is information that you want to keep up with in the future, click the icon. The browser will open a page that will show you the feed contents.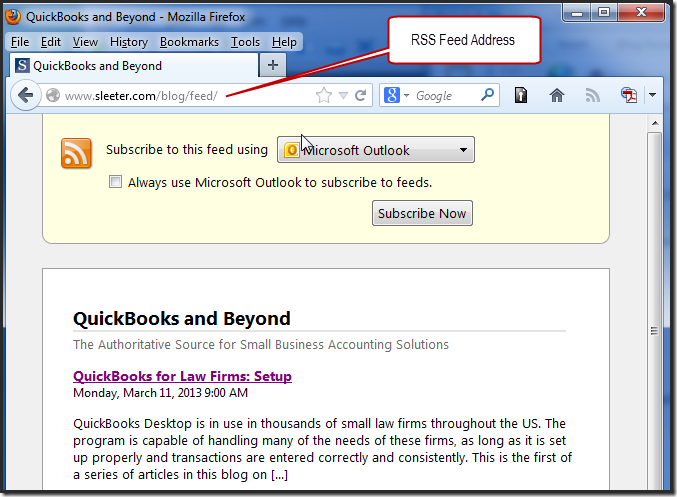 Take note of the "feed address" URL, that is what you will use to subscribe as I'll show below.
Reading the Feed
OK, so now we know how to FIND the feed, what do we do with it? You'll want to use an "RSS Feed Aggregator", also called an "RSS Reader". This is a tool that is going to "subscribe" to the feeds that you have found, and organize the information for you. There are a LOT of RSS Readers available, I'm going to show you three that are representative of the main ways to work with feeds.
Note that in some browsers you will see a dropdown list at the top that says something like "subscribe to this feed using…", like you see in the Firefox screenshot above. You can use that, if your RSS Reader is listed – or you can copy the RSS Feed Address and add it to your reader manually.
Feed publishers have options – they can publish the entire content of the article or just a summary. In your RSS Reader you will generally see a summary, and if the entire content of the article was published you can select the article to read it right in the RSS Reader. You also have the option of clicking on the article and being taken to the original source.
RSS Feeds in Microsoft Outlook
I love working with Microsoft Outlook, it is my email system of choice (particularly since I set up a hosted Exchange account with Rackspace). In my folder list on the left there is an "RSS Feeds" section. Right click on that, you can add a new RSS subscription by pasting in the feed address you found in the browser.
Once you do this, you have a folder for that feed. Any notices you get from the feed go here, and you can read the notices at your leisure.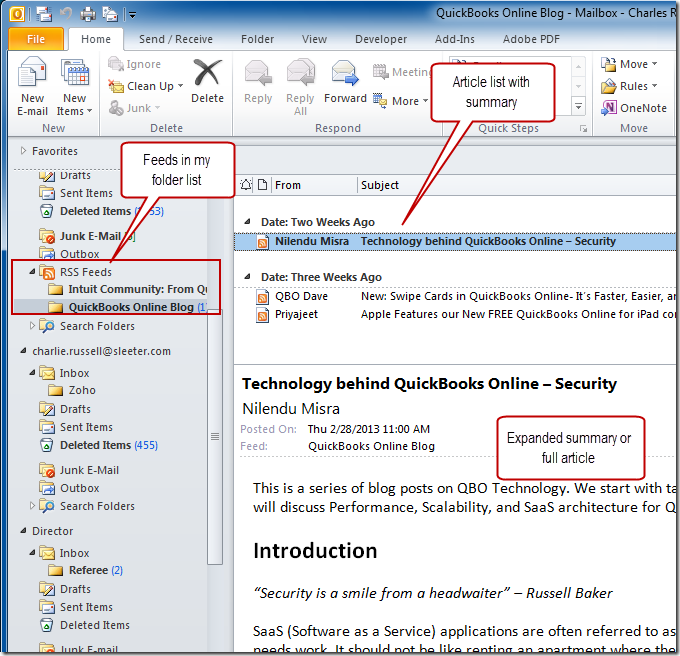 This is NOT in your normal in-box, it is a separate folder for the feed notices. I do NOT want these messages in my in-box – I work hard to keep the volume there low (but I'll admit that I fail at that sometimes). RSS feeds really help this way.
In my case, since I'm using Hosted Exchange, I can easily get to these feeds through the Outlook Web App also, so I can see these while I'm "on the road".
Windows Desktop RSS Reader
Since I'm tied down to my desktop computer more often than not, I find it convenient to use a Windows desktop program to manage RSS feeds. I use RSS extensively to monitor various user forums (such as the Intuit Community Forums) in addition to blogs. The reader that I like to use is SharpReader, which is free and very easy to use.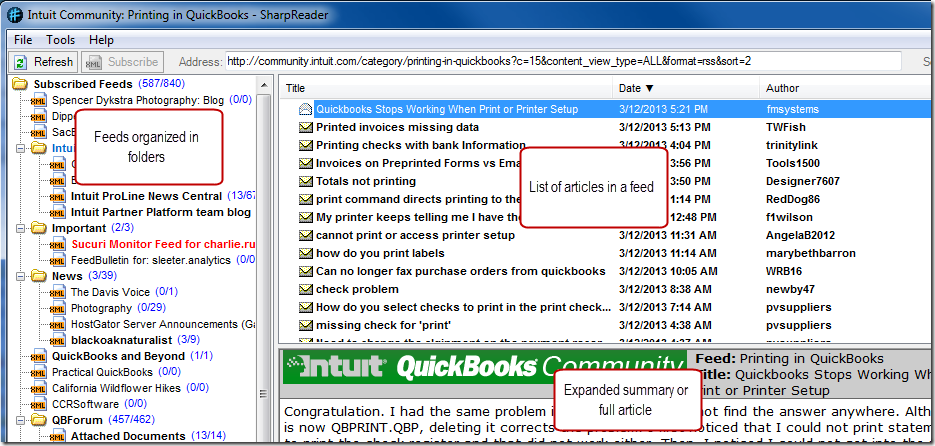 You simply copy the feed URL from the website and paste it into the address box, then click subscribe, and the feed is added to your list.
One of the features that I really like is that you can organize your feeds into folders of various types, which helps immensely when you are dealing with a lot of information. You just drag the feed to the folder that you want. I can also set a limit to the number of articles that will stay in a particular feed – I cap them at 50, if there are more than that which I've not read, I'm not going to get to them. This also lets me save articles for future reference if I wish. Very handy!
Web Based RSS Reader
If you don't want to work from your desktop there are web based readers. Google Reader is one that is simple to use.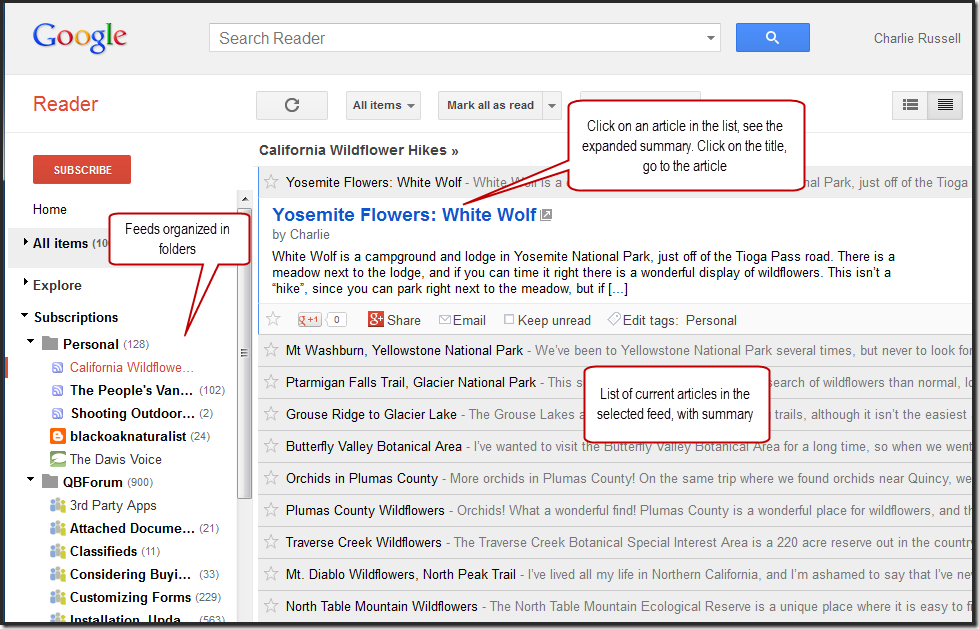 Click the subscribe button, paste in the feed URL, and it is added to your list. As with SharpReader you can drag the feed to a folder, which helps organize things.
I don't think that there is a way to put a limit to the number of articles that are kept in a folder, which is one of the reasons why I prefer using SharpReader in my situation.
Update on this – while the concept of a web based RSS Reader still applies, Google has just announced that they will discontinue Google Reader (this article talks about some alternatives).
I Love It!
I am inundated with information daily, and I desperately need a way to organize this information. RSS Readers are one of my most important information organization tools. Not only do they keep the information out of my email in-box, they also provide me with a simple way to organize the information, track what I have seen (and not seen), retain information that I want to follow up on later, and provide me with a simple way to skim the information so that I can pick out the articles that I really need to read in detail.
Category: General Tips
Charlie Russell is the founder of CCRSoftware. He's been involved with the small business software industry since the mid 70's, focusing on inventory and accounting software for small businesses. Charlie is a Certified Advanced QuickBooks ProAdvisor.