Intuit has released QuickBooks 2016 R12, which should be available via automatic updates, or you can go to the QuickBooks Update site to download the patch. This update isn't huge, which is what I would expect this late in the version's life cycle. If any of these issues affect you, go ahead and install the update.
Keep QuickBooks Running – Not
The biggest change, in my mind, is that Intuit has removed the setting "Keep QuickBooks running for quick startups." If you had this enabled before, the feature will be disabled.
I'm very happy that Intuit is removing this option. They have been going through the supported versions of QuickBooks and removing it. QuickBooks 2018 didn't include it to start with, recently they took it out of QuickBooks 2017, now they've gotten around to QuickBooks 2016.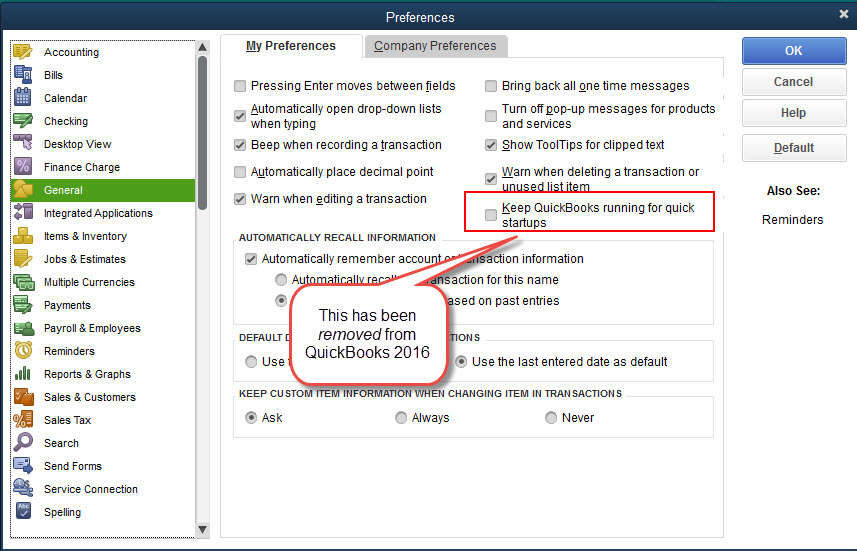 Whenever I was debugging an odd problem with QuickBooks, the first thing I would check was to see if this option was enabled, and if so then I would turn it off . That solved a number of odd situations. If you were using a QuickBooks addon program, this feature almost always caused problems.
The idea with this option was to keep a portion of the QuickBooks product running in memory even if you weren't using QuickBooks, so that when you opened a file it should start up more quickly. I never really found that this improved startup times significantly. Good riddance!
QuickBooks 2016 Bug Fixes
Some users would run into "unrecoverable errors" when working with the Invoice Center, Bill Tracker or Report Center. This release should resolve those.
In addition, this release resolves a problem with a popup that occurred while loading the license agreement in the Help pages
New Shortcuts
Intuit has added some new keyboard shortcuts that were originally introduced in QuickBooks 2018. You can copy and paste an entire row of data in Estimates, Sales Receipts, Sales Orders, Credit Memos, Purchase Orders and Timesheets by using Ctrl+Alt+Y and Ctrl-Alt-V.
That's it! Not a big update unless any of these issues were causing problems for you.
Category: General Tips, QuickBooks 2016
Charlie Russell is the founder of CCRSoftware. He's been involved with the small business software industry since the mid 70's, focusing on inventory and accounting software for small businesses. Charlie is a Certified Advanced QuickBooks ProAdvisor. Look for Charlie's articles in the Accountex Report blog, as well as his California Wildflower Hikes blog.