If you are using a 64 bit operating system and QuickBooks 2009 or 2010, you may run into some problems This article talks about how to resolve the problem.
Please note that this article relates to specific revisions/versions of the US editions of QuickBooks:
QuickBooks 2010 R4 and later
QuickBooks 2009 R10 and later
If you are using a 2007 or 2008 version of QuickBooks, or a 2009 version with revisions older than R10, then please refer to my previous article on QuickBooks problems on 64 bit Vista.
If you don't know how to tell what "revision" you are running, please see this FAQ article .
This article was updated on 1/5/2010, and again on 1/12/2010

UPDATE 02/12/2010: QB 2009 R11 has been released to fix this problem, see the 2009 R11 article

UPDATE  04/20/2010: QB 2010 R6 has been released to fix this problem (see my article on this release).

Updated 12/6/2012: See this article on QuickBooks and PDF drivers for the LATEST NEWS on how to fix PDF problems.

QuickBooks PDF Driver
QuickBooks includes a PDF driver that it installs. This is used in a number of places in the program. If you are sending forms via email, the PDF driver creates the image of the form that is attached to the email. When you reconcile accounts (bank accounts, etc.), a copy of the reconciliation report is archived in PDF format. There is a save as PDF option in the File menu. In 32 bit systems it generally works quite well. Unfortunately, in 64 bit systems, Intuit runs into problems on occasion.
In the 2009 release of QuickBooks the driver didn't work in 64 bit systems – this wasn't fixed until the R7 release . In the 2010 release, it worked fine (at least it did in my system).
Recently, Intuit updated the PDF driver to a new version which unfortunately seems to be incompatible with 64 bit systems. This was updated in the 2009 R10 and 2009 R4 releases. The problems vary from installation to installation – and the problem can be very tricky. It doesn't always show up. I had a hard time pinning this one down myself – the program would work fine, then I'd come back and find that it wasn't working. These kinds of transient problems are very hard to catch in testing of releases, and are hard to fix.
The Problem
In my Windows 7 x64 system, the problem I most often came across was Could not print to printer.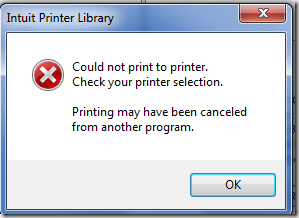 Another common error is QuickBooks PDF Converter Activation Error –20. There are a variety of other errors that might pop up, all relate to performing some operation that invokes the PDF driver.
The Solution
Fortunately, Intuit discovered the problem and posted a temporary fix in Support Article 898690 .
The solution involves obtaining a DLL file (a program component file) from Intuit and installing it in the appropriate place. I can't provide you with the DLL – you have to go to that support article and click on the download link. You will be asked to provide your email address and name, and they will email the link to the DLL to you very quickly.
I would like to point out (their initial article didn't make this really clear) that you should only make this change if you have one of the revisions that are affected that I list above. If you make the change with an older revision – such as I accidentally did with a 2009 R8 test installation, you will get a different series of errors. So check your revision first before doing this.
The email message that contains the link to the DLL file will have specific instructions for Windows 7, Windows Vista and Windows XP. I'll illustrate the process here (and fill in a few blanks) using Windows 7 – the general process is the same in all three operating systems, the difference is finding the printer device in the Control Panel.
1. Log in to your Windows system as the administrative user.
2. Exit QuickBooks if you have it running.
3. Click the Windows (start) button and select the Control Panel.
4. Under Hardware and Sound click the lick for View devices and printers.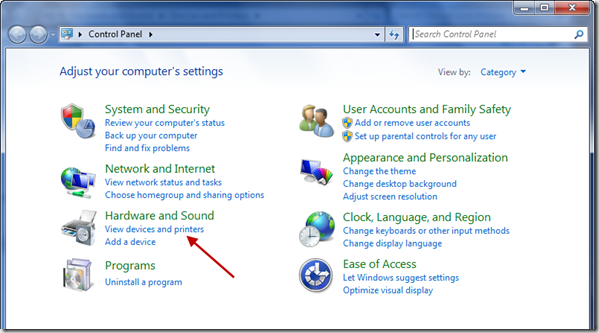 3. Locate the QuickBooks PDF Converter 3.0 icon.
Note that there may be several PDF icons if you have installed older products. In my Vista system, that I've used for several years, I saw three separate icons. Make sure you delete the 3.0 version.

In some cases in Windows 7 the 3.0 icon might be hidden. In one system the program only listed a 2.0 converter, which confused me at first. If I right clicked on the icon I noted that there were several options under the printing preferences menu option – it was showing that this icon represented both the 2.0 and the 3.0 driver, even though the icon only said it was for 2.0.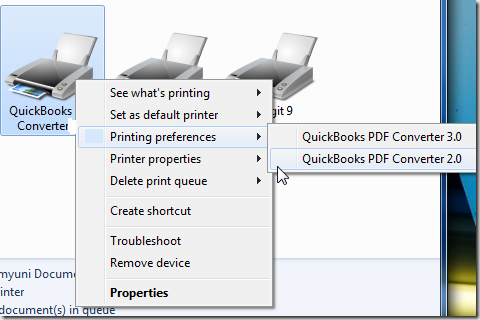 In this case, you can select the 2.0 icon and perform the next step, it works on the 3.0 driver.
5. Right click on the icon (the 3.0 icon, or the 2.0 icon if that is all you see) and select Remove Device.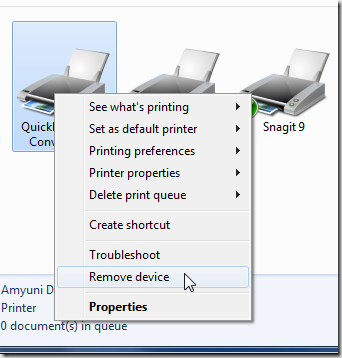 6. Locate the qbwpr32.dll program file. The folder name varies with the version of QuickBooks you use. The path will be C:\Program Files (x86)\Intuit\product, where product will be something like QuickBooks 2009, QuickBooks 2009, QuickBooks Enterprise Solutions 9.0 or QuickBooks Enterprise Solutions 10.0.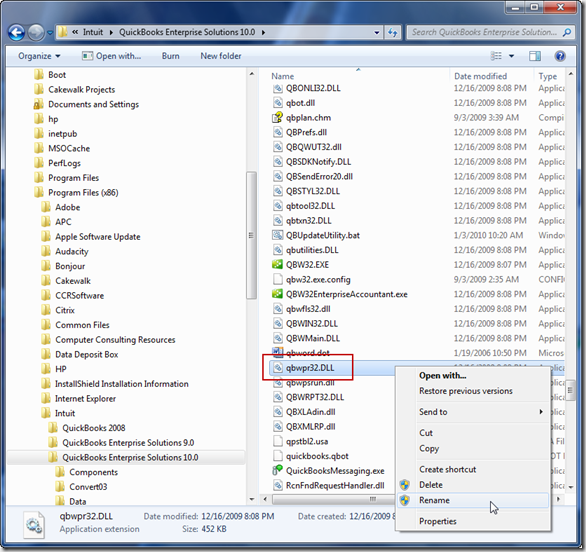 7. Right click on the file and rename it from qbwpr32.dll to qbwpr32.old.
8. Download the dll file from the link Intuit provides and place it in this folder.
9. Restart QuickBooks and see if the problem is solved. Note that you may see the error one more time, but if you then exit QuickBooks and try the operation a second time the error should not occur. In my Enterprise 10 installation the problem didn't pop up that first try, but in my Enterprise 9 installation it did – and it cleared up the second time.
If you have both the 2009 and 2010 versions installed please note that you need to make the DLL file change in both directories for this to work properly.
Update on 1/5/2010: Some users have run into a problem after installing the new DLL file, getting a "Microsoft Visual C++ Runtime Library" error. Intuit is investigating this. I don't have this issue on MY system, but a few others have reported it. If  you run into this you can delete the DLL file and rename the "OLD" file to the original name. I'll post an update when we know what is going on
If That Doesn't Work
This section was added on 1/12/2010.
Some people (as you can see from the comments below) have run into problems with the DLL solution. Some have found that they have slightly different problems than what are outlined here. Intuit is working on a further solution, and we'll post information here when we find it.
If the DLL creates a worse problem than the one you started with, one simple fix is to delete that new DLL and rename the "old" one back to the original name. That puts you back to the place that you started at.
You can get a PDF printer driver (Adobe Acrobat is what I use, some people use "CutePDF" which I haven't tried) and use that to print PDF documents as a normal printer, BUT that isn't a full solution as you still can't reconcile accounts, and you don't get the email message created with the customer email address.
Some people have found that after deleting the PDF driver per the instructions above, a new PDF driver is not created automatically as it should. I'm not sure why this happens. But, here is a solution to try based on feedback from several users, as well as input from Sudhir Navalapakam of Intuit.
You can install the PDF converter from files in your QuickBooks folder. Go to C:\Program Files(x86)\Intuit\QuickBooks 2010 (the last folder will be QuickBooks Enterprise Solutions 10.0 if you are using Enterprise).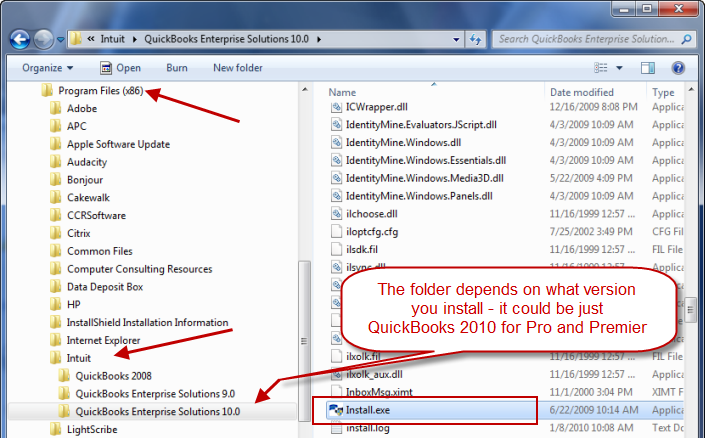 Locate Install.exe, and run that file. This is the Amyuni PDF driver installer (Amyuni is the company that makes this program). Note that the installer is not "signed" so you may get a warning, this is OK).
This should create an Amyuni Document Converter icon in your printer section of the control panel. You can rename it to "QuickBooks PDF Converter 3.0". Right click on it and select printer properties, and check to ake sure that it uses the "NUL:" port.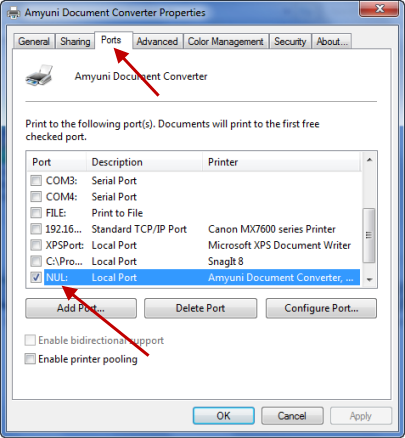 If for some reason the installer fails, which might happen for some people, you can use the add a printer wizard to add a printer from the control panel.
Select Add a local printer.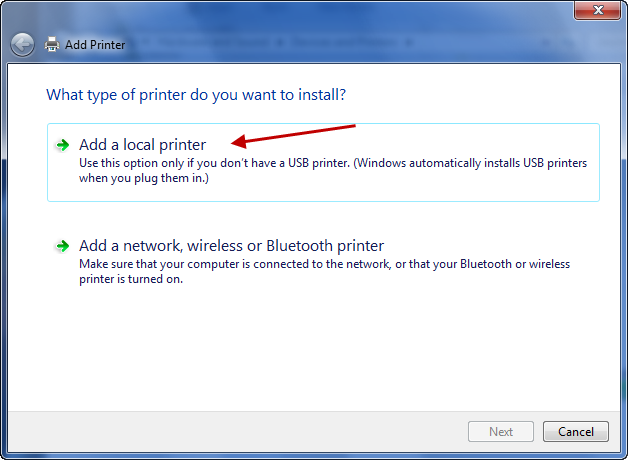 Select an existing port if NUL: exists, or you will have to create it.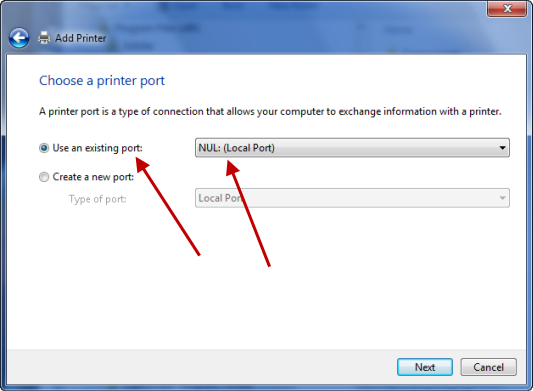 Select the Amyuni driver.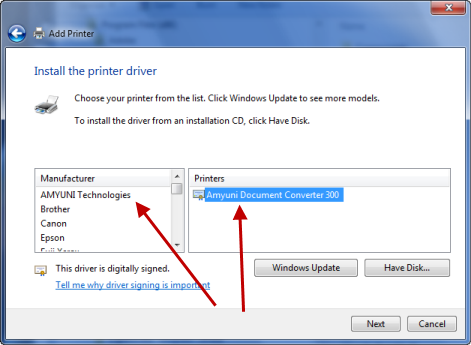 Click Have Disk, and brows to the same folder as I specified above, to find the amyuni.inf file.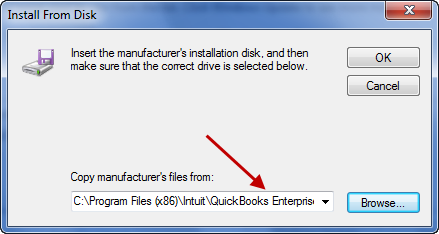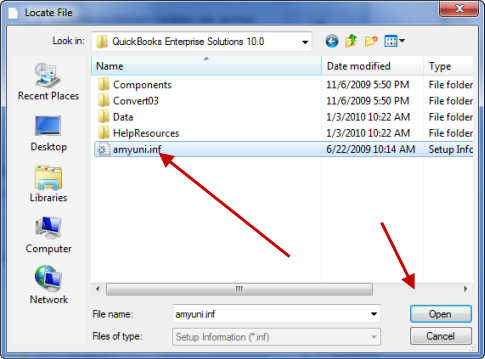 Make sure that you do NOT set this to be the "default" printer.
My thanks to Intuit employees Laura Messerschmitt and Sudhir Navalapakam for their assistance with this information.
Category: Program Updates, QuickBooks 2009, QuickBooks 2010
Charlie Russell is the founder of CCRSoftware. He's been involved with the small business software industry since the mid 70's, focusing on inventory and accounting software for small businesses. Charlie is a Certified Advanced QuickBooks ProAdvisor. Look for Charlie's articles in the Accountex Report blog, as well as his California Wildflower Hikes blog.
Comments (229)
Trackback URL | Comments RSS Feed
Sites That Link to this Post