About This Blog
This blog focuses on the QuickBooks line of accounting software – primarily the US editions of Premier and Enterprise. I'll post information about new releases, ways to use QuickBooks to your advantage, explanations of best business practices, tutorials on how certain features work, reviews of QuickBooks Compatible programs and more.  I WANT YOUR FEEDBACK as to what you would like to see in future releases.
The best way to keep up to date with this blog is to subscribe via RSS or email – see the how to subscribe page for details.
About Me: My name is Charlie Russell and I'm the founder of CCRSoftware and Computer Consulting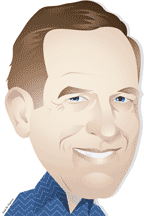 Resources. I have been involved with the small business software industry since the mid 70's. Prior to Computer Consulting Resources I was the key architect for MC Software, a company that produced one of the first manufacturing and MRP software systems for small business computers. That DOS based product is still in use today. In addition to my involvement in the software industry I am a Certified Advanced QuickBooks ProAdvisor. You can contact me directly at charlie@ccrsoftware.com. Please note that if you have specific QuickBooks support-related questions, I generally charge a fee for direct support.
I also write the California Wildflower Hikes blog, for those of you who are interested…
CCRSoftware is the software development division of Computer Consulting Resources. We focus on QuickBooks Compatible software products that add features to extend the capabilities of QuickBooks so that it can be a better fit to your business. Our first QuickBooks Compatible product was released in 2005. We have a number of off-the-shelf products and can develop custom software to fit your needs. We are a Gold Developer member of the Intuit Developer Network. Visit our web page at www.ccrsoftware.com.
Privacy: The privacy of our visitors is important to us. We recognize that privacy of your personal information is important. Here is information on what types of personal information we receive and collect when you use our blog, and how we safeguard your information. We never sell your personal information to third parties. As with most other websites, we collect and use the data contained in log files. The information in the log files include; your IP (internet protocal) address, your ISP (internet service provider), the browser you used to visit our site, the time you visited our site and which pages you visited throughout our site.
We do have advertisers, and some of these advertisers may use technology such as cookies and web beacons when they advertise on our site, which will also send these advertisers (such as Google through the Google AdSense program) information including your IP address, your ISP , the browser you used to visit our site, and in some cases, whether you have Flash installed. This is generally used for geotargeting purposes (showing New York real estate ads to someone in New York, for example) or showing certain ads based on specific sites visited. If you would like If you would like more information about this practice and to know your choices about not having this information used by these companies, click here.
Beyond this, we do not use cookies to store information.
Disclaimer: I don't charge you for the information in this blog. No subscription fee, no membership fee. I would like to be able to retire off of the income that this blog generates, but that is very unlikely. I probably spend WAY too much time writing this. If I were a cost accountant (and I definately am not) then I would find that I am earning an insanely small amount per hour that I put into this things. HAVING SAID THAT, I do earn a few dollars from this. So, full disclosure:
I run paid ads on the web site. I'm very happy if you click on their ads, because that makes my advertisers money and they will then want to continue paying me. I am very picky about what ads I run, but I'm not necessarily endorsing those products.
I also use Google Adsense and other kinds of ads. Again, I'm happy if you click on those once in awhile.
I'm an Amazon Affiliate, and if you click on one of those links and buy something I get a fee.
I use other affiliate links for some products that I have reviewed. Affiliate links earn us a small commission on any purchases that anyone makes when they visit the vendor web site after clicking on one of our links.
Sometimes a vendor may provide me with a free copy of a product that I have reviewed. More often they don't – I don't go around asking for free stuff. Sometimes I get the free copy AFTER I've written the review.
I hope that this doesn't annoy or offend you. I will state, categorically, that my choice of products to review is NOT affected by the existence of an ad or affiliate program, and that these fees do NOT affect my review. If I like the product, I'll say so. If the product has warts, I'll expose them (if I find them).