Time once again for an article on useful QuickBooks tips. Here is this year's collection of random interesting things that can help you make better use of your QuickBooks software. No particular theme – just a random collection.
Last year's Helpful Tips article was popular, and I've received a lot of requests for a follow-up. I'm going to try to do this every year. Note also that I have another blog that includes a number of tips – see my QuickBooks FAQ blog.
Stopping QuickBooks Web Connector and Sync Manager
These two Intuit programs are used to exchange information between your desktop copy of QuickBooks and a variety of web enabled applications. Note that if you disable these features you may find that you cannot use certain add-on products or services, or exchange data with certain outside data sources. If you are not using any of these services then the Web Connector and Sync Manager may be annoying, and possibly will slow down your system. Disabling these should be done with caution. Note that these programs may come back when you install an update. Again, use this with caution.
To prevent the QuickBooks Web Connector from opening when you start your computer, locate your startup folder in your Windows program menu. You will see QuickBooks Web Connector listed – right click on this and select delete. (KB article 1008223)
Stopping Sync Manager is trickier. With the latest release you have the option of removing your company file from the list of files that Sync Manager will work with. Supposedly if there are no files to Sync, the program won't start when you boot your computer. I've found that this is

not

always true. In this case, you can run the MSConfig system configuration utility on your computer, and disable IntuitSyncManager in the Startup tab. I'm a bit nervous about listing this tip because you can create a lot of problems by misuing MSConfig – so if you aren't familiar with that utility, get someone who knows how to use it to configure your computer.
Colors in QuickBooks
Do you want to make negative numbers stand out in your reports? Change them to show in bright red. Select Edit then Preferences and select the Reports & Graphs preference. Select the Company Preferences tab then click the Format button. Now select the Fonts & Numbers tab, and you will see a setting that lets you select how negative numbers will show.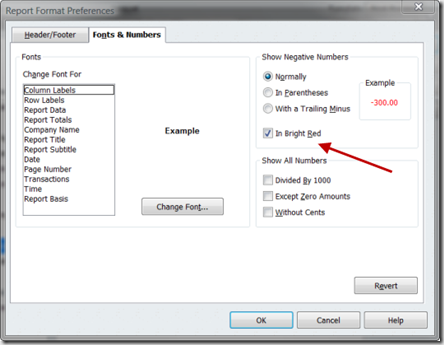 This setting affects all reports – if you want to change the setting for just one report, click the modify report button when viewing the report, and you will find the same Fonts & Numbers screen.
In addition, you can select a color scheme for your QuickBooks company – select the Desktop View preference and you have a list of color schemes in the My Preferences tab.
Working With QuickBooks Company Files
Normally when you start QuickBooks it will open the last company file that you were working with. Sometimes you don't want to do this. Perhaps there is a company file that you don't want a casual over-the-shoulder viewer to see. Sometimes there is a problem with a file where QuickBooks keeps crashing. You can force QuickBooks to start without opening the last file by holding the control key down when you open QuickBooks – it will not open the last file automatically.
QuickBooks maintains a Previous Company List that lists the last several QB company files that you have opened. Sometimes you want to remove a company from that list. Perhaps you don't want someone to see that you accessed a file. Perhaps that company file has been deleted from your computer. How do you clear that list?
Open any company file.
Select File then Open Previous Company.
At the bottom of the list select Set number of previous companies.
Set the number to "1" and click "OK". This clears the list.
Now go back to the same place and set the number to 10 or whatever is convenient for you.
QuickBooks Item List Tips
A few small tips for your Item list:
DO NOT MERGE INVENTORY PARTS – I can't say this strongly enough. "Merging" allows you to combine all references to two items into one, thereby simplifying your item list and possibly freeing up some space. But it can have a very bad effect on your financial statements if you do. QuickBooks calculates inventory cost  based on a weighted average cost that essentially looks at the order in which items are received over the entire life of the item. If you merge two items you are most likely changing the sequence in which items were received and entered into the costing calculation, and this can change how QuickBooks calculates things like your COGS values over a period of time. This can alter your financial statements for prior periods – even prior years. Bad news…
Sometimes you cannot turn an inactive item back to active in the item list. The item is inactive box is grayed out. Why? Usually this happens if the item is a subitem of another item. If the main item is marked as being inactive, the sub items are inactive, and you cannot "activate" the sub item unless you first activate the main item.
If you have a large item list you can speed up the "search" function by selecting the item name/number field in the dropdown list, rather than leaving it to all fields. In some cases I've seen a ten-fold increase (roughly) in performance when searching the list.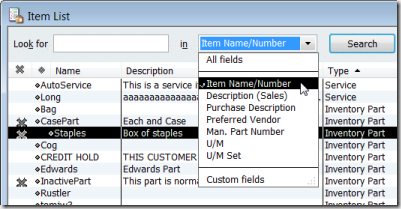 Working with QuickBooks Licensing
What happens if your computer totally dies, taking your only copy of QuickBooks with it? If you bought a CD (and you can still find it), you can reinstall from that. Your license and key code information is printed on the CD case. What if you don't have that CD and information? Perhaps you purchased a downloaded version, perhaps your only copy of the info was on that computer that died? If you have a relatively current version of QuickBooks, here are a few resources that can help:
QuickBooks License and Key Code Lookup: Use this site to find your license and key code information based on your name and phone number.
You can always download a copy of a currently supported version of the QuickBooks product that you are using. You must download the one that matches your registration/key codes. Keep in mind that Intuit drops support of products after three years, so if you have an older product you may be out of luck.
Do you want to transfer a license to another company, if you sell your business? You may be able to do that for a $25 processing fee at the transfer of ownership page.
Category: General Tips
Charlie Russell is the founder of CCRSoftware. He's been involved with the small business software industry since the mid 70's, focusing on inventory and accounting software for small businesses. Charlie is a Certified Advanced QuickBooks ProAdvisor. Look for Charlie's articles in the Accountex Report blog, as well as his California Wildflower Hikes blog.