Today I'm going to throw out a few miscellaneous small tips that may help you when you are working with QuickBooks. No particular theme, just a random collection.
If any of you have some helpful tips to add, pass them on in a comment here! I'll add them to the article.
This has been a crazy couple of weeks. Power failures (thank goodness for battery backups!), failing web hosts (I had to switch my blogs to a new host, which was complicated), crashing hard drives (thank goodness for good backup procedures, and Carbonite!), all decided to bedevil me at the same time. Maybe that is what I should be blogging about! However, rather than gripe about my problems, let's talk about QuickBooks.
Dates
When I'm entering transactions, I'm often entering several days of transactions at a time. I'll enter several invoices, and for each one I have to enter the date. QuickBooks is usually set up to remember the last date you used in a transaction, so as I enter each invoice for the week the default date is the last date used.
Tip: If you type the letter "T" in a date field, it will enter Today's date. 

This can be handy when you are using the Find function to search for transactions – enter "T" for Today to find today's transactions.
Note that there are other shortcuts for dates, and other functions. See my article on QuickBooks Shortcuts.
Form Templates
Many people spend a lot of time modifying their form templates (invoices, purchase orders,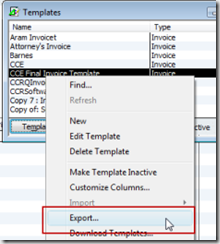 etc.). QuickBooks, however, can't be trusted to keep your modified templates safe. The templates are stored in the database (QBW) file, and sometimes a template can become corrupted and unusable. You can restore a backup copy of your QBW file, but you will lose any transactions you entered since that backup was made (you do have a current backup, right?).
Tip: Export your templates and save them on a CD for safekeeping.
Select Lists and then Templates, and click on your modified template to select it. Right click on it and select Export, and you will be asked for a location to safe the template file. This will be a "DES" file. Save them in a safe place, and make new backup copies when you modify your templates. 
Debits and Credits
QuickBooks is a "double entry" bookkeeping system – every transaction has two sides. Sometimes it might not be clear just what accounts are being posted to in a particular transaction, such as an invoice.
Tip: Press ctrl-Y when looking at a transaction to see the transaction journal for that transaction.
A transaction journal listing for a specific transaction will show you every account that is debited and credited. It is a quick and easy way to see what is going on "under the hood". Here is a highly compressed example from an invoice:

Why Doesn't QuickBooks Ask Me…
QuickBooks always throws a lot of questions at you – do you want to do this or that, do you know that this is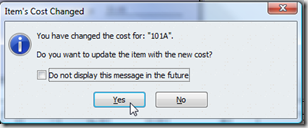 available, things like that. Some of these questions you never want to see again, but some of them may be important. One example – when you receive an inventory item and the received cost is not the same as the cost value in the item record, QuickBooks may ask you if you want to update the cost of the item. Sometimes you want to update, other times you might not want to. This may be an important feature for your business.
Then, one day, you notice that QuickBooks isn't asking you this question any more! This complaint is a common one in the Intuit Community forums. What probably happened was that you clicked the do not display this message in the future box, so QuickBooks  won't ask you again.
Worse than that, QuickBooks remembers the way you answered that question when you clicked the box, and it might not have been the right answer!
Tip: Check the "bring back all one time messages"  box to bring back those messages.

You will find this in the Preferences function of the Edit menu. Check the box, click "OK", and the messages will come back. All of them. Even the ones you don't want.
That's all for today – let me know if you like this kind of article, and pass on your tips that you would like to share!