Do you want to install an older version of QuickBooks on Windows Vista, but can't get it to work? One tool that can help you is a "Virtual PC". Today I'll give a quick introduction to working with this kind of technology. It's hard to cut through all the jargon – but the goal in our discussion is to allow you to run any copy of QuickBooks that is older than the 2007 release on your Vista computer. There are other applications of this approach that might be of benefit to you as well.
Think of a "Virtual PC" as a computer within a computer. You can set up a completely separate "virtual computer" that is "hosted" by your "real" computer, but that is completely separate. You can install software, test out different situations, and even set up a copy of Windows XP within your Windows Vista system. I use this "virtualization" technology extensively myself, to be able to test software products (my own, or trial versions of ones that I'm considering) in different situations without risking damage to my computer. In some cases I have products that only run on Windows XP, but my computer is running Windows Vista, so I'll set up a "virtual" copy of XP rather than try to figure out how to configure the program to run under Vista. Note that this is NOT the only way to get older copies running on Vista – but it is one that works very well without having to fiddle around with all kinds of settings in Vista.
Keep in mind two things, however, as we go through this. First, this only works if you have a fairly current and powerful computer to start with (we'll talk about that below). Second, it does require some degree of technical knowledge – you have to be comfortable with installing a copy of the Windows operating system. I'll go through a simple example here.
System Requirements
In general terms, you want to start with a fairly fast (and current) computer with a lot of RAM memory and plenty of hard disk storage. Your computer should be running Windows XP Pro or Windows Vista (Business, Ultimate or Enterprise editions). The processor should be fairly fast (1 GHz recommended as a minimum). RAM memory is very important – you can get by with 1 GB, but you will be happier if you have more. If you use Virtual PC's extensively then you want a big, fast hard drive (don't use a separate attached "server" like a NAS system) – Virtual PC's can eat up disk storage very quickly.
You also need a separate licensed copy of the operating system that you want to run in the Virtual PC. For example, if you have Windows Vista on your computer, but you want to set up a Virtual PC to run Windows XP, you need a licensed copy of XP to install (you can get them fairly cheaply these days).
Virtual PC Software
There are several "virtual PC" products on the market. I have experience with two – VMWare WorkStation and Microsoft Virtual PC. I use the VMWare product extensively, and it has many very useful features. However, this product is fairly technical to manage, and a license costs $189.00. For our discussion here I'm going to work with Microsoft Virtual PC 2007. Installation is simpler, and you can download it for free (at this time). It is more limited, but it serves the purpose of this discussion.
There is a lot of information available on "virtualization" and most of the hype relates to virtualization of servers. This is far more complicated than what we are trying to deal with here, so we won't go into that.
Installing, Step by Step
Our goal in this example is to set up a virtual machine that runs Windows XP so that we can run an older version of QuickBooks on our computer that is running Windows Vista.
To start, download Microsoft Virtual PC 2007 to your computer, and run the program. Note that there are two versions, for 32 bit and 64 bit systems.
When you run the downloaded program you will get the installation wizard.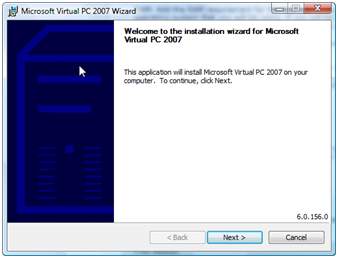 Click next and two windows should show, the Virtual PC Console and the New Virtual Machine Wizard. If the Wizard doesn't start automatically, click the New button on the Console.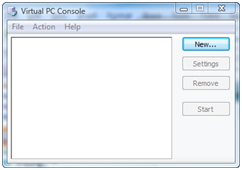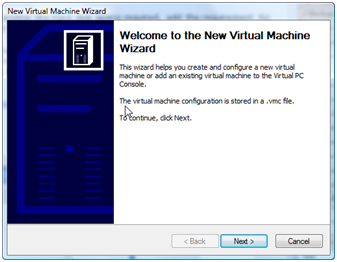 Select create a virtual machine and click next.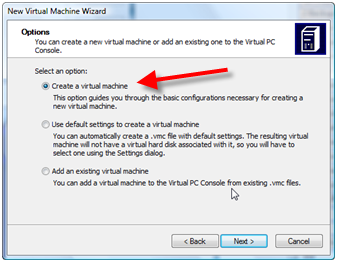 Enter a name for this Virtual Machine. I used "QuickBooks" in this example.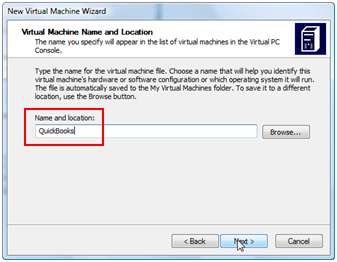 Select Windows XP for the operating system.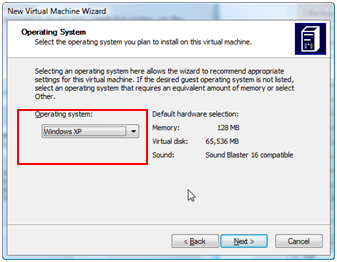 You will need to adjust the RAM. This can be tricky. The more RAM in the virtual machine the better it will perform, to a degree. However, the more you use here the less available for other programs in Vista. How much to assign here depends on how much you have in your computer, how often you will use the virtual machine, and what program you are using in the virtual machine. On my test system I have 2GB of RAM, and I'm assigning 512MB of RAM to this virtual machine.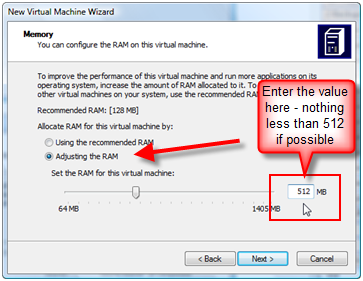 Create a new virtual hard disk. Essentially, the virtual PC is going to have its own virtual hard drive – which will be some room set aside on your hard drive that can be used by this virtual PC.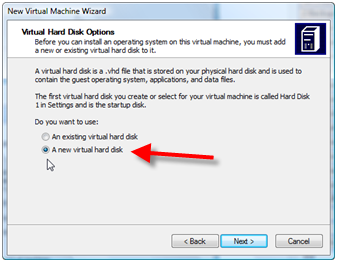 You will set the size an location of that virtual hard drive. It's hard to know how much room you will need, there must be enough room for Windows, QuickBooks, and your company file.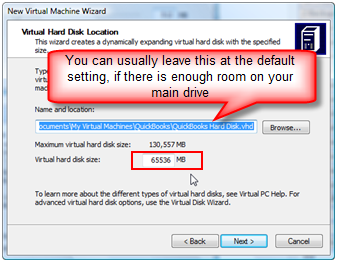 After you finish with the wizard you will see your Virtual PC listed on the Virtual PC Console. We have a virtual PC, but it doesn't actually have the operating system installed yet. Click the Start button.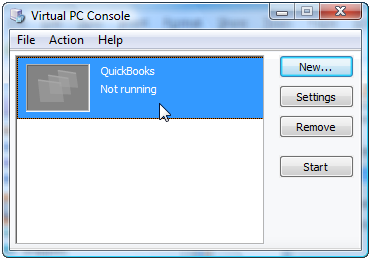 The virtual PC will start up, and it will spend some time looking for information about your computer. This could take awhile, depending on your system. Eventually you will see the following screen: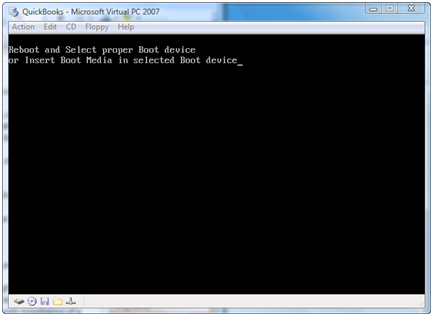 Insert your Windows XP CD in the CD drive and press the Enter key. You should see the standard Windows Setup screen.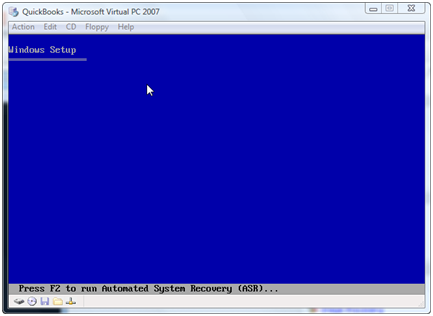 I'm going to skip over some of the steps in the XP Setup process – if you would like to see more detail on this leave me a comment and I can go into it further in a later posting.
Eventually you will get to the partition question. Select the unpartitioned space and pres Enter.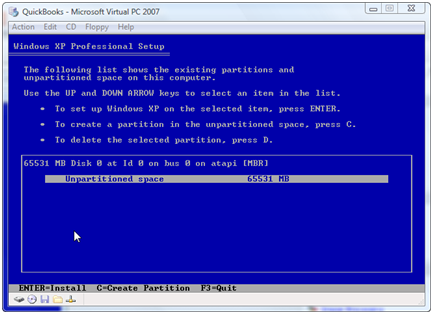 You will format the hard drive, which is entirely safe because it is doing a "virtual" format of the space you set aside for the virtual PC. This is NOT formatting your "real" hard drive, you won't lose any information.
The Windows setup process will continue. At some point (it can vary from system to system) you will see a note window that pops up: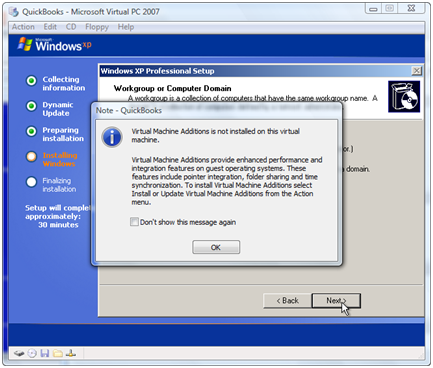 Just click OK when you see this, we will deal with it later.
At this screen you can enter information about your network. The proper settings depend on how your computer system is set up. If you pick the correct values then you should be able to access your network from within the virtual PC.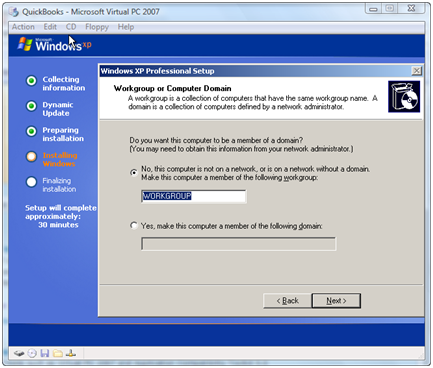 Eventually you will be finished with the Windows XP installation and you will have the familiar Windows desktop. At this point we need to install the virtual machine additions, which are some programs that make the virtual PC work nicely with your computer system. Select Action in the Virtual PC menu and select Install virtual machine additions.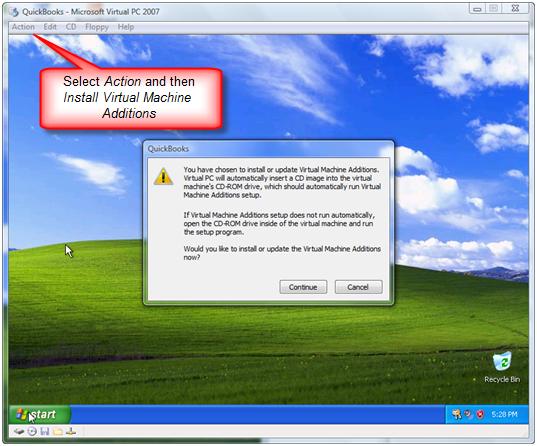 After you have finished that installation you will have to reboot the virtual PC.
Install QuickBooks
Now you can install your older copy of QuickBooks into the virtual PC just as if you were installing on a regular computer. Everything should work as a normal PC, except that it might be a bit slower. If you have set up your network properly you should be able to access the Internet (assuming that the host computer could to that in the first place), which you will need to do to authorize your copy of Windows XP and QuickBooks, and to get updates.
Final Thoughts
Treat the virtual PC just like a real PC. Shut it down properly so that you don't lose information. Keep your products updated. I recommend that you do NOT use this to surf the Internet or deal with email so that you don't expose it to viruses and malware – otherwise you should install a proper firewall and virus protection product just like any other PC you have.
This setup allows you to run the older version of QuickBooks in XP even though your computer is running Vista. It works best if you have a single user situation – trying to set up multi-user access can be very difficult, but it should be possible.
As I mentioned before, there are many reasons to use a virtual PC. You can use this to test installation of software before you try it on your "real" computer, for example. The list is endless. However, Microsoft Virtual PC does have limitations if you are going to start looking at more complicated situations. I use VMWare Workstation, which is a more sophisticated product. It lets you take "snapshots" of your system so that you can return to a particular configuration if you don't like the results of a test, or you can set up multiple variations of setups to test things. Unfortunately, VMWare Workstation is not free, and it tends to be more complicated to install and manage.
Was this helpful? If you try it and have problems, let me know and I'll see if I can explain further.