Most QuickBooks users think of Group and Inventory Assembly items as an "either-or" decision – use one or the other. There are times, however, when we can mix the two items to solve problems in QuickBooks. This is particularly useful for custom manufacturers – businesses that produce custom variations of their finished product for each customer.
The Problem with Assemblies
QuickBooks doesn't make working with custom assemblies a simple task. Typically there are three approaches for a customized item:
Create an inventory assembly item for each variation: If you are selling widgets, and you have several colors, create an item in the item list for the blue widget, red widget, and so forth. This may work if you have a small number of variations and simple assemblies, but it often isn't practical.
Edit the Bill of Materials with each build: Define the assembly item for the widget, with a common variation. When you have an order, edit the Bill of Materials (BOM) to include the variable parts that the customer requested, and build the item. The next time an order comes in, edit the BOM again. I've seen many businesses use this approach, but it can be tedious. It is too simple to make errors and include the wrong parts.
Add the variable parts on the invoice: Just create a BOM for the base widget, ignoring the variable parts. In the sales order or invoice add the base widget and then each of the variable component parts that the customer requested. There are a few advantages here. The customer clearly sees the options that were chosen. You aren't editing the BOM of the inventory assembly so you avoid the possibility of making an error there. This might not fit all businesses, however. You can easily miss entering an item for a particular variable part, and you might not wish to see the variables all spelled out in the invoice.
Another Approach
In my posting on Groups vs Assemblies I discussed the differences between the two item types, and when you would use one instead of the other. I noted that while you cannot use a group item as a component part in an assembly, you can use an inventory assembly item as a component in a group. This allows us to create a group item that represents the highest level of our assembled item, including parts for each of the variable items, and have a base inventory assembly item to represent the fixed items that are always included.
Let's look at a simple assembly – a simple bicycle. This is a very simplistic assembly set up to make a few points.
Our bicycle has a frame, front wheel, back wheel, and handlebars. We can customize it by adding fenders, and either a blue or red paint job (or no paint if you want to do it yourself). If I wanted to make an inventory assembly item for each variation I would need 6 different assembly items to represent one customizable bike with all the variations, which isn't practical.
What we will do is to create an inventory assembly item for the basic bicycle, which defines the components that every one of my bicycles includes: frame, front and back wheels, handlebars.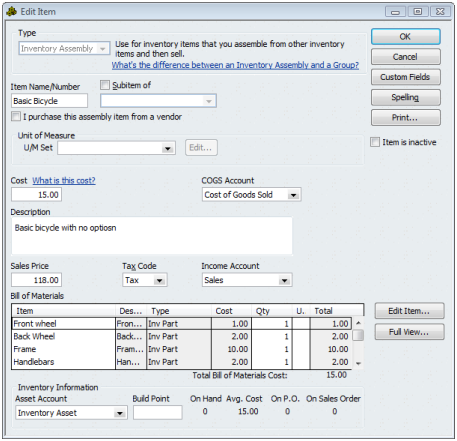 Next, we will create a group item for a prototypical finished bicycle.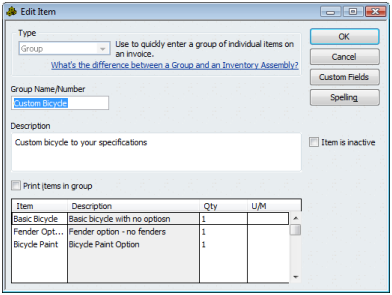 I have a basic bicycle assembly, a "fender option" and a "paint option". These two items are place holders – they are non-inventory or other charge items that have no cost and serve as a reminder that we would normally have one of each of these items in a custom bike.
Now we can add the item to a sales order, and customize it for the customer. Here is the starting point – adding the bicycle to the sales order: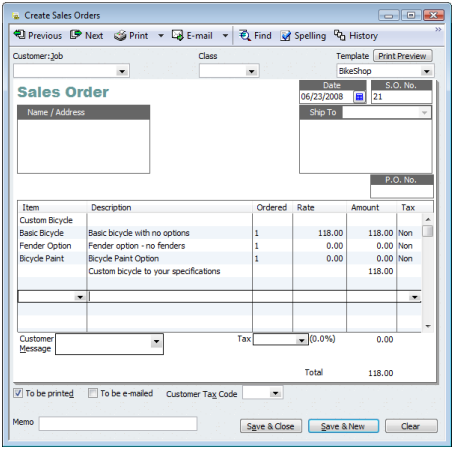 The customer asks for a red paint job, with fenders. QuickBooks allows you to edit the group item on the screen without having to edit the item itself in the item list. These changes only affect the order that you are making the changes in, they won't affect any other order.

We can delete items from the group, or add others, if we wish to further customize the product. I've used the "place holder" parts so that it is obvious what options we have for this assembly.
Things to Think About
This is something for you to play with, perhaps in a test company. It might not fit your business process – and there are some issues to take into consideration. For example:
You won't see a sales history of the custom bicycle in your sales reports, as sales of group items don't show there. You will see sales of the basic bicycle, and you can look at sales of the optional parts, but you won't get a sales figure for a "red bicycle with fenders".
You still need to issue a "build" transaction for the basic bicycle, but the optional parts aren't consumed until you invoice the product. This isn't the best approach if you are making these final items to stock rather than to order.
If I were designing an inventory system for a custom manufacturer this isn't the way I would manage the process. However, if you want to stay with QuickBooks and avoid using more expensive manufacturing systems, this approach might be useful to you.