Last week in my posting on Understanding QuickBooks Reorder and Build Points I talked about how QuickBooks uses the Reorder Point in reports to tell you when to reorder purchased parts. Today I will discuss some ideas on how to select a reorder point for your items.
There are many different ways of deciding on a reorder point (which I'll also refer to as a minimum stocking level), and each business has its own special requirements. I'm going to define a few terms and offer a few suggestions on one way to handle this in QuickBooks. Please feel free to comment on how you use this in your business! 
A Simple Reorder Point
This isn't a difficult concept to understand. You have items that you are selling and you can't sell what you don't have on hand. You establish a minimum level that you always want to have on hand and generate a report periodically that tells you if you have fallen below that minimum level.
The difficult part here is determining WHAT that level should be. You don't want to have a lot of money tied up in inventory that you don't need, or in items that have a limited shelf life. There are a lot of ways to come up with this value, the best approach depends on your situation.
The simplest approach is to look at number of items that you have consumed in a period of time, in relation to how long it takes you to receive the item once you place an order. If it takes a week to get the item once an order is placed, you want to have a week's worth of items on hand so you can fulfill sales while waiting for an order to arrive. So, a conservative value for a reorder point would be a weeks worth of sales.
Unfortunately, QuickBooks doesn't provide "lead time" calculations for you. You will have to determine this value for yourself.
Let's look at an item, "Widget", that takes a week to order typically. I'll look at the Inventory Stock Status by Item report, and select this month as the period of time (you should filter this report to show only inventory part items). Look at the Sales/Week figure on the right, which shows that I'm selling an average of 13.5 Widgets per week. You can pick a longer timeframe if you wish.

How do I get that 13.5 value into the reorder point? You can simply edit the item record, which works for a single item, but if you have hundreds of items this is tedious. Instead, let's use the Excel Export/Import feature of QuickBooks. For more information on how to work with Excel imports see my article on Importing Inventory with Excel.
Select the Export button at the top of the report to export this to Excel. In Excel, I'm going to add a column titled "Type" and enter the value "Inventory Part" for each of the items. I'll also add the title "Item" to the item column. Save the spreadsheet and close it.

Going back to QuickBooks Select the Excel button at the bottom of the item list and select Import Items. Select the Advanced Import (if you are using QB 2008 or later, earlier versions give you this import by default). Select the reorder spreadsheet you just saved and select Add New from the Choose a mapping dropdown.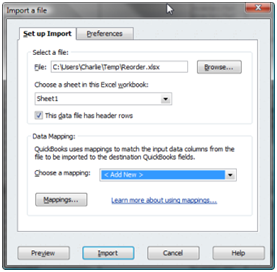 Give the mapping a name, set the import type to "Item". Set the Type column to Type, and the Name column to Item.

Scroll down and set the Reorder Point column to Sales/Week.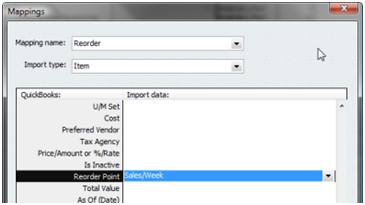 Save this and click the Import button. You will see a warning question, select the option shown below.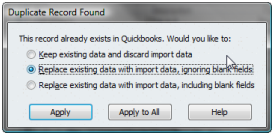 This will import the Sales/Week value into the Reorder Point column for inventory parts.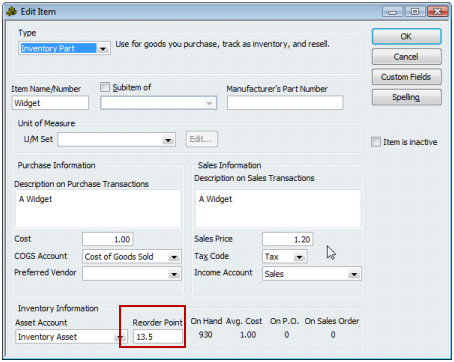 This is a very simple way to come up with a conservative reorder point. You want to be careful, having too much inventory on hand can be costly. However, running short of items can also be costly. There are many ways to come up with a reorder point or minimum stocking level, you will have to decide on what works for you.
In a future article I'll talk about some other variations of how to come up with this value. Leave a comment here if you have any suggestions or comments about how you determine the value for your business!