The Item List in QuickBooks can be modified to show different columns, which can make it more useful for you. There are some odd features here that I'd like to explain, in this quick tip.
If you right click on the headings in the item list you will get a dropdown menu.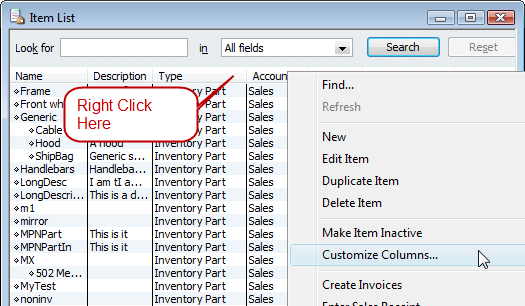 Select the Customize Columns option.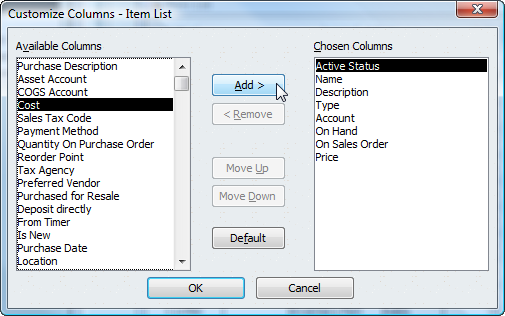 You can select a field in the available columns list and click "Add" to add it to the chosen columns list on the right. When you save this list, the columns will show in your item list. I like to add the cost and reorder point columns, as well as some of the custom fields I work with.
Some Odd Fields
There are a few odd fields that show up in the available columns list that can be confusing. I get a lot of calls on one – Location. QuickBooks doesn't handle "locations" for your inventory, but here it is, a "location" field in the available columns! You can add it to the item list display, but it never shows any value, and there doesn't seem to be a way to enter a value there. "Location" doesn't show in the Edit Item window. So why is it there?
It took awhile for me to catch on – someone in the Intuit Community Forums explained this to me. The fields that are listed here include fields that are used in many different item types, including those used for the fixed asset item. If you go to the Fixed Asset list and add an item there, you see that there is a "location" field. This is the field that is listed in the available columns list. Odd, useless, and very confusing. There are other fields shown here that are also from that item type, such as "purchased for resale".
So if you find them, don't bother trying to add them to the item list display, you can't use them there.