I use QuickBooks to manage my small business, and it is tax time. There are a few reports that can help preparing information for my tax return that I'd like to point out. I was surprised to find in a survey of my clients that many didn't know about these features.
Please note that I am not a CPA or bookkeeper. I've got a good background in accounting, and I've been doing the taxes for my small business for many years, but I'm not qualified to give specific tax or accounting advice. What I'm giving here is my opinion, and pointing out some features in QuickBooks that many people overlook.
Chart of Accounts
I organize my chart of accounts and Profit & Loss statement to help manage my business. I have a variety of subaccounts that help give me a picture of how different aspects of my business are working. However, when it comes to filing tax papers, I need to provide the information in a different format. In my income tax return (I use a Schedule C) there will be an entry for advertising, for example, but in my chart of accounts (COA) I could have totally separate entries, not necessarily adjacent in the COA, for advertising expenses related to local business (newspaper, phone book) and expenses related to web advertising (blog expenses, Google Adwords and so forth). I used to use Excel and/or a calculator to gather together these different values into one amount for the tax return, which was inconvenient and had the potential for error.
To help with this, when you add or edit an account in the COA you can select a "tax line mapping". I used to ignore this, figuring that it was for those who used an accountant to transfer the information to tax preparation software.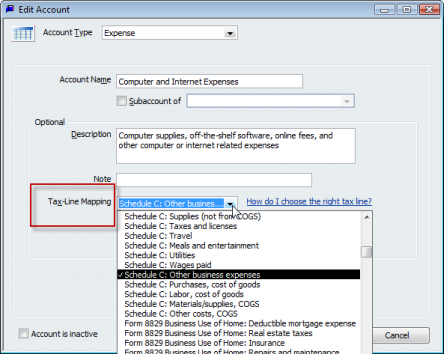 Select the appropriate place in your tax form for each of the accounts you have. You can pick <not tax related> as an option for accounts you won't be using in tax returns, such as owner's capital. Do not leave them <unassigned>.
Income Tax Preparation Report
Now let's look at how these assignments help us with the tax return. Go to the Reports menu and select the Accountant & Taxes section. Locate the Income Tax Preparation report. This will show all of your accounts and the tax line mapping assignments.
Review this to look for any accounts that are "Unassigned", and go back to your chart of accounts to correct this.
Income Tax Summary
Once you have your Chart of Accounts mapped you can run the Income Tax Summary report, which will take your financial information and summarize it by the tax lines you mapped.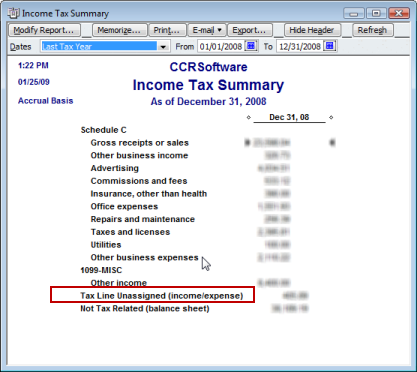 Note that this report will also show you if yu have some unassigned lines. THIS information is what you need for your income tax papers – with the amounts totalled for you. It simplifies the task, and does the math correctly. You can, if you wish, export this report to Excel.
Using TurboTax with QuickBooks
If you happen to use TurboTax (which I do) then you can directly import this information into TurboTax from within the TurboTax program itself.