QuickBooks uses a "closed" database that you cannot access directly. If you want to extract transaction data, such as invoices or checks, you have to use a third party tool to extract the data (or get the SDK/ programming toolkit and write your own program). Today I'll review the Transaction Pro Exporter from Transaction Pro, which is an excellent program for extracting transactions from QuickBooks.
The Transaction Pro Exporter is available for $125.00, and can extract information into a Excel spreadsheet, a CSV (comma delimited) file, or a tab delimited file. Each record that is extracted will be represented by one row in the exported file, with separate columns for each field.
(Note: See my review of the Transaction Pro Importer if you want to import transactions)
Transactions and Lists
The transactions that are currently supported are:
Bill
Bill Payment
Check
Credit Card Charge
Credit Card Credit
Credit Memo
Estimate
Deposit
Journal Entry
Invoice
Invoice w/Payments
Item Receipt
Payroll Detail
Purchase Order
Receive Payment
Sales Order
Sales Receipt
Time Tracking
Vendor Credit
Note that these are all transactions, as opposed to lists. A list would be something like your customer list, item list or vendor list. Transactions are things that adjust a balance in an account. You can export lists from QuickBooks by using the IIF file export (under File then Utilities then Export) or, in some cases, an Excel export.
Unfortunately, some lists in QuickBooks cannot be exported, and in some cases you cannot export all of the information in those lists. It would be very helpful if the Transaction Pro Exporter could add the ability to export lists.
Installing
Installing is simple – run the installation program, open your QuickBooks company file, and run Transaction Pro Exporter. QuickBooks will ask you if you want this program to access the data, you need to say "yes". This only has to be done one time with each company file you will use.
HOWEVER, note that you must be logged in to your QuickBooks company file as the "Admin" user or you won't be able to access the file. The program help file doesn't mention this important item.
A Simple Program to Use
The program presents a very simple user interface.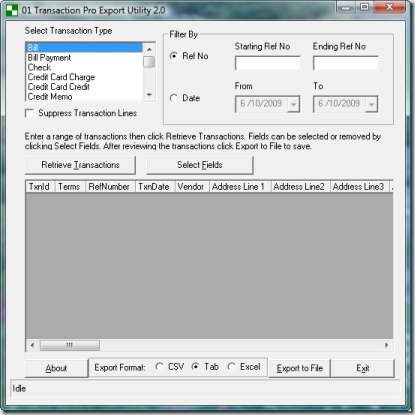 Simply select the transaction type to export, choose a range of reference numbers or dates, and click the Retrieve Transactions button. The transactions will be listed, and you can export them simply by selecting the file format and clicking the Export to File button.
Here is a sample of an Excel file containing some Invoice transactions:

If you include the transaction detail lines then you get a record in the export file for each detail line, each including all of the information from the main record. This is a "flat file" representation, rather than having a master record for each transaction (such as an invoice) and then sub-records for each detail.
You have the ability to choose which fields are included in the export, by clicking the Select Fields button. Each of the fields are displayed, you can check the boxes for the ones to include. You can also rearrange the order that the fields will be displayed.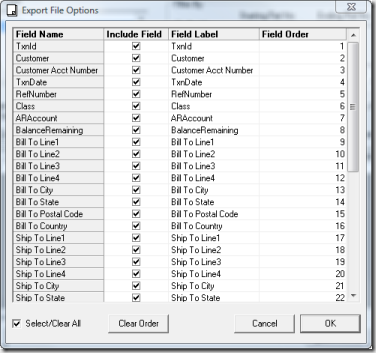 Note that the selections you make here are saved for the next time, so you don't have to go through and make your selections each time you run the program.
Things to Improve
I always can find things that I believe can be improved in a program, but with this one the list is fairly short.
It would be very useful if the program could also export list information in addition to transactions. I'd like to have all of my exports done in one place, the same way. Also, as I stated earlier, QuickBooks doesn't always do a good job of exporting list information.
When you are viewing the transactions you can resize the overall window, and scroll back and forth, but I would also like to be able to resize the individual columns (this is not a major problem, though).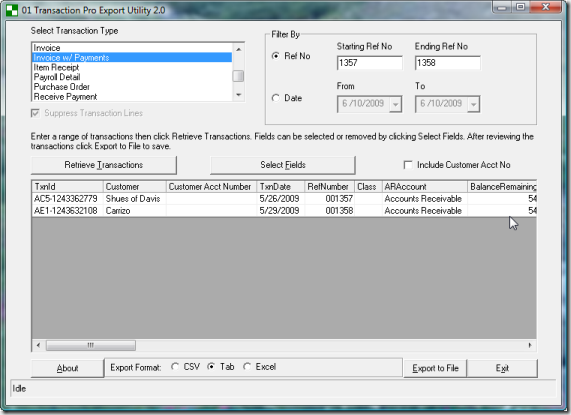 You must select a filter to be able to get information. If you leave the reference filter blank the program will tell you that it couldn't find any data, rather than finding all transactions as I had hoped. You also can't combine the reference and date filters.
The help file is very brief. Just one page of information. I had expected a bit more from the help file, such as some more detail about how to use it the first time with a QuickBooks file, perhaps a bit of discussion about how records are show when you have transaction details, some explanations of details like the "include customer account no" box.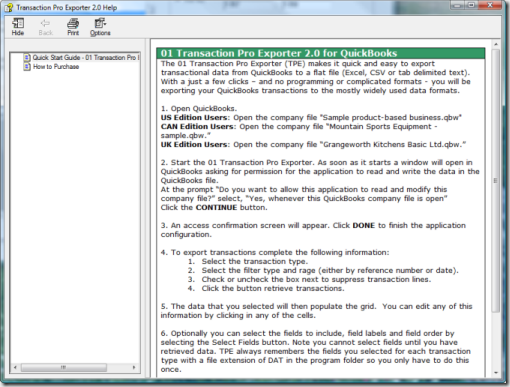 As i mentioned above, if you select the fields that you want to export, the program remembers those selections for the next time. It would be nice if there was a way to make some selections and NOT have the program remember them, so that I could make some changes for a particular export that wouldn't affect my settings that I normally use.
I would also like to see some additional export formats, such as an Access database, but that is a more complicated proposition.
Things that I Like
The most important things that I like about this program is that it works accurately and it is very easy to use. Installation took moments, and it was very clear how to use the program to export transactions. What more can you ask for?
I also was very happy to note that the program included information from the custom fields that I used in my transactions, something that is complicated to handle with the QuickBooks programming interface.
So, in conclusion, if you need to export transaction information from your QuickBooks database, the Transaction Pro Exporter for QuickBooks is an excellent choice.