I'm branching out a bit today to talk about a general business topic, not strictly related to QuickBooks. Let's talk a bit about business graphics – specifically a company or product logo.
These days almost every business needs a graphic logo for their company and/or products. Contracting with a graphic designer can be expensive, time consuming, and sometimes very stressful. I've gone through this multiple times in the past 30 years of business, and I usually to not enjoy the process.
A Local Graphic Artist
Before the days of the ubiquitous Internet I worked with a local graphic artist. Lot's of advantages here – you have someone who you can talk to, interact with easily, and determine if they are a valid company. The problem I had in those days was that the cost was very high. You get good value for your investment, but it can get expensive. I'm located in a small market, so that may have had an effect on prices. In addition, I generally find that working with a local graphic artist takes a very long time.
Artists on the Internet
Now that we can use the Internet we have a much broader range of graphic artists, we can see a wide variety of styles and samples, and there is a much more competitive market. The key is to find someone that you can trust (there are a number of shady businesses out there!), someone who will work with you. Here are a few that I dealt with in the past several years. There are MANY more than these – I'm only talking about some that I have personally worked with.
1-800-MyLogo
I stumbled across this company in 2005. I can't say why I picked them initially! Everything was handled via email. I filled out forms, answered questions, and in a short while was provided with several conceptual drawings. I chose the ones I was interested in, made some suggestions, and received my finished logo. The process was clean and painless, but I did miss the interaction with a real person. The actual artist who did my work was located in China – it took awhile for me to get that information (I always want to know where my money is going).
Here is a sample of the work they did – this was for my consulting firm, Computer Consulting Resources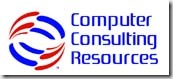 I was very satisfied with the quality of the work that was done, and the formats of the work that were provided to me. It was a bit impersonal, and I felt that I didn't have a lot of opportunity to discuss the details. Of course, if I really wanted a close personal relationship and discussion, shouldn't I have worked with a local graphic artist?
Would I use them again? Yes, possibly – particularly if I need a wide variety of items (logos, business cards, letterhead, and so forth) and I knew what I wanted as far as a theme. http://www.1800mylogo.com
Glyfx
This company was recommended to me initially as a supplier of custom icons, such as you would use for a program. After they created some icons to my specifications, I asked for their assistance with a new logo for my software company CCRSoftware. Glyfx is based in Australia, so phone calls weren't convenient. I went through the usual process of answering a series of questions about my business and goals, and they came up with some conceptual drawings. A very similar process to the one from 1-800-MyLogo, but with a big difference. This time I was in contact with the artist directly. I had an email address, a real name. If there were questions I could ask them and got personal answers. There were more opportunities to discuss details and fine-tune the final result. This was a much more satisfying experience, however, it was considerably more expensive than 1-800-MyLogo. The charges here were closer to what I would expect to get from a local graphic artist. In addition, the process wasn't very fast. It took almost a month to get the completed work from the time we started.
Here is a sample of the work they did.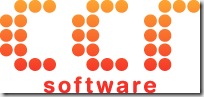 Again, I was very satisfied with the quality of the work that was done, and the formats of the work that were provided to me. I had a much more warm and fuzzy feeling over this – a very personal experience. BUT, much more costly.
Would I use them again? Yes- particularly if I didn't have a good idea as to what I wanted in the graphics. They helped by giving me a variety of options to pick from.  http://www.glyfx.com
Techlogica
I was looking for some additional work with icons and graphics for my software products. Glyfx did a good job, but I was hoping to find a way to get the cost down, and to get a faster turnaround. I was referred to Techlogica, a company based in the US. What a wonderful experience! I had direct contact with the artist. He took my ideas and gave me back samples in a matter of days, and added a number of variations as suggestions. Every suggestion I made was taken into consideration, and the updated work was returned to me very quickly.
The cost of this work was considerably lower than Glyfx – very comparable to what I got from 1-800-MyLogo.
I didn't use them for a logo, as I didn't want to make changes there. The first job they did was a series of icons for my software products. Here is a sample of a product icon that they created for me.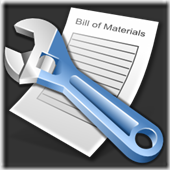 The quality of the work was superb, the cost was very low. I enjoyed the discussions with the artist and felt that he was very responsive to my needs. In this case I had a definite idea as to what I was looking for, and they gave me options and variations that made my ideas work.
Would I use them again? Absolutely yes, when I have an idea as to what I want done. IN FACT, I have gone back to them on several occasions for different projects. Look at the upper right corner of this page, the rotating "flash" ad for CCRSoftware. They created this ad for me based on my outline (and again, the price was EXTREMELY affordable, and the response time was a matter of days from start to finish). http://www.techlogica.us/
Final Notes
There are many thousands of companies out there doing this kind of work, and it can be very difficult to decide on which one to work with. All three companies that I worked with provided excellent work, and I felt that I got my money's worth in each case. In the future I would consider using any of them again – the kind of job would determine which I would pick. If I have a new startup company and want a package of a logo, letterhead, business cards and so forth, 1-800-MyLogo is a good option (particularly if I have a basic idea of what I want). If I need some guidance and help in coming up with an idea, Glyfx is a very professional source. If I have specific ideas for graphics, and I'm looking for small graphics (icons) or simple web ads, Techlogica is clearly the best.
I wrote this article because I wanted to share my experiences with you, in case you are looking for graphic help for your business. Let me know if you have other companies to recommend (please only recommend ones that you have actually used yourself). AND – let me know if this kind of article is useful to include in my blog. Thanks!